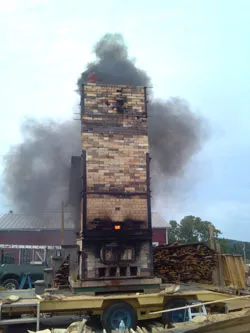 In addition to the usual displays of paintings and sculptures, this year's South End Art Hop will feature an unusual hands-on demonstration of a wood-fired pottery kiln.
Better make that "hands-off." Organizers plan to keep spectators at a safe distance from the 20-foot-tall, trailer-mounted brick structure that will be fired up to a temperature of 2300 degrees Fahrenheit. Art Hoppers who gather in the Pine Street Studios lot at 339 Pine Street on Friday will nevertheless be able to watch the kiln cook clay objects until they magically morph into glazed ceramics.
Kiln builder Don Meno of Brattleboro will be on hand to help oversee a heating process that takes 12 hours to complete. That's actually quite quick in comparison with typical wood firing.
The firebox will be gradually fed two and a half cords of scrap wood from a Hinesburg lumber mill. Constant stoking and monitoring are required for the temperature to top out in just half a day, rather than the two days needed by other types of wood-fired kiln.
"You've got to watch the rhythm of the fire," explains Chris Vaughn, a technician and teacher in Burlington City Arts' clay and print studio. Vaughn, Meno and the kiln's current keeper, Joshua Quinlan, will be able to check the flame's intensity through several "spy holes" punched in the brick exterior.
None of this is dangerous, the kiln's operators insist. "The worst thing that can happen is that the fire will die off," says Vaughn, who did a practice run-through a couple of weeks ago at Shelburne Pond Studios, where the kiln normally resides.
It was transported to Burlington last week on a 20-foot trailer towed by a DPW truck. The shrink-wrapped tower, with its detached flue riding alongside on the trailer bed, presented quite the spectacle as it proceeded up Shelburne Road at a speed Vaughn describes as "carefully miles per hour." It'll take a few hours for the kiln to be reassembled prior to being fired, Vaughn notes — and, for its trip home, the entire procedure must be repeated in reverse.
So why bother? What's the point of reverting to this most ancient method of pottery production, when electric-fired, computerized kilns offer a much easier way to bake clay? Cheaper, too: Meno figures it cost him about $15,000 to build his wood-fired kiln in 2002. Even the two priciest of the three electric-fired kilns in the BCA Clay Studio retail for about one-fifth what Meno spent on his wood burner.
A wood-fired kiln offers "a very spiritual experience," says potter Kileh Friedman, several of whose pieces will be used at the Art Hop to demonstrate the kiln's workings. "It takes you back to the origins of ceramics."?
The Chinese and Japanese developed a firebox-and-flue model 1500 years ago. But vessels were first fired in simple hearths about 10,000 years ago, Quinlan notes. "There's a historical sense you get with a wood-fired kiln that's pretty cool," he says.
Ceramics made in this way also acquire visible physical properties that an electric- or gas-fired kiln can't replicate. Wood ash gets deposited on the surface of objects as they bake, forming a natural glaze and producing "different gradients of brown coloring" for the pots, Quinlan explains. "Pieces made in an electric-fired kiln will come out the same 100 times out of 100. Wood firing will produce different results 100 times out of 100."
That's what motivated Meno to build an old-style kiln. "Electric kilns give very dependable and sort of standardized results," he says. "I was looking for a more natural aesthetic. There's also a different market niche for what comes out of a wood kiln."
Meno and Quinlan both graduated from Marlboro College, where they'd become passionately committed to pottery making. Each of them sells some of the ceramics he produces, but neither manages to make a living from the craft. Meno works at a metal-fabrication shop in Northampton, Mass., while Quinlan, a Winooski resident, does residential carpentry and construction. He's also the leader of the Clay Construction Collective, a small group of Burlington-area potters whose skill levels range from rudimentary to advanced.
It's a stretch, Quinlan says, to make the rent that Shelburne Pond Studios charges for storing the kiln. That's one reason he'd like to find it a good home — preferably closer to, or within, Burlington so that many more potters could have access to the wood-fired alternative.
A kiln of this kind, while not unique in Vermont, is usually viewed in operation only by "maybe half a dozen people somewhere out in the woods," Quinlan says. He likens this means of making pottery to old-school sugaring, in which sap gets boiled down by the heat from a wood fire. "People love watching that," Quinlan notes. "People are really fascinated by fire."
And, for one day only, the experience will be available to anyone attending the Art Hop. The site won't be hard to find — just look for the smoke spouting from a tall oven made of bricks with a mellow-yellow patina.