Who wouldn't want to live in Burlington? The Queen City's got it all: a bustling downtown, leafy residential streets (at least for half the year), the waterfront and proximity to great skiing — not to mention all the restaurants, movies, museums and theaters.
Until recently, there seemed to be just one thing that Burlington didn't have: new apartment units. Though the city's older and historic apartments have their charm, renters and buyers on the hunt for newer, sleeker abodes have had few options. Despite demand for market-rate rental units and condos, development of new housing complexes slowed to a crawl during the recession.
"For many years we didn't see a lot of new apartment buildings being built in Burlington, because the numbers just didn't work," says Erik Hoekstra, a partner at Redstone Commercial Group.
Now, though, interest rates are low, and new housing projects are on the rise around town. More than 900 new rental units have been proposed for Burlington, according to estimates by real estate advisory firm Allen & Brooks, as Seven Days reported earlier this year.
Those searching for a contemporary apartment in the Queen City are finally in luck. Nest went inside two new Burlington developments — the Stratos building on St. Paul Street and Silversmith Commons on North Winooski Avenue — to size up some of the new digs.
183 St. Paul Street, Burlington RE/MAX North Professionals, 655-9100. stratosvt.com
Located just a block from City Hall Park and the Flynn Center for the Performing Arts, with urban and lake views from their balconies, the condominiums in the Stratos development practically sell themselves. "It's one of the best locations in all of Burlington," boasts Bill Desautels, the project's real estate agent and owner of RE/MAX North Professionals.
The 30,224-square-foot building has a sleek, shiny façade and contains 34 condo units that range in size from 500 to 1,090 square feet. The aesthetic is modern and minimalist: white walls, hardwood floors or plush carpets in neutral shades, big glass windows, aluminum finishing on the balconies.
"There's an incredible amount of glass within the unit; they're very bright overall," says Desautels. "They are a bit more crisp than some of the other offerings you find in the area."
The units have been in high demand: Only one remains on the market, though construction just wrapped in June (one other condo is currently available for rent). "We sold most of them early," Desautels explains. Residents include executives, young professionals and "a few snowbirds."
The smaller Stratos condos sell for about $140,000, while the larger units with lake views climb into the low $400,000 range. Several owners who don't live in the building are renting out units, for about $2,500 per month.
Desautels says that's "reasonably affordable" given the location and the quality of materials that went into building the apartments. There's also covered parking and laundry. "The big amenity is being downtown," Desautels says.
In fact, he was so sold on Stratos that he moved in himself. "I downsized from a 3,200-square-foot home out in the country," Desautels says. "And I'm loving it. I absolutely love, love, love, love it. Why? Because it's a simpler lifestyle. And I can walk to everything I need to do."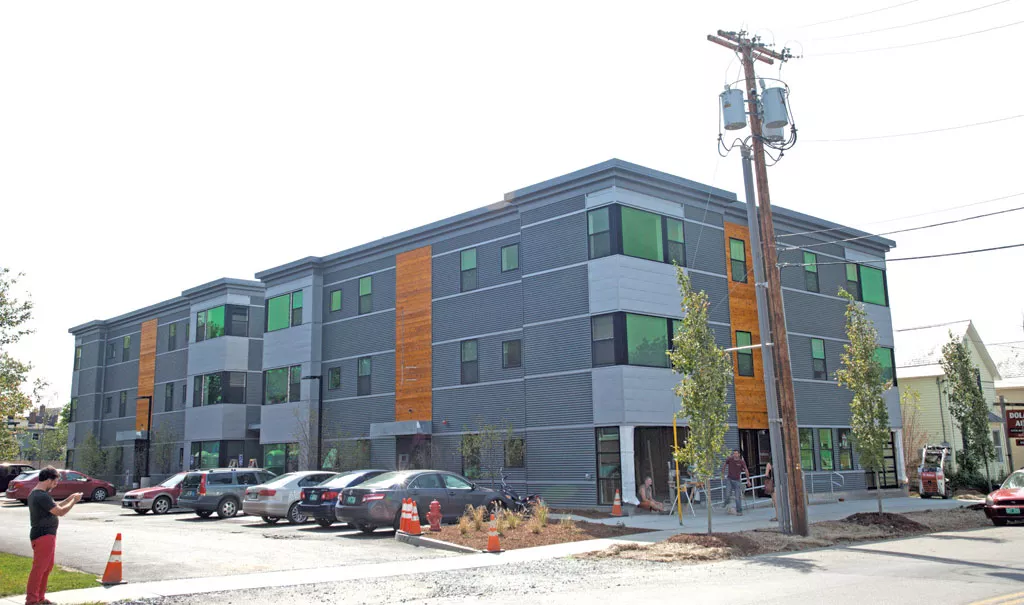 258-260 North Winooski Avenue, Burlington Redstone Commercial Group, 658-7400. redstonevt.com
Two gleaming, three-story buildings on North Winooski Avenue — with a still-available retail unit on the ground floor — form Silversmith Commons. It's one of several Redstone Commercial Group projects currently under way in Burlington.
Silversmith was originally intended to be a condominium building, but Redstone decided to develop the units as market-rate rental housing with the option of transitioning to condos later on.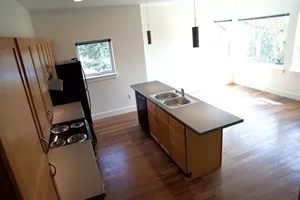 The modern, light-filled apartments retain a condo look, though. Averaging 750 square feet, they have bamboo floors, gray and white walls and brand-new, energy-efficient appliances. The building contains two one-bedrooms and 20 two-bedrooms; Redstone is currently leasing the units starting at $1,550.
Hallways and common areas are decked out in deep navy and gray, with the occasional exposed-cement wall — in the basement, for instance, which contains coin-operated laundry facilities and tenant storage lockers. The location is also a plus: Popular Old North End eateries such as Barrio Bakery & Café and Pho Hong are a short stroll from the front door, and Church Street is just a 10-minute walk.
For Redstone partner Erik Hoekstra, Silversmith Commons has personal significance: He lives around the corner and believes that the development is a positive step for the neighborhood.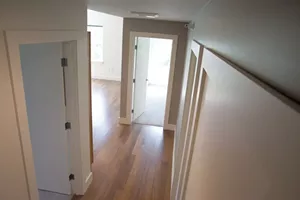 Silversmith tenants are mostly young and/or single professionals and graduate students. "People living here strengthen the market for retail," Hoekstra points out. "They have a little bit of disposable income to spend at the bakeries and stores.
"There's been a lot of great revitalization in this neighborhood for over 30 years," he says. "The piece we've been missing is market-rate [rental] housing. What makes neighborhoods healthy is diversity across incomes."
The original print version of this article was headlined "Side by Side "