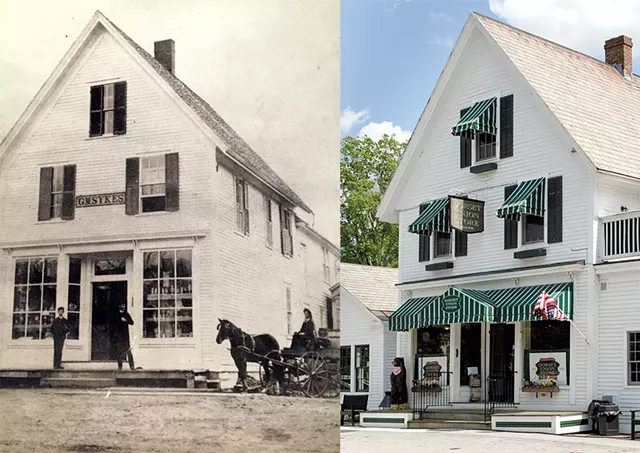 Courtesy Of Cindy Loudenslager | Brooke Wilcox
Dorset Union Store circa 1884 and today.
Last month, I asked, "What does the Vermont general store look like in 2016?" That question led to a statewide road trip, chronicled in monthly installments to span the summer season. I may have assumed I would find nostalgia and tourist-based kitsch, but I discovered that the Vermont general store, an emblem of local culture specific to the Green Mountain State, is not a relic of the past.
Like any lasting business, general stores must evolve to be enduring — a point proven by the Putney General Store and Pharmacy, which was twice saved by its town after it twice burnt nearly to the ground.
This time, I visit the Dorset Union Store, which in 2016 looks virtually the same as it did the year it opened in 1816 — at least from the outside. In a gauzy black-and-white photograph inherited by co-owner Cindy Loudenslager, the most manifest difference is the dirt road snaking past the entrance. The store's old façade remains. And the faint jangle of a bell above the front door has been welcoming patrons for two centuries.
Loudenslager, along with her "partner in business and in life," co-proprietor Gretchen Schmidt, celebrated the Dorset Union Store's 200th birthday on July 9 on the green beyond its front stoop. A giant canopy covered the festivities, which included old-fashioned games, live music and tables replete with from-scratch fare made by the store's head baker, Lori Lantz, and its head chef, Rick Warnecke.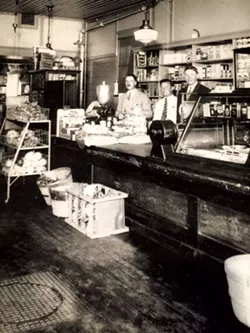 Courtesy of Cindy Loudenslager
Dorset Union Store circa 1800s
Locals and travelers turned out for strawberry shortcake, sandwiches loaded with pulled pork or grilled chicken, and dollar cones from the in-store creemee machine. A portion of the day's earnings was donated to local organizations, including Make-A-Wish Vermont, whose CEO, Jamie Hathaway, has a particular connection to the store's history.
"Jamie and his parents, Jay and Terri, owned the store for 27 years, just before us," Loudenslager tells me in her small office by the store's open kitchen. "He was raised right upstairs."
The Hathaway family bought the store in 1977. At the time, the business was known as Peltiers, as it had been since Perry Peltier claimed sole ownership in 1955. It remained Peltiers until 2007, when Loudenslager and Schmidt purchased it and restored its original name — the Dorset Union Store.
"We wanted to return the store to its roots," says Loudenslager. "Preserving the store as a historic site was one of our biggest incentives to buy it in the first place."
Loudenslager, who spent 30 years in the New York City banking business, met Schmidt at a golf event in Dorset — minutes from the general store she would later own. At the time, Schmidt owned the Dorset Inn, a white-columned property just across the green from Peltiers.
"Gretchen and I have owned the store together for nine years," says Loudenslager, "but she was very plugged into the community before that. I was looking for something to do after I retired. We had history in Dorset, friends in Dorset; we were godparents to the Hathaways' oldest granddaughter..." Loudenslager trails off, as if to let a listener fill in the obvious: Together, she and Schmidt decided to take on the project of ownership. Although the paramount goal was "to keep the store's original footprint," the duo was eager to add a few updates, enhancing the wine room and expanding the kitchen to accommodate a capacious bakery and deli section.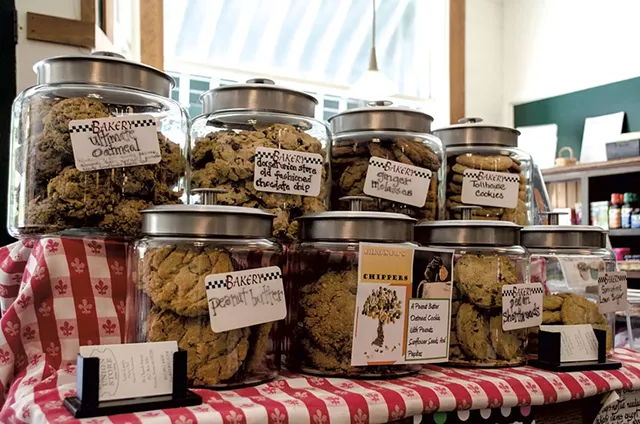 On the day I visit the Dorset Union Store, I'm welcomed by the front doorbell and by a row of glass jars flush with homemade cookies. I see stacks of molasses, chocolate chip and knobby oatmeal-raisin, the last swollen two inches thick with chopped nuts.
A man walks past with a wave to someone in the kitchen. His boots creak on the aged floorboards as he fills a shopping cart with Folgers coffee, Hershey's chocolate sauce, Fat Toad Farm caramel and an aluminum container of layered baked ziti from the prepared-foods cooler.
A woman hurries in with two small boys, both eager for a fresh-fruit galette. "Hey there, any galettes left?" she asks the young guy behind the cash register. "Did I miss them already?"
The galettes are gone, as are the doughnuts, croissants, chocolate chip scones and blueberry muffins baked this morning. The trio opts to buy a few pieces of penny candy.
Nearby, an older woman and her neighbor discuss an upcoming cataract surgery. A couple chat about babysitting plans as they pick up lunch from the deli counter: cucumber-dill salad, two wedges of chicken pot pie, and quinoa tossed with carrots, fennel and feta.
"I've thought about why we continue to succeed and operate," says Loudenslager, as she churns a vanilla creemee into a tall twist. "I mean, people continue to go here, even when they can go to the big stores. And we don't just have regulars — we have people who come in several times a day, every day."
One reason for this customer loyalty, she suspects, is convenience. "Along with a stocked grocery, we have good-quality food and good-quality pastries, all made from scratch," Loudenslager continues. "That's something people want nowadays; they want good food, but they don't want to cook lunch every day, and they don't want to cook all evening."
The Dorset Union Store also serves its community by organizing a host of annual events including a town-wide Halloween costume party on the green and a giant Easter-egg hunt featuring Loudenslager decked as the holiday bunny. Yet the crux of the store's two-century perseverance may be its day-to-day routine: what Loudenslager calls "the experience."
"It's an experience when you come in here," she says. "Gretchen, myself and the staff know all the customers. Neighbors come in to catch up; they talk about their weekend plans, their kids, their updates. That just doesn't happen in the big stores."
Loudenslager pauses to grab a dark, sugar-burnished molasses cookie from the jar by the register. "Sometimes I order online from Staples," she continues, "and it's quick and easy. Boom, boom, boom, and it's done. But you know what? I love to walk out onto the floor of this general store and see people. Talk to people. People really want this in their lives; they did and still do. I think that's what it's really about, and that's why we stay."
Loudenslager hands me the molasses cookie and a vanilla creemee in a dish. "On the house," she says. "I like to crush the cookie on the soft-serve."
I thank her, the cold ice cream sinking gently under the hunks of cookie I press on top. I wave goodbye to the rest of the crew and tote my treat to the Volvo, which is ready to take me to my next general-store destination.
And I get Loudenslager's point: I'm not a Dorset local, but I want the Dorset Union Store in my life. Five minutes away on Route 30, I'm already thinking of my next trip: The bell above the 200-year-old front door will chime as I walk in for an oatmeal cookie, remembering to savor "the experience."