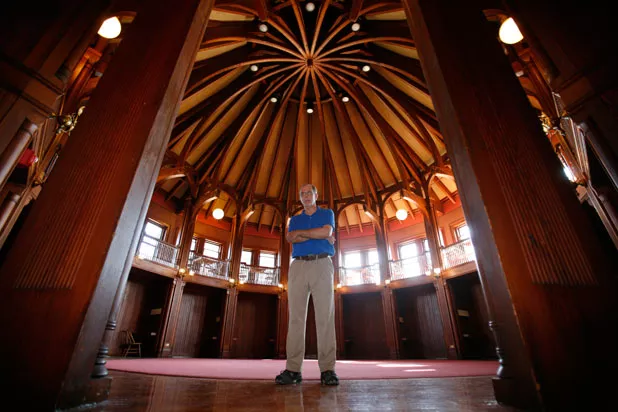 Bill Averyt at Billings Student Center
I have a confession to make. It's likely that by admitting this, I risk destroying what little street cred I have. But what the heck, here goes: I have always wanted to be a tour guide. That's right. One of those people who walk backward and hold an umbrella and tell you all sorts of stuff that you never knew you cared about.
I can trace my ambition back to the umpteen college tours I took as a brace-faced high schooler. If I had to guess, I'd say my father and I went on at least two dozen. I loved listening to the student tour guides rattle off obscure facts about each institution: This building is where Spam was invented; this lab is where cold fusion was discovered; this cornerstone is made from rare marble that was a gift from an Indian Maharaja.
Those plucky college kids seemed to know so much trivia, and that trivia made them seem smart. I too wanted to have a cache of factoids in my brain that I could sprinkle into conversation and give the appearance of being learned.
Too bad there weren't a lot of solid job opportunities in the tour-guiding field, unless I wanted to work at Colonial Williamsburg or drive a tour bus around Washington, D.C. But I've found that reporting is nearly the same thing, only without the walking. You absorb a lot of knowledge tidbits, pass them on to people and feel semi-smart until the next story comes along, and you promptly forget everything you learned the week before.
Since moving to Vermont four years ago, the only tour I have taken is the wagon one at Shelburne Farms, three times. So when the opportunity arose to take a historic tour of the University of Vermont, and write about it, I offered myself up.
The UVM historic tour, which has run for slightly more than a year, was the university's response to a call for more interpretive history offerings from Vermont's Department of Tourism. It's distinct from the standard campus tours for prospective students; you're not going to learn about the food in the dining hall, the atmosphere of the dorms or the university's "extracurricular offerings." Like the Queen City Ghostwalk in downtown Burlington and farm tours around the state, it's seasonal. But, unlike the self-guided walking tours of the heritage districts of Vermont cities such as Montpelier and Barre, UVM's historical jaunts are led by a tour guide with extensive knowledge of the university.
Despite the reporting I've done on UVM, all I knew about the school before the historical tour was that marauding Ira Allen founded it some years back. On a recent drizzly Saturday morning, Professor Emeritus Bill Averyt changed that. Thanks to his expert tour guiding, I now know what a Syrian Arch is and where the term "Richardsonian Romanesque" came from. I know why many of the UVM buildings have multiple dates engraved in their bases and that there is an underground spring on the campus green. I know so much about UVM that I could fool someone into thinking not only that I went to school there, but that I designed the campus myself.
Averyt, a former professor in the School of Business Administration, isn't cruising around campus to earn work-study cash. The 65-year-old Fulbright Fellow, Woodrow Wilson Fellow and Carnegie Endowment for International Peace Grantee says he gets a kick out of being a tour guide. It's a hobby and a labor of love. He also leads tours at Shelburne Museum and in Key West, where he lives for most of the year.
It took "many, many practices" to get the tour whittled down to a presentation that would make sense to campus visitors, Averyt says. Judging from his performance, he's got it pretty well massaged. The tour begins at 9 a.m. at the statue of Ira Allen on the campus green. Averyt, his voice equal parts soothing and excited, explains that Allen offered the state legislature 50 acres and 4000 pounds sterling to start a college in this new settlement of Burlington. In 1791, a new institution called Universitas Viridis Montis, or University of the Green Mountains, was born. (The abbreviation UVM comes from the school's original Latin name — better than UGM, for sure.)
The 10 people taking the hour-and-a-half tour on this particular Saturday range from out-of-state parents dropping off their student children to local history buffs. Averyt, wearing khaki trousers, a plaid collared shirt and a lightweight raincoat, sets the scene by asking participants to imagine what the area looked like when the university was founded 218 years ago. Much of the site was a dense white pine forest. Between the hilltop and the lake lay two villages that had sprung up over the years, with a combined population of about 200 people.
The campus doesn't offer much to distract us from Averyt's colorful description. At this "early" hour, few cars drive down University Place, and only a handful of students pass the group.
Averyt asks us to turn our attention to the buildings that make up University Row, formerly known as High Street. Along with the campus green, these structures — Old Mill, Billings Library and the Royall Tyler Theatre most prominent among them — form a designated Historic District on the National Register of Historic Places.
The walking tour doesn't take us beyond the central quad, but Averyt also offers insight on some of the earliest surviving structures in Burlington. Pearl House, Pomeroy Hall, Moses Catlin-John Johnson House and others stand near the green or within pointing distance. Conspicuously absent from Averyt's dissertation is any substantive mention of the Davis Center, the university's newest and most controversial building.
Averyt's retention of even the most obscure details is impressive. Sure, he's been doing the tours for a year, but this guy knows what a hammerhead beam is. He knows the environmentalist movement was pioneered by UVM alumnus George Perkins Marsh in his book Man and Nature, and that the first comedic play in the U.S., The Contrast, was written by Royall Tyler, a Vermont Supreme Court judge and university law professor. Perhaps the best trivia-quiz fodder Averyt gives us is the definition of a gnomonologist and where on campus such a person's handiwork might be found. Hint: It tells time.
I wasn't the only one enlivened by Averyt's encyclopedic mind. Mary Wallack, from Washington, D.C., has come to drop off her daughter, Alexis Smith, for her junior year at UVM; she decided to take the tour after reading about it on a website for parents. "This is so much more detailed than other tours," Wallack says.
Rocel Kingman, of Orono, Minn., has just moved her son, Ted, into the dorms and wants to give him time to get adjusted. The tour seemed like a good idea. "I didn't want to hang around him. I wanted to do my own thing," Kingman says. She declares herself impressed with the volume of information Averyt presents, especially the details about Billings Library and its namesake and patron Frederick Billings, a railroad developer and UVM alumnus for whom Billings, Mont., and Billings, N.D., were named. Kingman's family has connections to Montana, so that part of the tour was particularly interesting, she says.
Averyt's was an impressive display of tour-guidery. By the end of an hour and a half, my brain was bursting with nuggets of info. I now know where the Bittersweet got its name, who is buried behind Ira Allen Chapel and what the Boulder Honor Society was — at least until the next story assignment prompts me to forget.