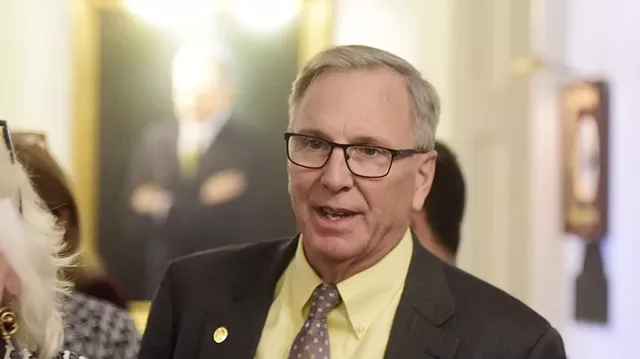 Jeb Wallace-Brodeur
Public Safety Commissioner Tom Anderson
Public Safety Commissioner Tom Anderson is known as a hardliner on drug-related issues. Not necessarily surprising for the state's chief law enforcement officer. But his performance at an April 16 press conference in Brattleboro was excessive even by his standards. He and U.S. Attorney Christina Nolan delivered a message straight out of the '80s' War on Drugs — or even Dirty Harry.
"Whether you're the kingpin or the low-level street dealer, we are coming after you," said Anderson, as he and Nolan announced a three-day sweep in southeast Vermont that resulted in 16 arrests.
Nolan called it part of a "surge" aimed at targeting the drug trade, from out-of-state dealers ("turn around and go home") to landlords who turn a blind eye to drug sales, to the "low-level street dealer" referenced by Anderson.
In a state whose policy on substance abuse puts equal emphasis on education, counseling, treatment and enforcement, it was a remarkable event.
Brenda Siegel certainly thought so. After the press conference, the 2018 Democratic gubernatorial candidate from Brattleboro wrote an essay calling for Gov. Phil Scott to remove Anderson from his cabinet. It was published in the Commons, a Windham County weekly newspaper.
"Anderson made extremely dangerous comments to a community suffering with substance-abuse disorder," Siegel said in a Statehouse interview. "It's a disease. Even the governor says we can't arrest our way out of it."
In addition to his bad-cop act in Brattleboro, Anderson has taken a law-and-order approach to a variety of substance-abuse issues: opposing the creation of a cannabis marketplace, the establishment of safe-injection sites in Vermont and the legalization of personal possession of small amounts of buprenorphine, a drug that can ease the craving for addictive opioids.
So, how about it, governor? Does Anderson speak for you?
"He takes his job seriously, and he's well versed," Scott said at his weekly press conference last Thursday. "Suffice it to say, some of my views may not be as strong as his, but at the end of the day we're just trying to keep people safe in Vermont."
Scott was asked if a cabinet officer should be expected to represent the governor's views. "I have a great amount of faith in the team that I've put together," he replied. "It doesn't mean we always agree on everything. But we can have those conversations. And at the end of the day, I'll make the decision."
Meanwhile, the confusion persists. "I often wonder who I hear," said Tom Dalton, executive director of Vermonters for Criminal Justice Reform. "Is Anderson speaking for the governor? ... [His views] don't seem consistent with what I understand of the governor, but [Anderson] is out there as the public face of the administration."
We'll get no clarity from Anderson. Through Department of Public Safety spokesperson Adam Silverman, he declined to answer questions. "I've spoken with the commissioner, and unfortunately, he's going to pass on the interview," Silverman wrote in an email.
Anderson's tough-guy routine in Brattleboro was based on a frequent administration boast: Thanks to its hub-and-spoke system, waiting lists for addiction treatment are a thing of the past. "We have treatment basically on demand right now," Anderson said at the press conference, adding that lack of treatment "is not a valid excuse" for people to support their addictions by dealing. "Our message must be clear: Stop selling, get into treatment or get arrested," he said.
Siegel rejected the notion that waiting lists are a thing of the past. She and Sen. Dick Sears (D-Bennington) both contended that wait times are too long in southern Vermont. Sears claimed that Bennington County's waiting time is 30 days. People with substance-abuse disorder, he said, "are amenable to treatment for very short periods of time. I've said that we have a broken spoke down here."
Health Commissioner Mark Levine denied their claims. "We still stand by 'no waiting lists,'" he said. In his telling, that means prompt access to initial treatment and referral. His department has a mobile clinic that's dispatched to areas in need of technical assistance, in an effort to quickly resolve trouble spots. He was dismayed to hear Sears' assertion, and promised to reach out for more information.
Anderson's hard line has come to the forefront of this year's debate over a tax-and-regulate system for cannabis. He has been a strong advocate for roadside saliva testing. So has Scott, but the governor has hinted he could be open to compromise while Anderson seems adamant. And occasionally a little tone-deaf.
"During his testimony, someone asked about racial profiling," said Rep. Barbara Rachelson (D-Burlington), a member of the House Judiciary Committee, where Anderson testified on saliva testing last week. "He said, 'What does that have to do with saliva testing?'"
Not a great look, in a year in which the legislature has focused on racial justice issues in policing and education. One of the key arguments against saliva testing is that it would give police wide discretion to make traffic stops and administer roadside tests, which could lead to profiling of all sorts. "If you have a Phish sticker and dreads, you're more likely to be pulled over," said Rachelson. "He's in denial about that."
That's not the only thing Anderson is in denial about, say advocates of a public health approach to substance abuse. "He has shown an embarrassing lack of understanding of the science of addiction," Dalton said. "His kind of stigmatizing, punitive approach is unwelcome."
Laura Subin, director of the Vermont Coalition to Regulate Marijuana, a pro-legalization group, said that Anderson "has undermined his credibility. I think legislators see that."
It's certainly true that many lawmakers have resisted the call for roadside testing in spite of Anderson's testimony. The Senate has already approved tax-and-regulate without saliva testing; House Judiciary recommended such testing only if police obtain a warrant.
This is where the lack of clarity on the administration's stance "does create a problem," said Sears. "The House version sounds like a good compromise." But only if, he noted, the governor is willing to sign on. And that's a bit of a mystery to lawmakers.
Also a mystery: Is Anderson an asset to the administration?
"The governor has spoken with compassion about substance abuse," said Siegel. "If I were governor, I wouldn't want to have a loud, opinionated commissioner representing my administration in a way that's not compassionate, is harmful to people and doesn't work."
Leahy's Regrets
U.S. Sen. Patrick Leahy (D-Vt.) is a hot commodity on YouTube, thanks to his grilling of U.S. Attorney General William Barr during a May 1 Senate Judiciary Committee hearing. Leahy's round of questioning, which focused on inconsistencies (and possible perjury) in Barr's previous congressional testimony, has attracted nearly 375,000 views.
Small consolation, considering that Leahy was "so disappointed" by Barr's testimony. The AG's failure to provide satisfactory answers shouldn't have come as a surprise; Leahy voted against Barr's nomination as AG because of concerns about his independence. "When I heard him in last week's hearing, I went home and said to [wife] Marcelle, 'Boy, I made the right decision not to vote for him,'" Leahy said in a Monday interview.
But unlike U.S. Rep. Peter Welch (D-Vt.) who called for Barr to resign a day after last week's Senate hearing, Leahy isn't calling for Barr's removal. "I've made my views as to his fitness when I voted against him," Leahy said. "Should Barr resign? He's not going to. I deal in the real world. Others can deal with polemics, but I deal in the real world."
Leahy feels the same way about impeachment, despite evidence in Special Counsel Robert Mueller's recent report that President Donald Trump obstructed justice — and the president's blanket refusal to cooperate with House investigators. "There won't be impeachment because it won't get through the Senate," Leahy said. "And I think the House realizes it."
In some people's "real world," pursuing impeachment sends a powerful message of adherence to constitutional principle, whatever the outcome. Leahy feels otherwise. "We're a year from the heart of the presidential campaign. I would hope to be getting all these investigations done," he said, so that voters have as much information as possible before Election Day.
Speaking of elections, Leahy is deeply troubled by the prospect of Russian interference in 2020. "A lot of Republican senators will tell you quietly that they could not believe that Trump spent an hour and a half talking to [Russian President Vladimir] Putin and didn't even bring up the attacks on our [2016] elections," Leahy said, referring to a phone conversation between the two leaders last Friday. "If anything, the words they get from Trump are encouraging. It's a clear sign to the Russians to go ahead and do anything you want."
Otherwise, Leahy longs for the Good Old Days when senators were policymaking pals despite partisan differences. Now, many of his old compadres are dead. "I was reading the obits for [former senators] Dick Lugar and Birch Bayh, Fritz Hollings," Leahy said. "The three of them were all over the political spectrum, but they worked together for common interests. That's the way it was always done."
As for those who are still with us, Leahy has seen them swallowed whole by Trump. "Nobody's speaking up about it," he said. "They'll tell you in the cloakroom or the Senate gym how terrible they think it is what the president is saying, but they won't speak up. That's not the way it was when I came here."
Vermont's senior senator keeps hope alive that the old ways will return. He's working with Republican colleagues on the Senate Appropriations Committee on funding for enhanced election security. Which is a worthwhile goal. But even if it gets through Congress, would Trump sign it? And even if he does, would he actually spend the money in ways that could block Russian tampering?
It seems about as unlikely as, say, the chances of the Senate taking up impeachment.
Media Notes
Lately, there's been something missing from WDEV Radio's midmorning "Dave Gram Show." That would be the host, veteran Vermont journalist Dave Gram, who's been absent for more than two weeks.
Gram had been battling a persistent bug for a couple of months. But things got worse around mid-April. Between April 20 and May 4, he spent 10 days in the hospital. He was discharged last Friday for continued recuperation at home.
The diagnosis: "pneumonia with complications," he said in a Monday phone interview. "This week, I'm recuperating at home. I hope to be back in the saddle as soon as possible."
The only positive he's taken from the experience: "I've been blown away by the expressions of caring," Gram said. "We have a great community here. It's been heartwarming."
Gram is highly regarded in Vermont political circles, thanks to his 31 years with the Associated Press and his post-layoff career as a radio host and editor for VTDigger.org. We look forward to hearing his familiar voice once again.
Correction, May 8,2019: An earlier version of this story mischaracterized U.S. Attorney Christina Nolan's position on the forfeiture of property owned by drug dealers.