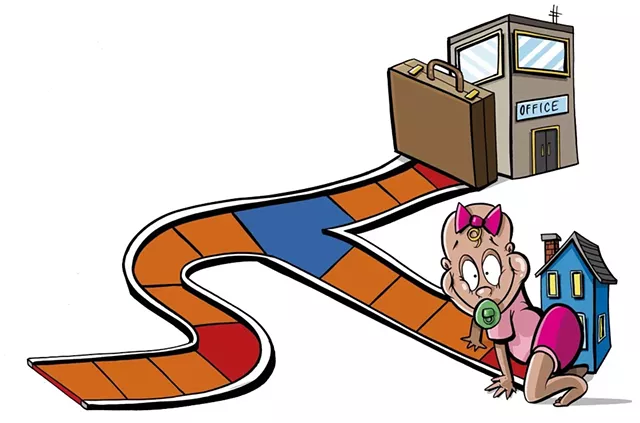 I love working — solving problems, thinking creatively, collaborating with other adults. I even like meetings. So until recently, I never thought I'd voluntarily quit my job.
My husband and I both worked full time at nonprofits, which meant we didn't make a ton of money. But we had enough income to meet our needs and sock some away. We had insurance through my husband's employer, and though premiums were expensive and the deductible was high, it still beat paying out of pocket.
Then we had a baby. When we crunched the numbers, some big gaps appeared in our budget. Namely, health insurance; adding a kid to our plan was shockingly expensive — $450 more each month just for the premiums. Another blow: We'd have to pay for childcare. The combined cost of keeping us insured and our child cared for almost matched my salary.
Then we realized that, minus my income, our son would qualify for Dr. Dynasaur, Vermont's cheap or free health insurance for kids. And if I were able to stay home and care for him — and freelance as a writer during his naps and on weekends — we'd save thousands on childcare costs. I'd also get to be home with him during his first year, a time that parents of grown children are always reminding me is precious.
So I quit.
My family had backed right up to what's known as the benefits cliff. The term refers to the point at which an increase in income triggers a loss of government-funded benefits. For example, if your kids' state-subsidized health insurance costs $5,000 a year, and the $2,000 raise you've been offered puts you over the income threshold to retain that insurance, you're better off declining the pay increase. If you lose the state-provided insurance, the premiums on your new policy will quickly eat up your extra $2,000 — and possibly thousands more.
If you take that raise, your income will go down, not up.
In many cases, families fall off the benefits cliff as they climb out of poverty. My family was about to go over it backward: The benefits of dropping my income outweighed my continuing to work.
Leaving my job made financial sense, but something still doesn't sit right. It's not that there's an incentive for me to stay home with my kid — it's that there's a disincentive for me to go to work. As a born worker, I feel ambivalent about my decision.
It's not an easy thing to discuss openly. I found several Vermont families in similar situations (see "Cliff Notes," below) but for each one I interviewed for this story, two or three backed out, or didn't want to be named.
Steve Ames is the regional coordinator for Building Bright Futures in Lamoille County and teaches skiing at Stowe Mountain Resort. He says he kept his income low for years to qualify for benefits and parent his kids. It's a choice he's more comfortable with now that his kids are older. But there was a time when, he says, "I felt like I was copping out, or somehow less successful of a person."
It's not just parents who are conflicted. Economist Paul Cillo, founder and executive director of the Public Assets Institute, thinks the situation is problematic, too.
"The concern has been, it's a deterrent or impediment to people having a work life if they want to," he told me. "It's one thing to say, 'I want to stay home with the kids.' It's another to say, 'I'd like to work, but it doesn't make financial sense.' It becomes a poor financial choice, frankly, and I think that's what's bothersome about it."
Costly Care
The problem, according to Cillo, is that families struggle to afford healthcare and childcare — "these basic things that should just be part of being a citizen in the state." But in the U.S., they're not. And families have to make trade-offs to meet those needs.
Paradoxically, efforts to make them more affordable also contribute to the problem. Government subsidies for insurance and childcare include income thresholds, which make benefit cliffs inevitable.
It doesn't help that navigating the income qualifications for various programs can be really confusing. "They're all a little different, as opposed to having one comprehensive system," Cillo explains. "I think that's what the struggle has been. How do you get this disparate bunch of programs to make sense to the human beings whose lives are affected by them?"
And Vermont also faces a unique benefit-cliff challenge: Because the state's income-eligibility cutoff is relatively high, many middle-class parents find themselves on the edge. To qualify for the national Children's Health Insurance Program, for example, a family of four must earn $48,500 or less. By contrast, to qualify for Dr. Dynasaur in 2015, a Vermont family of four could earn up to $71,550, or 300 percent of the poverty line.
Why is Vermont's cutoff so much higher? The state has a history of investing in health care, especially for children. Before the Affordable Care Act, Vermont was one of only a few states to offer subsidized health care to families earning up to 300 percent of the poverty line, though "that's pretty standard now," says Robin Lunge, Vermont's director of health care reform.
The good news: Lunge says that since the passage of the Affordable Care Act, 94 percent of Vermonters, and 99 percent of Vermont kids, have health insurance. And even though health care costs soak up a huge portion of the state budget, 55 percent of Dr. Dynasaur, which is basically Medicaid, is federally paid; Vermont pays only 45 percent. From the state's perspective, it makes sense to invest in a social program that doesn't rely solely on state funding, Lunge says.
The bad news: Because the state uses federal funds for Dr. Dynasaur, it can't gradually decrease subsidies as parents earn more money. Families either qualify, or they don't. That's also true for programs that predominantly affect low-income families, like Reach Up (Vermont's name for its Temporary Assistance for Needy Families program), SNAP (food stamps), fuel assistance, Section 8 housing and others.
"The challenge with any eligibility process is that under federal law, the feds will not approve a program that just phases out," Lunge explains. "It's just the way Congress wrote the statute. Not just Medicaid, but all benefits programs have that divide. There's not much the state can really do about that, unless we pay for [programs] with 100 percent state dollars."
Contrast that with childcare subsidies in Vermont, which are paid for entirely with state dollars. That means they can be offered on a sliding scale. Vermont's Child Care Financial Assistance Program supports families whose income is up to 200 percent of the 2015 poverty level, or $48,500 a year. Subsidies range from a 10 percent discount for a family of four earning no more than $3,975 per month, to 100 percent for a family of four earning $1,988 per month.
Robyn Freedner-Maguire is director of Let's Grow Kids, a statewide campaign that highlights the need for high-quality affordable childcare for children ages 5 and under. She says CCFAP does a "fairly good job of supporting families who are most on the fringes," but as soon as families cross that income threshold, they're paying "an exorbitant amount of money."
Let's Grow Kids pegs the current cost of home-based care at $150 a week per child, and center-based care at $205 a week. The initiative estimates that a family with two kids needing full-time childcare spends more than $19,000 a year. Says Freedner-Maguire: "We know middle-income families are paying up to 40 percent of their household income on childcare."
She suggests that this is in part because the state budgets the same dollar amount for CCFAP annually, even if the actual cost and demand for care has increased. As a result, there isn't enough money to aid all families eligible for tuition assistance. Many parents find themselves on a waitlist, forcing them to cut work hours or quit.
"We're creating this vicious cycle for families here in the state who want to get ahead and want to provide for their children and want to contribute to Vermont's economy as employees or entrepreneurs," says Freedner-Maguire, "but the cost of childcare is so high and so prohibitive to accomplishing that."
Lunge notes that the legislature is aware of the unintended consequences of these benefits programs. When a new one is implemented, she says, it's studied by the Agency of Human Services and discussed in the legislature.
In other words, the benefit cliff is no secret. A 2009 report by the Vermont Child Poverty Council called "Improving the Odds for Kids" illustrates the problem. The authors point out that families of four with two working parents lose more resources than they earn in income when they're hovering between 101 and 250 percent of the poverty line.
The report notes that the council heard stories from parents who yearned for financial stability but chose to decline raises or quit jobs in order to keep benefits for their kids. "Yet this decision was often accompanied by discouragement and despair, because it meant they remained in poverty and dependent on government support."
Drawing eligibility lines, and deciding which values to prioritize isn't easy, says health policy consultant Steve Kappel. He notes that this conflict is inherent in the way humans make representative decisions on a broad scale. It's "a group of people providing incentives and disincentives to another group of people," he says. "What behavior do I want to incentivize? What behavior do I want to disincentivize? And who am I to decide, anyway?"
Unmeasurable Losses
It's difficult to ascertain how much productivity is lost when parents opt out or scale back out of financial necessity. But anecdotally, Vermont employers say they see it happening.
"I've seen people linger at part time a lot longer than they might have liked to," says Laura Slavin, human resources manager of Middlebury Natural Foods Co-op. She hasn't had an employee refuse a raise in order to keep their subsidies, she says, but sometimes workers will ask her to reduce their hours. Slavin complies, but it "gets tricky, if it's an incredibly well-skilled individual, and you actually need somebody four days a week."
Public Assets Institute founder Cillo says that while there isn't a way to measure the number of parents who drop out of the workforce to retain benefits, it's clear that providing benefits to all Vermonters would have a positive economic impact.
"What we know is 99 percent of job growth in Vermont is the result of either startups or expansions by people who already live here," he says. "So if you make it easier for those individuals to start a business and find employees, then you've made Vermont a friendlier place for these startups and expansions.
"When you make it hard for Vermonters to get basics for their families, like health care and childcare, you're making it unfriendly."
Ironically, for some employers, the only economical way to be "family-friendly" is to encourage parents to seek government subsidies. Slavin says she offers full-time employees health insurance, and covers them generously. But spouses and children are not eligible to join — even to buy in at full cost — to protect families who rely on subsidized insurance. The co-op can't offer enough toward family premiums to beat the amount the employee would receive from the government. "If we offered for a spouse or child to join the plan but didn't offer a substantial amount of money toward their coverage, that employee would lose their subsidy," Slavin explains. "We cover that employee better by offering the single plan."
"It's a loophole in the system," she says.
Freedner-Maguire from Let's Grow Kids notes that the way the system is set up doesn't just hurt Vermonters — it's a drag on the economy, because it deters people from moving to the state. "We're hearing from business leaders all the time about the challenge their employees are facing, because they're trying to recruit families to the state of Vermont and the highest costs are housing and childcare."
Making Progress
Vermont is no longer pursuing single-payer health care. But would universal coverage for kids keep parents working? Health care advocate Peter Sterling is studying whether Dr. Dynasaur should be extended to all Vermont children, regardless of income.
"Covering kids is a good investment," says state health care reform director Lunge, even though Medicaid is expensive. "Just to be frank, kids are cheap [to insure]," Lunge says, and quality preventive care in childhood makes for healthier adults.
The state isn't pursuing universal childcare, either. But efforts like the Let's Grow Kids campaign are raising awareness about the need for affordable care. Let's Grow Kids was one of the organizers of a March gubernatorial candidate forum on early childhood education, for example. According to a report from Vermont Public Radio, former Windsor county state senator Matt Dunne specifically addressed childcare subsidies and the benefits cliff. "Too many Vermont families, too many single parents, are literally making the choice to not pursue their career because they will end up net behind if they're doing right by their children," he said.
And last legislative session, a group of parents, early childhood professionals, business leaders and administration figures came together as a Blue Ribbon Commission to take testimony on how to finance affordable childcare. The group will present a report to the legislature on November 1.
Even if there's interest and, as Cillo points out, it's in the long-term economic best interest of the state, Vermont still has to decide if it will budget for expanded benefit programs for families. Health policy consultant Kappel says, "One of the things that is simultaneously wonderful and challenging about Vermont is we want to do a lot of things for the population. Probably more things than we can afford to do."
In the meantime, parents must look at the whole picture: income and costs; family values; professional goals; life in Vermont. There's no way to measure the joy of raising kids, but as Ames at Building Bright Futures wryly says of taking the leap into parenthood: "There is a profound choice one makes when deciding to take on a round-the-clock job that has no cultural support or recognition — and that presents no economic incentives."
As for me, I'm still ambivalent. I'm aware that my decision to step away from the workforce may hold me back when I return full time. I'm lucky that my family is resilient enough to absorb a lower income for a while. Most of all, I'm grateful to have this time with my son. But when a parent's choice whether to work or be a caregiver is determined solely by the family's net income and access to healthcare and childcare, it's not really a choice.
Cliff Notes — Stories from Families on the Edge
A few families were willing to speak on the record about how they navigate the benefits cliff — the point at which an increase in income triggers a loss of government-subsidized benefits. If having options is an indicator of wealth, everyone I spoke with is doing OK. They're college-educated and capable of increasing their household income, and probably will once their kids reach school age. But while their kids are young, they're taking the better deal.
Ashley DiMercurio started a side business before she decided to stay home with her kids, a newborn and an almost-4-year-old. As a brand representative for a fitness company, she coaches people through home-workout programs. She also started writing for the Burlington VT Moms Blog and picked up high-end baby swag through photo shoots. The blog also gave her a support network: When she was pregnant, she says, people in that community gave her baby clothes.
"Vermont is expensive," DiMercurio says. "I hear more and more people saying, I stay home but I tutor on the side. Or the multilevel marketing companies: you can sell essential oils, or you can sell yoga clothes or you can be a passion party consultant. It seems like more and more moms have home businesses now."
DiMercurio used to teach, and after her first child she went back to work full time. "We felt like I had to go back to work at that point because of finances," she says, "and as a teacher, you get really good health insurance. I was providing the benefits for our family."
She and her husband wanted a second child but couldn't afford childcare for two kids. Then, just as her side business began to grow, DiMercurio found out her teaching position was going to end. So instead of looking for another job, she and her husband decided to have another baby.
"I'm still staying home because I think it would be $500 a week to put them in childcare. With us being single income except what I make on the side, our kids are eligible for Dr. Dynasaur," she says. "Even when I was teaching, money was still tight. But at least now both kids are eligible for that supplemental insurance. When I was teaching, we were just over the cutoff."
Sometimes she wonders if she made the right choice. Would it have been better to keep working and have the income, even if most of it would pay for insurance and childcare? "It's a very hard decision ... it's hard to keep up with all the expenses. Kids outgrow clothes overnight."
Becky and Ben Colley of Waterbury are both self-employed and successful, Becky as a creative director, Ben as the owner of a coffee-equipment service. Being self-employed and having help from Becky's mom gives the Colleys a degree of scheduling flexibility. They spend a lot of time with their almost-2-year-old daughter.
But with that flexibility comes the responsibility of purchasing their own health insurance. As a freelancer, "sometimes I have to wait months at a time to get paid," explains Becky. But Vermont Health Connect, the state's health care exchange, looks at monthly income to determine subsidy level. During a lean month, the Colleys may qualify for subsidies. But the next month, if several paychecks come through, they may not. Their approach is to go with a modest average and claim the subsidy. If they make too much money and end up owing, they pay it in a big chunk at the end of the year.
"I know that's technically not what I'm supposed to be doing, but it works for us," Becky says. "I don't think there's enough flexibility for self-employed people. Also, the time-suck part of it is huge. Just to get in touch with them and change my income level on a monthly level? My income changes every month, sometimes by thousands of dollars. I don't have time. I don't have time to take a shower."
When Becky picked up a couple of new clients this past year, it was too much money to turn down, she says. And it was great for her business. But it also means the Colleys will start paying full freight for insurance. "I think it's awful that people feel they have to give up income and give up growing their own businesses in order to have reasonable health care costs," she says.
Even before they started a family, Morgan and Andy Greenwald of East Montpelier had an idea of how they wanted it to unfold. "We're having kids because we want to raise them, we want to be with them," Morgan says. "We'd sacrifice other things in order to have one of us stay at home."
The Greenwalds have a 4-year-old son and a 2-year-old daughter. After their son was born, Morgan went back to work part time, Andy worked full time and their son was in daycare two days a week. When their daughter arrived, they looked at costs. "You make more if you work full time, but you're paying more," Morgan says. She brought her case to her employer, who offered her a full-time position and a raise. She accepted, and now Andy is the kids' primarycaregiver.
The family is on Morgan's employer's insurance, but it's a high-deductible plan. As a single-income family, they still qualify for Dr. Dynasaur, which covers the balance of what Morgan's insurance doesn't pay.
"We're so tied to this benefit thing, and needing insurance from your employer right now, that we're pretty much stuck," she says. "We would do something a little less mainstream, but you can't really gamble with not having health insurance when you have kids. It really does tie you to a traditional job with an employer with benefits."
You Do the Math
These hypothetical situations weigh family incomes against gains and losses. There are many variations, including employer-provided retirement plans and health insurance, and other state or federal benefits. While these situations are not comprehensive, they are designed to illustrate a family's decision-making process.
Jerome is a single parent to a 3-year-old son and earns $31,400/year. He receives a 50 percent subsidy through Vermont's Child Care Financial Assistance Program, bringing his childcare costs — $10,250/year — down to $5,125/year. Jerome's boss offers him a promotion, and a raise of $8,200/year. If he accepts, he would no longer be eligible for CCFAP subsidy. He also couldn't claim the federal Earned Income Tax Credit, which on his 2015 taxes was $3,359.
His choices, by the numbers:
Take the raise: lose benefits, make $284 less a year
Decline the raise: stay at $29,634/year after the tax credit and childcare costs, retain benefits
Negotiate a lower raise: slight income increase, retain benefits
Maria and Marcy have two young children and work full time. Their combined income is $82,000/year. They pay $21,000/year for full-time childcare for two kids, and $14,500/year in premiums for a family health-insurance plan through Marcy's employer.
They decide that Marcy will quit her job to spend more time with the kids. Their household income drops to $41,000/year. They pay $7,332/year for subsidized health insurance through Vermont Health Connect, and the kids go on Dr. Dynasaur. They are eligible for a $5,548 Earned Income Tax Credit. And with Marcy staying home, they save $21,000/year on childcare. Since she's no longer commuting, they sell her car to bring expenses down. They decide that the intangible benefits of Marcy being with the kids are worth a temporary income drop.
Their choices, by the numbers:
Both work full time: make $46,500/year after major expenses
Marcy stays home: make $1,784/year less, gain time spent with kids
To learn more about the resources your family may qualify for call 211, visit vermont211.org or dcf.vermont.gov.