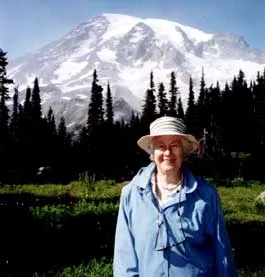 Dorothy Maclean seems pretty out there. Especially as compared to the rest of us, who are so overwhelmed by modern living that we find it difficult to communicate even with the people we care about. Maclean communicates with the spirit world -- specifically, nature "devas" and angels. Nearly every decision in her life is a result of going within and seeking advice from what she calls her "inner guidance."
This seemed strange even to Maclean, until she and friends Eileen and Peter Caddy were "guided" to go live in the tiny fishing village of Findhorn, Scotland. That town's name is now synonymous with the spiritual community Maclean and the Caddys founded in the early 1960s. That and the 42-pound cabbages.
The Findhorn Community became a world-renowned, eco-spiritual commune, attracting awestruck seekers and no small share of gardeners. That's because the founders -- who shared a cramped trailer, were on the dole and hungry -- directed their meditations to the earth. The results: They turned poor, sandy soil in a cold climate into rich loam, and grew vegetables that could have taken prizes at any county fair.
The story of Findhorn sounds like a fairy tale in many ways, but it's one that has inspired thousands -- including a number of "graduates" and current affiliates who live in Vermont. And it's a story Maclean will retell this weekend in Middlebury. At the invitation of the Vermont Family Forests, a nonprofit conservation organization based in Bristol, the Middlebury College Environmental Studies Program and Spirit in Nature, a multi-faith center in Ripton, Maclean will give a public talk Friday evening entitled "Nature Speaks Out: Go Within to Renew Yourselves and Heal the Earth."
If that sounds like a boilerplate Methodist sermon, Maclean, in an interview from her current home in Washing-ton state, clarifies with a chuckle, "Oh, I always talk about the same thing: making the inner connection and, through that, making the connection to nature."
Anyone wanting details, and instruction on getting in touch with their own spirit guides, can attend Maclean's half-day workshop Saturday. Attendees can expect to leave with some unique gardening tips. Those who already talk to plants, animals and angels will surely come away feeling vindicated.
"I'd like people to realize that they, too, can work cooperatively with nature's intelligence," Maclean says. "Such cooperation is vital for the world, for we need the help of the intelligence of nature in dealing with the environmental problems we've created. The intellectual point of view is not sufficient; we need to go more deeply into ourselves and into nature to find the real solutions."
Maclean, now 82, talks as though she's just flown in from a distant planet that hosts more intelligent life forms. But surprisingly, she's not an airy-fairy New Age type, even if she does describe herself as a mystic. She speaks with a down-to-earth, no-nonsense, let's-get-on-with-it conviction. She believes anyone can gain access to the divine within and learn how to harmonize with the natural world.
"If you get within yourself you find clarity, love, peace, joy and connectedness," Maclean says. "Once I'm in that place then I can be open and God can speak."
There was a time, however, when Dorothy Maclean functioned like the rest of us. She grew up in Guelph, Ontario, graduated from the University of Western Ontario and worked for five years with the British Secret Intelligence Service in the Americas and in Europe during World War II. She was married for 10 years.
Maclean studied Christianity and Sufism, the mystical form of Islam, and then, in her late twenties, she had what she calls "an experience of knowing that God was within me." She began to meditate on a regular basis. In this contemplative state she found she could listen to her inner guidance. She began to associate with like-minded individuals, and went to Scotland to be with a spiritual mentor named Shana. Through Shana she met the Caddys.
Eileen and Peter Caddy had also embarked on a spiritual journey. The three became fast friends and together decided to make a commitment to acting on intuition. When they had problems they couldn't solve, they meditated, listened to what sprang to mind and acted on it.
Maclean and the Caddys took a job at a rundown hotel in a small town north of Inverness. They spent six years transforming it into a four-star hotel. Then there was a falling out with the owner and all three were fired. It was 1962.
Broke and down on their luck, Maclean and the Caddys meditated about where they should go. Their inner guides directed them to a nearby village called Findhorn. Peter Caddy started growing vegetables in a measly patch of dirt. In their situation they weren't above asking the powers that be for gardening advice.
"One morning my guidance said I needed to commune with nature," Maclean recalls. "I was told everything had an intelligence, even a vegetable, and I was to harmonize with the essence of that intelligence. I thought that was pretty silly."
As Maclean meditated, she says, she came in contact with what she calls a deva, a Sanskrit term meaning angel. Gradually she found that she could come in contact with devas for all the individual species in the garden. They began to dictate specific information about how much compost, water and space the plants needed to flourish -- and along the way they communicated ideas about how she could live in harmony with nature.
Seven years later, Maclean and the Caddys were still living in the small trailer on the beach in Findhorn. But something miraculous had happened. Their garden produced 42-pound cabbages and 10-foot delphiniums without fertilizers or pesticides. Peter published a small newsletter about the gardens and their way of life, word spread, and people came to see the gardens and were astounded.
The media picked up on the story and broadcast the "miracles" of Findhorn. When the curious came and saw how Maclean and the Caddys lived in sync with each other and with nature, many of them stayed.
Michael Shaw, a Charlotte resident and chairman of the trustees for the Findhorn Community for the last 27 years, says the place has taken on a life of its own. The founders had a very hands-off approach to management, and so it has evolved over time as people have drifted in and out. There is an EcoVillage at Findhorn now, where residents grow their own food, treat their own waste and generate their own energy. This resonates with Shaw, an engineer for the Burlington-based Ocean Arks International, founded by Nancy Todd. Her husband John Todd created, a sewage treatment method using plants to filter waste. The Todds are "alums" of Findhorn as well.
So are Will and Lynette Raap. He's the founder of Gardener's Supply in Burlington and she's a co-founder of the Waldorf School in Shelburne.
Lynette Raap went to Findhorn right after college in the early 1970s. Her mother took her on a tour of Scotland, and when she meditated in the sanctuary at Findhorn she was hooked. She stayed for three years. "Anyone who went to Findhorn was aligned with the idea that we are all spiritual beings that happen to be in a human body," she says. "It was a place that grew out of synchronicity. People were drawn there. Miracles happened every day. People asked for things and got them."
Forty years later, the Findhorn Community is an institution. Its foundation runs classes, workshops and conferences, and its community is involved in a project growing thousands of trees from seed in the hope of replanting the long- lost Caledonia Forest of central Scotland. While it may have lost its hippie-ish flavor, Findhorn is as cutting-edge as it ever was.
Dorothy Maclean left the community in 1973 and went on to write six inspirational books; she lectures and gives workshops around the world. She still visits Findhorn twice a year, and she is working on her autobiography. Its working title: The Memoirs of an Ordinary Mystic.
When Maclean returns to Findhorn, even she is taken aback at the magnitude of it all. "I'm awestruck at times," she says. "It's amazing what's happened. But it came out of commitment. We weren't very talented, but we were committed."