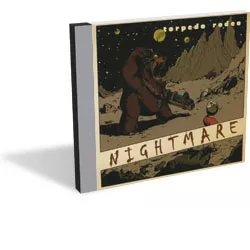 (Self-released, CD)
On their 2010 album, Vs. Sharktopus, local outfit Torpedo Rodeo served up a deliriously dorky, and roundly excellent, debut. The disc's lone flaw — if it can even be called that — was that the self-proclaimed surf-punk trio offered few glimpses of either surf or punk. Instead, the band favored quirky Brit-pop jangle. Though ably executed and generously infused with cheeky charm, it left this critic feeling slightly misled and craving some reverb-drenched, Dick Dale-esque shake and stomp. With their new EP, Nightmare, Torpedo Rodeo oblige the punk-loving wannabe beach bums among us, while retaining the strange irreverent streak that made their debut so tantalizing.
Guitarist Max Krauss gleefully drops into the pipeline on "10 Speed Car," unleashing a tumbling line worthy of the King of the Surf Guitar himself — that would be Dale, kiddos. His rapid-fire strokes ride a fine balance between staccato attack and splashy tone, among the more daunting challenges of surf guitar. Here, and throughout the EP's scant six cuts, Krauss proves a uniquely gifted and — more importantly — tasteful player. Even more than on Torpedo Rodeo's debut, he's the star of the show, displaying striking versatility and technical prowess.
"The Rodeo" sounds like what might happen if Ennio Morricone scored a Quentin Tarantino grindhouse flick — perhaps with a lyrical assist from Jonathan Richman. Creaky guitar sustains rise like desert heat and shimmer over Jeremiah Johnson's pulsing, tribal drums and a slithering bass line from Nick Sherman. Meanwhile, a ghastly chorus of male voices lends the song a sinister, ethereal glow.
"Ghosts" finds Sherman taking over front-man duties from Krauss, and revisiting the lighter pop fare from Vs. Sharktopus. On the surface, it should feel like a stylistic departure from the lithe, guitar-fueled tunes preceding it. But it doesn't. Rather, Torpedo Rodeo expertly infuse Sherman's pop leanings with the band's generally subversive aesthetic. Catchy as hell yet sonically arresting, it is the EP's centerpiece.
The following cut, "Vampires," is scorching punk bombast that highlights the band's sneering but playful charm while eviscerating the ongoing pop-culture fascination with vamps and werewolves — looking at you, Twilight franchise. It is funny and oddly poignant, and flat out rocks. It also may be the first local song to address the walking calamity that is Charlie Sheen. Though whether he's a vampire, werewolf or some other monster is never made explicitly clear. Winning, indeed.