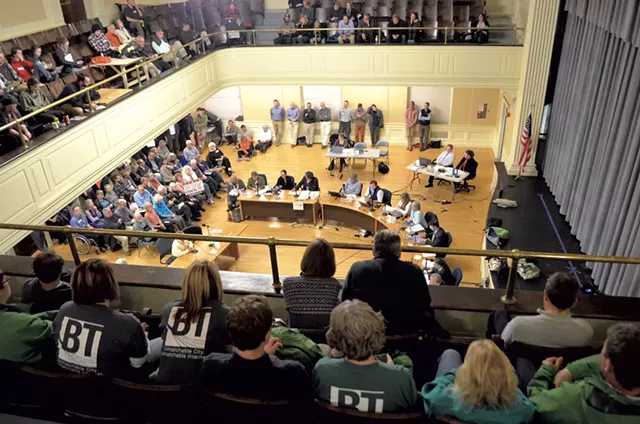 Katie Jickling
Monday's Burlington City Council meeting
The sales pitches of prospective buyers — in Vermont and Canada — failed to persuade the Burlington City Council to choose a new owner for its municipal telecom company on Monday.
After an evening of heated debate on the merits of the two contenders and a surprise revelation, the city council postponed its vote on the future of Burlington Telecom until next Monday, November 6. That's when it will decide between a $30.5 million offer from Toronto-based Tucows, which operates the mobile network and internet service known as Ting, and a $12 million one from the Vermont-owned co-op Keep BT Local.
Despite its lesser bid, KBTL has benefited from a home-court advantage. Supporters of the grassroots effort have made the case for local control in countless meetings and other public forums.
But in the last week, its Canadian competitor, Tucows, has stepped up its lobbying efforts and turned on the charm. Elliot Noss, the company's gregarious CEO and president, came from Toronto to make a personal pitch at Monday's meeting.
"We have the most satisfied customers in the world," he told the council, gesticulating enthusiastically as he endorsed his product. "We operate our company the way a telecom should be operated."
Three days prior, he hosted five Burlington city councilors — Joan Shannon (D-South District), Karen Paul (D-Ward 6), Chip Mason (D-Ward 5), Adam Roof (I-Ward 8) and Richard Deane (D-East District) — at the company's headquarters in Toronto, where publicly traded Tucows sells domain names, manages email services and operates Ting. With this reporter in tow, the Burlington contingent arrived at the former carpet factory just before 9 a.m. for a day of meetings and tours. About 200 of Tucows' 500 employees work in the two-story brick building on the west side of the city.
Inside, whiteboards, rows of computers, potted plants and sleek office furniture give the place a hipster techy vibe. Company milestones are advertised on wall hangings that resemble championship sports banners. The coffee maker is programmed to tweet the news of each fresh brew.
Councilors met with eight leaders from the company's various departments in a first-floor conference room. After introductions, small talk and coffee served in company mugs, the Canadians broke the ice.
An opening line from the vice president of sales and marketing, Michael Goldstein, revealed that the company has a good idea of what it's up against in Burlington. "We usually spend time thinking we need to dress more like grown-ups," he quipped. "Now we're trying to dress less like an evil corporation."
Noss described the ideal Ting city as one with universities and plenty of bookstores and coffee shops. "So Burlington is perfect," he said. Over the next seven hours, company reps played up Tucows' "hyper-local approach."
Katie Jickling
Tucows CEO and president Elliot Noss
Tucows is an acronym for "the ultimate collection of Winsock software" — which encapsulates the company's original mission, circa 1993, to become a platform that offers downloadable software. The company has since embraced the acronym's coincidental phonetic meaning — "two cows" — and adopted it as a brand. Bovine puns are prevalent in the company's marketing materials, and the chairs in the lobby are upholstered with Holstein-inspired fabric.
Tucows has been in the fiber business since 2015. All of the other internet companies it owns — in Charlottesville, Va.; Holly Springs, N.C.; Centennial, Colo.; Sandpoint, Idaho; and Westminster, Md. — came knocking, according to Noss. BT would be the first acquisition the Canadian company has pursued.
Noss said he'd been keeping tabs on BT since its inception in the early 2000s. He followed the news of former Burlington mayor Bob Kiss' decision to use $17 million in city funds to prop up the company in 2009, as well as BT's subsequent legal troubles and rebuilding effort.
When he heard that the city was seeking a buyer, he submitted a bid. On October 25, he and other Tucows employees traveled to Burlington and met with the BT team.
But it was the Burlington city councilors' recent visit to Toronto that raised questions for some critics, who portrayed it as an opportunity for Tucows to wine and dine Queen City decision makers in an effort to curry favor.
Shannon defended her decision to accept the invite in a phone interview before the trip. "I feel obligated to go on behalf of my constituents and all the citizens of Burlington," she said. "No one's going for the fun of it."
Wisely, the company served up transparency for lunch. Each councilor received a bill for $22 to partake in the buffet of salad and sandwiches.
BT paid for the councilors to visit Tucows. About $5,200 covered the cost of flights and one night in a hotel. Rather than fly, Paul drove from Burlington and said she'd pay all her own expenses. The rest of the councilors, along with Mayor Miro Weinberger's chief of staff, Brian Lowe, arrived in Toronto around 10 p.m. last Thursday.
The councilors made light of any accusations of collusion as they crowded into a taxi for the ride to their 4.5-star hotel — where they doubled up in rooms to save money.
"This is a junket," called out Mason, buried under luggage in the back seat.
"If there's not chocolate on my pillow, I'm going with KBTL," Shannon joked from the middle seat.
Every city councilor had been invited to Toronto, but those who ended up going were already firmly in the Tucows camp. All five had voted for the company on October 16 when the councilors winnowed the BT bidding field from three finalists to two.
Regardless, Tucows was in sales mode. After lunch Friday, the group video-conferenced with the company's Oregon-based director of field operations. Other employees explained the nuts and bolts of fiber mapping and installation — tools they'd use to bring fiber to Burlington's most inaccessible homes.
Noss sat at the head of the conference table, energetically presiding over events like a master of ceremonies. He highlighted a company ethos that he said would jibe with Burlington's culture: an appreciation for good coffee, an adherence to net neutrality, health food in the company kitchen and, of course, the cow theme.
The councilors interviewed the Tucows leaders. They asked about the decision-making processes, local control, customer service and Burlington jobs. How was the company's relationship with its shareholders? Would Tucows end up selling BT to a large corporation such as Comcast?
With the exception of a 2002 sale of an electronic library, "I've never sold anything," Noss assured them.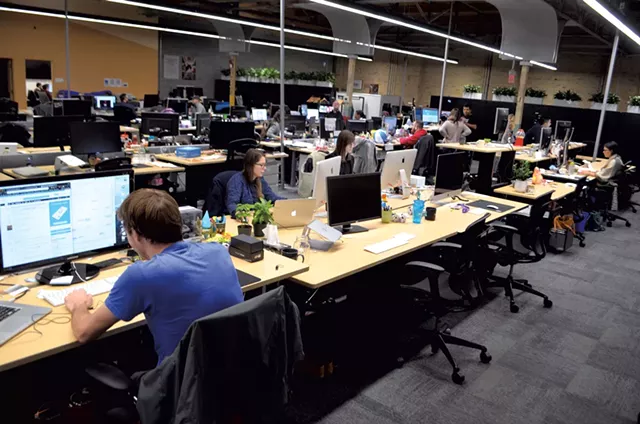 Katie Jickling
Inside Tucows' Toronto headquarters
Roof and Shannon said they were impressed by a visit to the customer-service call center on the second floor, where nearly 80 headset-wearing employees sat before computers, answering questions. Screens above them showed that customers waited an average of 29 seconds to speak to a representative — and that wait time was longer than their goal, according to supervisor Chris Gyorkos. Those reps are authorized to credit unsatisfied callers in cash.
Roof said Tucows persuaded him that its dedication to local wasn't just a spiel. He noted that when Ting installs fiber, the company asks residents where on their homes they want the internet cable installed.
"Having people on the ground, hiring people from a community to be a part of that, is something they've demonstrated in their telecom company," Roof said. In terms of local, "I think they've put their money where their mouth is."
Shannon seemed pleased when the vice president of networks, Adam Eisner, diagnosed a connectivity problem she'd experienced in her own home.
Every one of the councilors who attended said they were more, not less, likely to support the company's bid as a result.
What about the rest of the councilors? As the session wound down at 3:30 p.m., Noss acknowledged the seven missing members.
"There's some sadness for me that no one else is here," he said.
Shannon explained that some of her absent colleagues had already made up their minds. "Your answers have nothing to do with their decisions," she told Noss.
Although he was polite about it, Noss and his team leaders seemed both incredulous and slightly offended that their bidding competitor — KBTL — has no telecom experience, technical expertise or assets.
"We understand operating much better than we do pitching," Noss remarked with what sounded like false modesty. "We're all terrible about politics."
But in the days after the Toronto visit, it looked like the politics were playing in the Canadian company's favor.
On Sunday, KBTL board chair Alan Matson admitted that he had mischaracterized the terms of its $10 million loan from Maine Fiber. Rather than an 8 percent interest rate, KBTL would pay 14 percent interest on the loan, Matson said.
On Monday, Citibank, which sued the city for its BT losses in 2011, threatened to sue Burlington again if the council selected the co-op's bid. The bank's legal counsel called KBTL's bid "not even remotely commercially reasonable and not qualified."
Representatives from another city creditor, Blue Water Holdings, said they also had misgivings about the co-op's ability to run the telecom.
At Monday's meeting, Burlington business owner Russ Scully framed the decision in existential terms. "It's not a matter of whose offer is better — it's does Burlington Telecom live or die at the end of tonight?" he said. "If we go ahead with KBTL, I don't see a future at all for BT."
Several other local leaders also endorsed the Tucows bid, which seemed on track to succeed.
But the momentum crumbled when councilor Paul, a Tucows supporter, revealed immediately before the vote "a professional conflict of interest" that required her to recuse herself. She would not describe the conflict but said it has "nothing whatsoever to do with the parties interested in purchasing Burlington Telecom." She claimed not to be aware of it when she visited Toronto.
"To hear the news that possibly there's a city councilor that sat through this whole process that had a conflict of interest" raises concerns, Councilor Dave Hartnett (D-North District) said. He added later, "It's not responsible for the council to move forward tonight."
Most of his colleagues agreed. Just 20 minutes before midnight, they voted 8-3 to postpone the decision for another week.