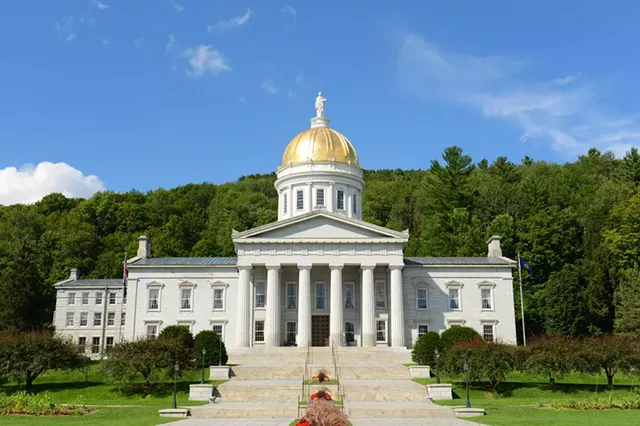 Dreamstime
The Vermont Statehouse in Montpelier
During his failed run for governor this summer, Bruce Lisman tried to smear his Republican rival, Lt. Gov. Phil Scott, for contemplating a new tax on miles traveled by car.
"Sadly, Phil Scott is out of touch. More taxes are not the answer," Lisman said in one ubiquitous radio advertisement. "A new mileage tax will hurt Vermonters."
What Lisman failed to mention was that such a levy would replace the gasoline tax, which Republican and Democratic policymakers agree won't cover infrastructure costs as vehicles grow more fuel efficient. He also omitted the fact that when Scott raised the idea, at a July debate in Rutland, he was simply suggesting that the federal government — not Vermont alone — "think about other ways" to pay for roads and bridges.
"Bruce Lisman is apparently incapable of being honest about these facts," Scott campaign coordinator Brittney Wilson said at the time.
Three months later, the same can be said of Scott's own allies at the Republican Governors Association. A super PAC funded by the Washington, D.C., party committee debuted a new television advertisement last Friday slamming Democratic gubernatorial nominee Sue Minter for — you guessed it — the exact same thing.
"Minter even proposed a new tax on every mile you drive," a narrator says in the ad.
Seriously?!
Listen, I understand we're five weeks away from a profoundly consequential election. And I know that — at the federal level, at least — facts no longer matter. But can't we do just a little better in Vermont? Can't we have an honest debate between two candidates with distinguished records of public service and competing philosophies about how to run the state?
To be sure, the RGA is hardly alone in peddling bullshit. Here's a roundup of some other recent whoppers that have been diminishing the discourse in Vermont's gubernatorial race:
• According to Minter and her allies at the Vermont Democratic Party and Democratic Governors Association, Scott's all about raising the sales tax.
"He voted for an increase by 20 percent of the most regressive tax that we have — that has cost $680 million to middle-class Vermonters," Minter said last week at an Essex Junction press conference.
She was referring to Scott's support for Act 68, the 2003 overhaul of Vermont's education funding system. In addition to rewriting the state's property tax formula, the law upped the sales tax from 5 percent to 6 percent.
But as Ethan Allen Institute vice president John McClaughry has pointed out, every last Democrat in the Vermont Senate joined Scott in voting for Act 68 — as did most House Dems. Though Minter wasn't elected to the legislature until 2004, it's not hard to guess where she would have landed.
Inexplicably, even though she's trashing Scott for his vote, she refuses to say how she would have voted.
"Sue Minter is ignoring a basic rule in politics," St. Albans Messenger editor Emerson Lynn wrote recently. "Don't criticize an opponent for actions you might support."
• Another rule? Don't tell half-truths. Scott and the Republicans have been hammering Minter for trying to tax "everything from childcare to snow plowing to haircuts," as Vermont GOP executive director Jeff Bartley put it in a recent mass email.
Bartley's evidence? During her solo "debate" last month at the Tunbridge World's Fair, Minter told WDEV's Mike Smith that she would like to take a fresh look at the 2011 Blue Ribbon Tax Structure Commission report. The bipartisan tome, based on two years of public hearings and deliberation, recommended a broad range of reforms to Vermont's tax code, in order to make it more stable, simple and equitable.
Among the commission's proposals was to expand Vermont's sales tax from durable goods to most consumer services. But as Minter pointed out during the Tunbridge event, doing so would "lower rates by expanding the base." The Blue Ribbon commissioners estimated that such a shift could cut the sales tax rate from 6 percent to 4.5 percent.
That fact, of course, hasn't made it into Republican hit pieces.
• While Minter's initial support for the Blue Ribbon report was utterly defensible, she hasn't done herself any favors by trying to walk it back.
Asked about the GOP's attacks at last week's press conference, Minter denied that she'd expand the sales tax to haircuts or other humdrum services.
"Let me be perfectly clear that I will not add new taxes [on] services that will hurt middle-class Vermonters," she said, over and over again.
Instead, Minter vowed, she would "reform our tax code" by "looking for loopholes that support wealthier Vermonters," such as exemptions for lobbyists, limousine rides and small jets.
Um, this is Vermont, Sue. Taxing limos and jets ain't gonna balance your budget.
• Perhaps the biggest whopper so far has been Scott's repeated assertion that Democrats have raised "$700 million in new taxes and fees" over the past six years.
As Vermont Political Observer blogger John Walters has pointed out, Scott's campaign appears to be basing this on growth in spending — not taxes. According to state Auditor Doug Hoffer, much of that has been financed by the state's rebounding economy — and a corresponding uptick in personal income. To use as a benchmark state appropriations at the depth of the recession, he argues, "is artificial and disingenuous, in my view."
According to Hoffer's calculations, the average Vermonter saw "virtually no change" in income tax liability from 2010 through 2014.
To be sure, Democrats have consistently raised other taxes and fees over the past six years. Gov. Peter Shumlin's first tax bill, for fiscal year 2012, raised $12.3 million in new revenue, according to figures provided by the legislature's nonpartisan Joint Fiscal Office. His final budget, for FY2017, raised $47 million more. But if you add all six Shumlin tax bills together, using JFO's data, you get $177 million in new revenue raised during his tenure.
Is that worth debating? Absolutely. But not Scott's fantasy figure of $700 million.
• Finally, there's the matter of Scott's construction business.
Democrats have spent the past year criticizing the lieutenant governor for his partial ownership of a company that's done millions of dollars of business with the state. In a letter it sent Scott nearly two weeks ago, the Vermont Democratic Party called on him to make "a complete separation" from the business if elected governor — or prevent it from bidding on state contracts during his time in office.
The next day, Scott pledged to do the former and sell his share of DuBois Construction if he wins in November.
"I'm awfully glad he's finally recognized there is a conflict of interest," Minter said early last week.
But she quickly moved the goalposts, as Seven Days' Terri Hallenbeck reported. By the middle of the week, Minter was arguing that DuBois still posed a conflict for Scott because his cousin, Don DuBois, would still own a portion of the business.
"I don't think it's appropriate for the governor to be able to award state contracts to themselves or their family members," she told Hallenbeck.
Ah, so gubernatorial cousins can't do business with the state, either? What about second cousins once removed? Great uncles-in-law?
Whatever it takes to win, I guess.
Where's Sue?
Minter may be running for governor of Vermont, but she's sure raising a ton of money from those who live out of state.
According to new data from the Secretary of State's Office, close to $644,000 of the $1.5 million she's collected for her campaign — or nearly 42 percent — has come from non-Vermonters. Only $122,000 of Scott's $1.2 million — or 10 percent — has.
In the past month, Minter has done particularly well courting donors from California, New York, Massachusetts and the Washington, D.C., metro area. Many of their contributions have been clustered around particular dates, suggesting that the candidate herself has been traveling to out-of-state fundraisers.
If she has, it appears to be a state secret. Minter's spokesman, Elliott Bent, refused to answer any questions about the matter.
Here's what we can glean from her latest disclosure, which her campaign filed Saturday: Minter raised nearly $15,000 last month from donors based in D.C., Maryland and Virginia. Much of that money arrived September 7, around the time one Bethesda donor contributed $893 worth of food to a Minter event.
The Democrat raised nearly $28,000 last month from Massachusetts donors — mostly around September 19, when another supporter contributed event grub. Minter collected more than $26,000 from New York and New Jersey residents — some of which came in a chunk around September 20. And she raised another $17,000 last month from Californians.
The campaign spent $1,484 on United Airlines tickets "for candidate and staff," according to the report, but their destination was not disclosed.
Compared to Minter, Scott's been a bit of a homebody. According to spokesman Ethan Latour, the lieutenant governor left Vermont just once in the past two months to fundraise for his campaign. After taking part in a gubernatorial debate September 22, Scott drove down to Boston for a fund-raiser with Massachusetts Gov. Charlie Baker and was back in Berlin before bedtime, Latour said.
Then again, Scott didn't have to travel for his out-of-state cash, because it came to him. As Seven Days reported over the weekend, a super PAC financed by the Republican Governors Association has spent more than $1.2 million backing the current LG's campaign.
In the past month alone, the organization — called A Stronger Vermont — dropped $700,000 on his behalf, largely on television ads. That's nearly twice as much as the $370,000 a Democratic Governors Association super PAC spent backing Minter. And it's quite a bit more than the $212,000 Scott spent and the $209,000 Minter spent — combined.
Who's bankrolling Scott's friends at the RGA? According to the Center for Responsive Politics, its million-dollar-plus donors include Koch Industries (owned by the infamous David and Charles Koch), Blue Cross Blue Shield and Las Vegas Sands (owned by the infamous Sheldon Adelson). Other top RGA donors include Walmart, Alliance Coal and Reynolds American tobacco company.
Sorrell 2.0
In his December 2014 Pulitzer Prize-winning series, "Courting Favor," New York Times reporter Eric Lipton exposed a shadow world of lobbyists whose stock in trade is influencing state attorneys general on behalf of their corporate clients.
As Seven Days discovered the following spring, Vermont Attorney General Bill Sorrell was close with many of the stars of Lipton's stories — including uber-lobbyists Lori Kalani, Bernard Nash, Patrick Lynch, Mike Moore and Drew Edmondson. They donated to Sorrell's campaigns, hung out with him at Democratic Attorneys General Association retreats — and sought to influence his work back home in Vermont, according to records obtained by Seven Days.
Now that Sorrell's leaving office, the Democrat seeking to replace him is buddying up to the same crowd.
In late August, Chittenden County State's Attorney T.J. Donovan flew to New York City to meet with lawyers from Kaplan Fox — one of the biggest contributors to state AGs, according to Lipton's reporting. The firm gave Donovan's campaign $4,000. A month later, another influential plaintiffs' firm, Kessler Topaz Meltzer & Check, ponied up $2,000.
On September 13, Donovan was scheduled to attend a Washington, D.C., fundraiser during a DAGA conference. He says he had to cancel at the last minute, but his finance director, Whytnee Bush, attended in his stead — and brought home the bacon.
Cutting checks to Donovan at the event were Kalani ($500), Nash ($500) and their firm, Cozen O'Connor ($2,000); Lynch's firm ($500); Moore's firm ($500); Edmondson's firm ($250); and several others.
Why were Sorrell's lobbyist friends so eager to meet with Donovan?
"I'm sure what they want is a relationship," Donovan says.
No doubt. But why take their money if their goal is to influence official action — particularly when you don't need the cash? Donovan, who is heavily favored to win, has raised $391,000 for the so-called race. His virtually unknown opponent, St. Johnsbury attorney Deb Bucknam, has raised just $57,000.
"I don't know the history that you do. I mean, I read the Lipton articles about Nash," Donovan said, "To me, everybody gets a clean slate with me. I'm happy to have their support. And I'm going to do what I think is right."
That's what they all say.