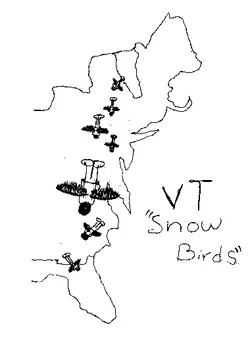 The current exhibit at Stowe's Helen Day Art Center, "Fine Toon: The Art of Vermont Cartoonists," gathers together an impressive array of drawings, paintings, graphic novels and sculptures by well-known cartoonists who live or have lived in the Green Mountains: New Yorker contributors Harry Bliss of Burlington and Edward Koren of Brookfield; James Sturm and Steve Bissette of the Center for Cartoon Studies in White River Junction; and Vermont-born Frank Miller of Sin City fame, to name a few.
But the star-studded comix collection just got a few new, amateur additions: two winners and two runners-up in the Vermont-themed Cartoon Contest, which Curator and Exhibitions Director Idoline Duke says she included as both "a good way to engage the audience" and "a good way to get people to come to the show." Seven Days agreed to publish the funny finalists.
About 30 wannabe cartoonists in two age groups - under 15 and 15-and-over - submitted works, Duke says. One Grand Isle Middle School teacher brought her entire class to the show, and assigned cartoon drawing to the students afterwards. No wonder the young winner and runner-up are both from Grand Isle. The other two, winner Leah Wittenberg of Burlington and runner-up Shannara Johnson of Stowe, are grown-ups. Interestingly, all four cartoons have to do with weather and/or the environment.