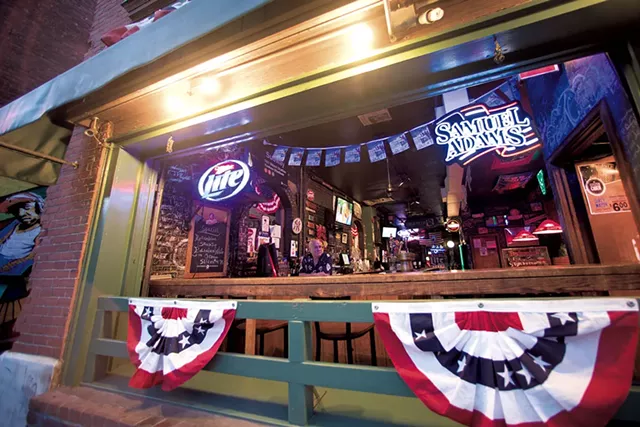 James Buck
Esox
Esox
194 Main St., Burlington, 862-7314
Barflies, punks and hipsters coexist peacefully around Burlington's most awkwardly placed pool table. The bartenders here don't force small talk — and that's part of the appeal. Named best place to go if you have resting bitch face in the 2015 Seven Daysies readers' picks awards, this relaxed bar is home of the PB Army. Grab a seat by the large open-air window facing Main Street and watch the world go by.
JP's Pub
139 Main St., Burlington, 658-6389
If it's karaoke you seek, look no further. This classic dive serves up wannabe rock stardom at least three nights a week.
Manhattan Pizza & Pub
Matthew Thorsen
Manhattan Pizza & Pub
This cozy and usually low-key hang is noted for a killer beer selection, good pub grub and local bands on the weekends. (Pro tip: Swing by on Fridays for deals on Philly cheesesteaks and Heady Topper.)
Olde Northender Pub
23 North St., Burlington, 864-9888
Owner Bob Beauvais describes this true neighborhood watering hole as "the best damn make-you-feel-at-home bar."
The Other Place
4 N. Winooski Ave., Burlington, 863-5803
Matthew Thorsen
The OP
The OP is the crown cubic zirconium of Burlington dives. It features drink specials every day of the week — we're partial to PBR pitchers on Tuesdays — and one of the more competitive pool tables in town.
T. Rugg's Tavern
149 Elmwood Ave., Burlington, 658-0456
This Old North End staple has the distinction of being the only bar in town with a view of a cemetery. So that's something.
Three Needs Brewery & Taproom
185 Pearl St., Burlington, 658-0889
The Needs has great beer, lively pool tables and an enormous outdoor patio. Swing by at 5 p.m. on weekdays for Duff Hour: a double dose of "The Simpsons" and dollar drafts.