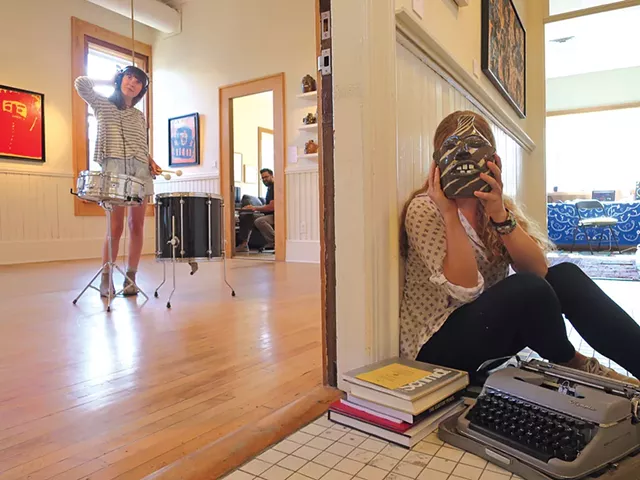 Matthew Thorsen
New City Galerie
Local art is everywhere in Burlington — from the walls of your favorite brunch spot to the halls of the University of Vermont Medical Center. And we're not just talking about paintings of rustic barns and covered bridges. Whether you're into abstract sculptures or Egyptian mummies, the galleries and museums listed here offer exhibits guaranteed to fascinate and inspire. For much more, check this section for weekly for art listings and events, and sign up for the Re:View email newsletter.
New City Galerie
This downtown gem of a gallery is modest in terms of square footage but provocative in terms of shows, which feature contemporary work by Vermont and Vermont-connected creatives. It also operates its own residency program, offering artists studio and exhibition space in exchange for work. Cartoonist Rachel Lindsay, who draws the weekly comic "Rachel Lives Here Now" for Seven Days has worked out of the studio. Go here for occasional concerts and poetry events, too.
BCA Center
This three-story gallery in a renovated firehouse has humble roots, emerging from an arts council founded in 1981 by former Burlington mayor Bernie Sanders. The center hosts approximately 12 top-notch contemporary shows per year — all free! — plus classes, live performances and workshops.
Champlain College Art Gallery
Under the direction of former BCA curator Chris Thompson, this relatively young art space hosts an eclectic lineup of shows, from video games designed by the subversive, world-renowned game designer Paolo Pedercini to works by college faculty and staff, and a whole lot in between.
Fleming Museum of Art
Courtesy of Fleming Museum
Installation shot of "Pop Art Prints"
With more than 25,000 objects in its collection, the University of Vermont's museum combines permanent installations of art and artifacts with temporary exhibitions ranging from pop-art prints to student-curated shows.
Karma Bird House Gallery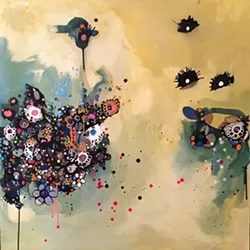 Courtesy of Karma Bird House Gallery
Painting by Sage Tucker-Ketcham
You never quite know what you're going to get here, but it's almost always good — KBHG is operated by Solidarity of Unbridled Labour, a design firm on the floor below. The gallery shares space with fancy coffee shop Maglianero, so you can get caffeinated and cultured all at the same time.
SEABA Center
404 Pine St., Burlington, seaba.com
The home base for the South End Arts and Business Association hosts rotating exhibitions by Vermont artists working in Burlington's South End arts district. It's also HQ for the annual art-stravaganza the South End Art Hop.
The S.P.A.C.E. Gallery
A South End institution, S.P.A.C.E. houses artist studios, screenings and events, and exhibits work by Vermont artists. What does S.P.A.C.E. stand for? Supportive Places for Artists and the Creative Economy, of course. Look for the spaceman mural.