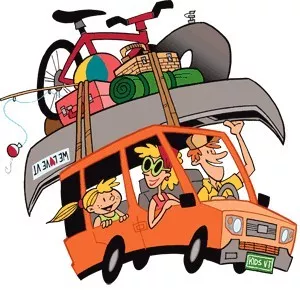 In case you missed them, here are this year's most popular items on our website. Happy reading!
1. "Vermont Day-cations"
by Nancy Stearns Bercaw, Kirk Kardashian, Kate Laddison and Cindy Morgan, June-August. The 2012 installment of this annual summer series chronicles road trips to destinations inside and outside Vermont, from the Burlington Waterfront to the Great Escape.
2. "Role Reversal" by Mary Kinney, February. This "Use Your Words" essay follows Kinney's journey from working mom to stay-at-home mom — and back again.
3. "Kids Town Closes" by Kate Laddison, February. After 22 years, the local children's department store called it quits. Kids City opened in the same location a few months later.
4. "Men of the House" by Erik Esckilsen, June. In this Dad-issue survey, seven stay-at-home fathers discuss why they traded careers for caregiving. They're part of a growing national trend: An analysis of U.S. census data found that 20 percent of dads with children under age 5 are the primary caretaker in their families.
5. "Biz Kids" by Kate Laddison and Cathy Resmer, April. Reading, writing, 'rithmetic ... and money management? The five young Vermont entrepreneurs in this Money-issue feature are earning — and learning — their money.
6. "The Because Project: Grace Potter," September. The Vermont-grown rock star credits her music career to her high-school choir teacher, Diane Phillips, who encouraged students to compose and perform original songs.
7. "Cure All" by Jenny Blair, March. The doctor is in — and listening — at Fletcher Allen's Pediatric Immigrant Clinic. "Nobody ever refuses a vaccine, because they've seen people die of these diseases," says Dr. Andrea Green.
8. "Pretty Fed Up in Pink" by Ken Picard, March. Picard writes about raising a girlie girl in this "Use Your Words" essay, which critiques the "Disney Ditz" princesses: Snow White, Sleeping Beauty and the Little Mermaid.
9. "Beyond 'Handicapped Accessible'" by Ken Picard, August. Jericho architect Christian Brown is redefining home design for kids with disabilities, thanks to Zoe's Race, an annual local fundraiser.
10. "The Other Mother" by Jaime R. Tibbits, as told to Cathy Resmer, May. A lesbian mom from Franklin County expands the definition of family.