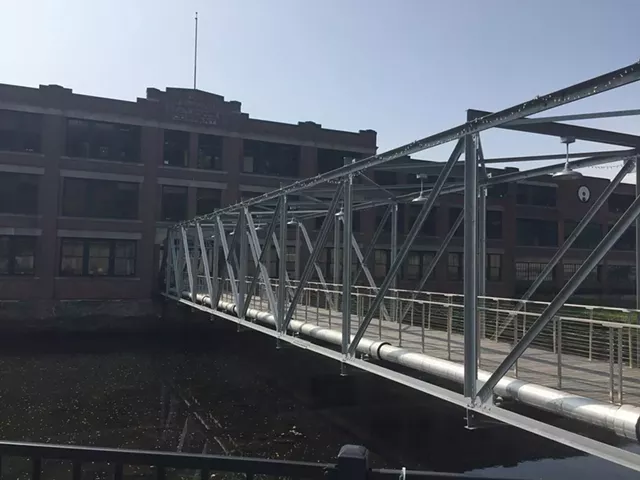 Courtesy of Sarah Stewart Taylor
A bridge attached to the former Fellows Gear Shaper Company factory in Springfield
On a recent trip to the American Precision Museum in Windsor, my 7-year-old daughter carefully examined a gunstock lathe. When I explained that the machine was used in the nineteenth century to carve out a precise part for a gun, her eyes widened.
"It's like a 3D printer," she said. She was right.
A type of duplicating machine, the lathe allowed gunmakers — and then other kinds of manufacturers — to create uniform parts that could be quickly exchanged or replaced on the battlefield. Vermont, we learned, is where many important machine tools were invented.
In the second half of the nineteenth century, the towns of Windsor and Springfield were at the center of innovations in manufacturing. Machine shops in the Connecticut River Valley pioneered tools that could precisely cut or grind parts for other machines — advances that made mass production possible.
With so much focus on engineering and innovation in schools, I wanted to show my kids — ages 12, 9 and 7 — that their own backyard was home to some of the most inspired inventors of our country's past.
The American Precision Museum digs into this history. It's located in the original Robbins & Lawrence Armory building, named after Samuel E. Robbins and Richard S. Lawrence, who in 1845, along with their partner Nicanor Kendall, signed on to manufacture 10,000 rifles for the American government. Problem was, they didn't have the staff or the space to fulfill the order. So they built a new workshop, powered by a dam on Mill Brook, and got to work.
Courtesy of the Precision Museum
A tool demo at the Precision Museum
The tools they invented made rifle manufacturing more efficient than ever before. And in 1851, six of their firearms, made with interchangeable parts, were shown at the Great Exhibition in the Crystal Palace in London, leading to a commission from the British government.
When we visited, the museum's hulking metal contraptions and ceiling draped with machinery belts gave us a vivid sense of what it would have been like to work in an early American machine tool shop. Many of the original machines are on display, as well as small-scale models of lathes and milling machines that appeal to kids' love of miniatures.
Most machines are off-limits to little hands, but there are gears and tools that kids can try out. Even better, the museum recently added features for young visitors, including a Junior Machinist Apprentice program, with a scavenger hunt that encourages kids to explore. My 12-year-old son loved filling out the Junior Machinist passport, going to different exhibits to answer questions about the various lathes and milling machines. When he finished, he got a 3D-printed badge in the shape of a gear.
The younger kids enjoyed the museum's Learning Lab, where containers of blocks, Popsicle sticks and cups entice young engineers to create sturdy, weight-bearing structures.
The museum got my kids thinking about how to solve problems in new ways. I asked them to think of "problems" around our house, and what technologies might help us be more productive. Ideas included cleaning robots, cat-feeding machines, a babysitter robot, and "an oven with arms that cuts up food and then cooks it for you."
The exhibits show how the machine-tool industry spread out from Windsor. After Robbins and Lawrence went bankrupt, Jones & Lamson Machine Company took over the building. That company made sewing machines, also with interchangeable parts, until the Civil War forced them to make military weapons. Later it moved down the river to Springfield, where some of the world's most famous machine-tool companies — like the Fellows Gear Shaper Company and the Bryant Chucking Grinder Company — were also headquartered.
Courtesy of the Precision Museum
A milling machine at the Precision Museum
We decided to follow the path of these inspired machinists, and drove down to Springfield along Interstate 91. Following the twists and turns of the Connecticut River and its offshoots, it's easy to see why this area became a manufacturing hub. As we drove down Springfield's Main Street along the Black River, we noticed places where dams or natural features created waterfalls, where manufacturers could harness the power of the water to turn early machines.
Downtown, the former Fellows Gear Shaper Company rises up on the far side of the Black River, a huge brick building with an updated bridge that replaced one that once carried streams of workers across the river at the end of their shifts. We walked across the bridge to explore the old factory — which now houses a microbrewery, arts space and health clinic — and tried to imagine the building vibrating with the power of all those machine tools.
The devices created in Springfield were central to the American auto industry, and to the production of airplane parts and sophisticated military instruments used in World War II. Local legend says that because Springfield was such an important manufacturing center, it was high — perhaps No. 7 — on Hitler's list of bombing targets.
James Hartness, a machinist at Jones & Lamson, was a brilliant inventor who pioneered a new kind of metalworking lathe that was crucial to automobile manufacturing. He would go on to patent many more important inventions in the machine-tool industry, and to serve as the 58th governor of Vermont.
Hartness had another interest — and I told the kids I would take them to his house so they could figure out what it was. Hartness House, now an inn, is a grand stone and wood-trimmed mansion on a hill high above Springfield. Next to the house, there's a structure that looks like a large white shoe with something sticking out of it. We walked around the strange building, trying to figure it out.
Courtesy of Sarah Stewart Taylor
Exploring the telescope next to Hartness House
Finally, someone said, "The top looks like a telescope." An equatorial plane Turret Telescope to be exact, invented by Hartness, who loved astronomy. He created an elbow telescope with a prism that bent the light at a 90-degree angle, allowing the telescope to rotate while the viewer sat in a structure designed for the purpose. This way, astronomy buffs — who were used to standing outside in the cold in order to track stars in the sky — could gaze at the constellations from the comfort of the indoors.
Hartness House contains secret tunnels that he used to reach his telescopes and observatories, now a telescope museum that can be toured by inn guests by appointment.
Driving home along the river, we talked about the inventions we'd learned about, and what inspired them. Sometimes inventors are driven by a desire to work faster or to make more of a particular product. Sometimes they're driven by a disruptive event, like the Civil War. Other times innovation is practical, borne of the simple desire to stay cozy and warm.
The Precision Museum offers a "Traveling Education Kit" that educators and parents can use to explore this part of Vermont history. Access it at americanprecision.org/education/traveling-education-kit.
Dynamic Destinations
The American Precision Museum (196 Main St., Windsor) is open daily from 10 a.m-5 p.m., May 27 to October 31.
The Windsor Station Restaurant & Barroom (26 Depot Ave., Windsor), located in the old railroad station (the train still stops outside!), is a great place for dinner or lunch.
The Fellows Gear Shaper Company building is now known as 100 River Street in Springfield. You can see the exteriors of many other machine-tool shops around town.
Hartness House Inn (30 Orchard St., Springfield) is a historic inn and tavern located in a Victorian mansion. The tavern is open for dinner Wednesday-Sunday, and brunch on weekends.
Stellafane, the clubhouse of the Springfield Telescope Makers, hosts an open house the weekend of October 13-14.
Events for Machinists in Training
2017 Model Engineering Show and Maker Space: Saturday, October 28, 9 a.m.-4 p.m., at the American Precision Museum and Windsor Recreation Center. Includes a family maker space, demonstrations and model machines.
Springfield Steampunk Festival, held in September, draws aficionados of steampunk — a mash-up of Victorian dress and fanciful and imaginative future technology. Attendees can tour the tunnels, observatory and telescope museum at Hartness House as part of the event.
The Stellafane Convention is an annual summer gathering for telescope makers and enthusiasts inspired by James Hartness' legacy.
Related Books