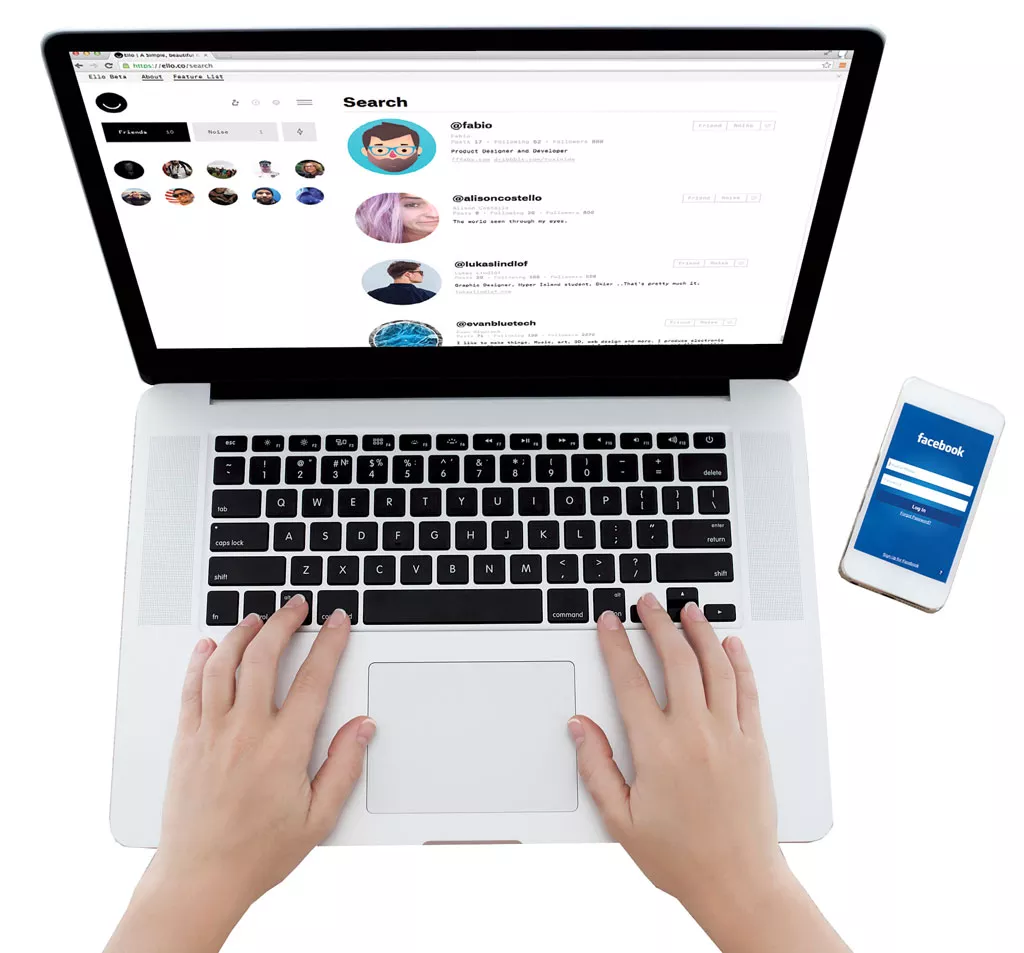 For weeks, my husband, Colin, and I have been struggling with a big decision that affects our marriage. Recently we were sitting at our dining room table during a rare moment of quiet — the baby was sleeping, the dishes were done. But instead of chatting about our days, or simply relaxing, we were both looking at our laptops. We weren't working; we were surfing Facebook.
Colin looked up from his laptop. "Let's quit Facebook," he urged me. It wasn't the first time one of us had said this.
"OK," I told him — and I believed, like I always do, that it was for the best.
"Tonight?" he suggested, always the more decisive of the two of us.
No, tomorrow, I thought.
Somehow tomorrow never comes.
I've been using Facebook for a decade now. I signed up using my new middlebury.edu email address the summer before my freshman year of college, back when the service was open only to students from a select few schools.
For a long time, the website was pure fun. Over the years, however, I've become more concerned about protecting my privacy and personal data. The ads annoy me. And I dislike the "like" culture.
But my real reason for resenting Facebook is much simpler: I'm addicted. Today, I'm more likely to end my day in the blue glow of a screen than settled into bed with an old-fashioned book. It's a break — and distraction — between tasks during my workday. I've even developed a worrisome tic: My fingers automatically start to type "facebook.com" into the navigation bar atop my browser, regardless of which website I actually intend to visit.
I considered tallying the number of times I checked the site during the course of writing this article, but decided the total would be too horrifying to share.
So when I heard about the new social media site, Ello — on Facebook, of course — I perked up.
Ello has been around for months, but really caught on in the wake of Facebook's so-called "real name" policy, which required users to register for the site using their legal names. That incensed some in the LGBTQ community because of its implications for drag performers and queer or trans individuals who no longer use those names.
They got the word out — on Facebook and other social media — and it struck a nerve. At one point, Ello was reporting that 45,000 new users were signing up every hour. (And, not surprisingly, Facebook ditched their offending policy shortly after everyone started talking about Ello.)
Why the explosion of interest in Ello? Because it's social media with a manifesto, which reads, in part: "We believe a social network can be a tool for empowerment. Not a tool to deceive, coerce and manipulate — but a place to connect, create and celebrate life."
Sure, it sounded a little "kumbaya," but I was intrigued.
Ello promises a "simple, beautiful, ad-free experience." Is this my alternative? I wondered. The e-cigarette for my chain-smoking habit?
I was doubly interested when I learned that Ello was cofounded by serial entrepreneur Paul Budnitz, of Burlington-based Budnitz Bicycles, and funded with Vermont venture capital. Shelburne-based FreshTracks Capital was the site's first institutional investor, contributing $435,000 in seed money 10 months ago. FreshTracks managing director Lee Bouyea sits on Ello's board.
"The whole pitch around an ad-free social network ... made a lot of sense to us," said Bouyea, when I asked about the decision to back the site. Users are feeling "increasingly disenfranchised" by existing, mainstream social media, he said.
That, coupled with the business plan — a "freemium" model in which Ello users can pay for additional services, similar to LinkedIn's approach — seemed like a good business opportunity to Bouyea and the other FreshTracks investors.
The FreshTracks investment riled some online pundits after Ello's explosion hit popular tech blogs. Venture capital must come with strings attached, commentators reasoned. Ello would have to make money to satisfy investors, and naysayers assumed that would mean eventually selling ads — or user data.
Bouyea said that isn't the case.
"We at FreshTracks are interested in building businesses for the long run," he said. "We're not quick-flip investors." And Ello, they decided, held promise.
"It might take a while for the company to scale," said Bouyea, "but if we're successful in building out a platform that users want, that won't be a problem."
When Ello started to go viral last month, I decided I wanted to be one of those users. I hit up an old grad school acquaintance — a frequent Facebook pontificator herself — for an invite. Then I uploaded a profile picture, and sat back to watch what all the fuss was about.
It's clear that Ello is the brainchild of people who care about design. It's got a Spartan, hipster-chic aesthetic — lots of white space. If Facebook is Starbucks, then Ello is Burlington's Maglianero.
To be honest, though, I don't find myself compulsively drawn to Ello the way I am to Facebook, in part because I only have a handful of friends on the site — just eight, at last count. The only one who posts regularly isn't a true friend at all, but rather founder Budnitz, whose updates I follow. His posts have included a New Yorker cartoon that references the site, links to various interviews and stories about Ello, and a quote from Sigmund Freud: "Every artist is motivated by desire for these three things: fame, money and beautiful lovers." I've only logged in sporadically since setting up my account.
Despite my Facebook fixation, I'm not, by nature, an early adopter, driven to test drive the newest new thing. So I reached out to some people who are, to see if I was missing something. When I asked how they're using the site, most said they were also taking a wait-and-see approach.
Filmmaker, writer and media educator Bill Simmon likened Ello to a cross between Tumblr and Facebook. It's based on conversations, like the latter, with the addition of animated gifs — like the former. The design has some quirks he's not crazy about — the fixed-width typeface, for instance, and the fact that the site can be a bit buggy — but he said the jury is still out on how it will evolve.
Simmon, like me, is focused on the big picture. "So far, the most interesting stuff on Ello is talk about Ello," he wrote in an email to me. Its explosion gave the "Big Thinkers" of the internet a chance to ruminate on social media and technology. "It's like it was 2004 again and there was suddenly lots of room for think pieces about social technology."
But what did he like most about the site? We came, again, to the F-word.
"It's not Facebook," he wrote. "I know that sounds glib, but I am being perfectly serious."
Christopher Kaufman Ilstrup, a senior philanthropic advisor at the Vermont Community Foundation, had a similar take. Kaufman Ilstrup joined Ello in response to the fervor over Facebook's "real names" policy. He called the site "interesting but somewhat difficult to use," noting the irony that the same policy that enticed many LGBTQ users to join — the ability to use whatever name you'd like — also makes it difficult to find people on Ello.
But when he locates his acquaintances, Kaufman Ilstrup likes what he sees.
"I do really appreciate the fact that most of what I've seen there is posted by real people that I know," he wrote to me. "It's not just an endless stream of so-called videos, BuzzFeed lists and reactionary 'news' articles."
Kaufman Ilstrup was speaking my language. "I don't see leaving Facebook behind anytime soon," he wrote, "but I do appreciate that there's another option out there."
Ello isn't the only one. I'm already using another locavore alternative to mainstream social media: Notabli, the family photo-sharing app developed by Vermonters Jory Raphael and Jackson Latka (see sidebar).
When I talked to Bouyea about Ello, I mentioned Notabli, and wondered aloud if there was any significance in the fact that Vermont is the birthplace of two social media alternatives. He added another to my list: Yonder, the Woodstock-based social media network for outdoors enthusiasts.
Three suggests a trend, but Bouyea cautioned me not to read too much into the coincidence of geography. Vermont happens to be a good place for tech entrepreneurs to start a business, he said, but social media alternatives are cropping up all over the place. Investors like Bouyea hope there will be "room for multiple winners" among all of those options.
Bouyea also said that Ello isn't aiming to topple Facebook.
"I think Facebook will be around for a very, very long time," he said.
Ello checks a lot of the boxes that I'm looking for in a social media alternative, and seemingly addresses many of the concerns I have about Facebook — the ads, the illusion of privacy, the noise of my newsfeed.
But it may not be the crutch I want, or need, to cure myself of my Facebook addiction. For that, I think I'm going to have to rely on something more basic: willpower.
Is there an app for that?
Social Scrapbook
When Jory Raphael and Jackson Latka had kids, the 34-year-old Burlington fathers faced the same conundrums puzzling most parents in the digital age: Is it a good idea to share photos of your kids online? Where? How often? And with whom?
The two designers decided there had to be a better option than pushing out those intimate moments on Facebook. So they created their own social networking app, Notabli, in 2012.
Like Ello, Notabli is ad-free. Parents can post photos, notes, audio recordings and videos to the service, all while controlling exactly who sees that information. Others need an invitation to follow along; once invited, grandparents and other family friends can see updates online, through the app or in email digests. Parents retain ownership of the photos and videos they post, and can export them at any time.
The site's poised to take off: This summer, two more dads — former Dealer.com employees Mike DeCecco and Tom O'Leary — joined the startup, bringing $1 million in investment capital with them.
I'd heard about the app before my son Asa's birth, and signed up when he was about a month old. It took some hand holding to help my relatives download the app, too, but soon I had grandparents and great-grandparents clamoring for more photos and videos.
I use the app like a sort of mobile scrapbook. On the first night of the first big trip my husband I took without Asa, we lay side by side in bed on the other side of the country, scrolling through our archived photos and replaying videos. What I like best about this social media is that the "social" aspect is so intimate. It's a baby book for the digital age.
"I'm only sharing with people I would invite into my living room," Raphael recently told Kids VT, the monthly parenting magazine owned by Seven Days. "There's no one I'm sharing with that doesn't have a personal relationship with my children."
Meet the dads behind Notabli and learn more about the app at the Vermont Tech Jam on Friday and Saturday, October 24 and 25, at Memorial Auditorium in Burlington. A member of the Yonder team gives a presentation during the Jam's "Tech Tank" series on Friday, October 24.
The original print version of this article was headlined "Too Much Social-izing?"