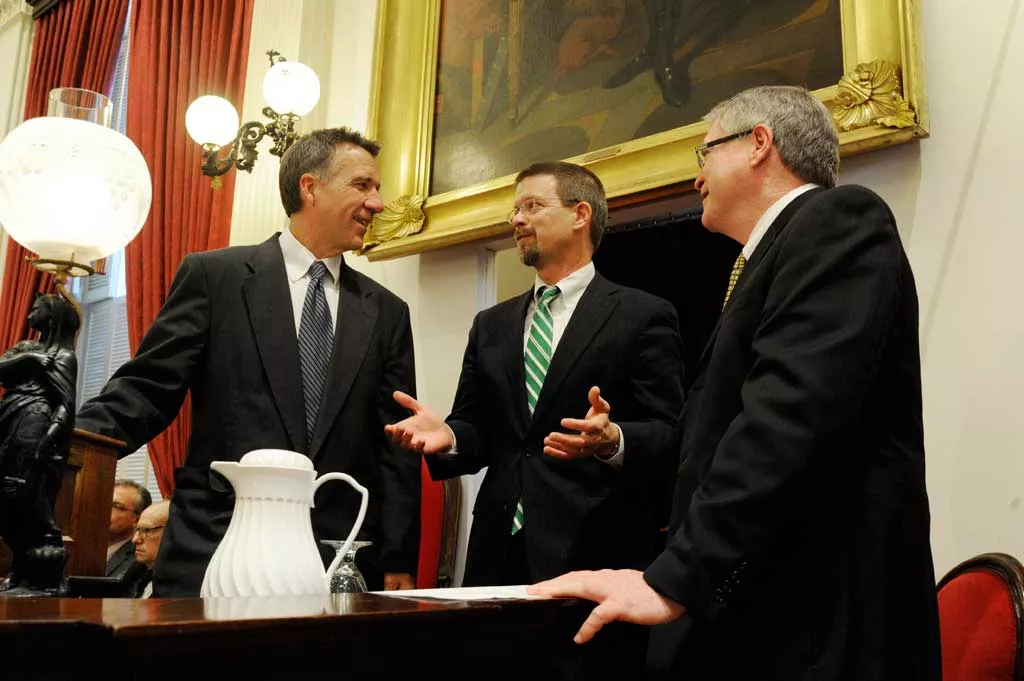 Jeb Wallace-Brodeur
Lt. Gov. Phil Scott, House Speaker Shap Smith and Senate President Pro Tem John Campbell
With a week and a half to go before adjournment, the Vermont legislature is doing what it normally does this time of year: all the work it meant to do months ago.
Like students facing down finals, lawmakers are racing to find consensus on the bills they feel must pass — and abandoning those beyond hope.
That ban on handheld cellphone use while driving? Beyond hope. A minimum-wage hike? Almost certain to happen, but hard to predict how hefty. New rules governing the sale and labeling of products containing toxic chemicals? Anyone's guess.
As usual, the final battle could well be fought over the tax bill. While Gov. Peter Shumlin initially proposed closing the state's budget gap by increasing a tax on individual health insurance claims, the House ignored that and passed a bill targeting snuff and e-cigarettes. Now the Senate is pondering a third option: to raise taxes on big businesses that don't offer their employees health insurance.
"I would like to hear a good reason why companies whose model of doing business is 'We do not provide health care' — why we would ignore that sort of behavior," says Sen. Mark MacDonald (D-Orange), vice chairman of the Senate Finance Committee, which is debating the plan.
But House Speaker Shap Smith (D-Morristown) isn't convinced.
"It's not something that's one of our favorite items, and I could see some real resistance to that in the House," he says.
Whence the compromise will come remains unclear.
Perhaps the most consequential political question in the session's waning hours is what, if anything, the legislature does to address school spending and — more to the point — ever-increasing property taxes. The failure of nearly three dozen school budgets on Town Meeting Day sent a clear message to lawmakers that voters want something to be done. But what that something looks like has flummoxed lawmakers all session.
As Seven Days went to press late Tuesday, the House was preparing to vote on a controversial measure that would, over six years, consolidate Vermont's 273 school districts and school boards into roughly 50 "education districts." While voluntary at first, the process would eventually become mandatory.
"I think it's pretty clear that the system we have right now cannot be sustained financially," argues Rep. Joey Donovan (D-Burlington), who chairs the House Committee on Education. "To address that, we're going to have to become larger districts, so we can share resources and teachers."
Worried that the move will inevitably lead to the closure of small schools, many rural lawmakers of both parties have opposed it. That's prompted an unusual alliance between Smith and Rep. Don Turner (R-Milton), the House Republican leader, to jointly push for passage.
"I know it's controversial to many in my caucus and to many in the body, but it is something that has to be done," Turner says. "We can't keep doing what we have been."
Ten days before adjournment, the biggest practical obstacle is time.
Even if the House passes the bill this week, that leaves the Senate just days to consider a rather major overhaul of Vermont's school governance system. And Donovan's counterpart, Senate Education Committee chairman Dick McCormack (D-Windsor), has repeatedly said he's not going to rush anything through.
That explanation doesn't do it for Shumlin, who, like many Vermont voters, wants the legislature to do something. With an eye on the November election, he surely wants to say he takes rising property taxes seriously.
"This is never going to be something that leads to ticker-tape parades of gratitude," the gov said at a press conference last week. "Let's see what we can get done. Let's not use time as an excuse to stand still."
Smith says he hopes he can deliver. But, he cautions, "Even this magician may not have enough tricks in his hat to get it over the finish line."
Smith's Success-ion?
After 12 years in the House and six as its speaker, is Shap Smith preparing to hand over the gavel when this session comes to an end?
That's been one of the more persistent Statehouse rumors of the past several months, fueled by Smith's apparent ambivalence toward an encore performance. Or, at least, his perennial display of end-of-session ambivalence.
For the ambitious 48-year-old rep, there'd be some logic to quitting while he's ahead. Smith's image as a forceful but respected leader remains largely untarnished. From legalizing gay marriage to setting the course toward single-payer, he's racked up enough legislative victories to make a compelling case in a Democratic primary when he inevitably runs for governor or Congress.
So why not get out now, before next biennium's politically unappealing fight over whether and how to raise billions of dollars to pay for single-payer?
"I really have been spending a lot of time talking to my wife and kids about whether I'm going to run for reelection — and finding out whether, if I run for reelection, I need to find another home," Smith jokes. "And that hasn't been finally resolved yet."
Also unresolved is who would replace Smith if he steps down. House Democrats have a deep bench of talent, but there is no obvious successor. Anticipating the bloody single-payer financing fight, top Democrats are understandably nervous about having a novice in the speaker's chair.
Smith says he expects to make up his mind "in the coming weeks."
"But I would say that I'm more likely to seek reelection than I probably was six or eight months ago," he says.
Why?
"I still love the job. And, you know, there are a lot of interesting things that still need to get done. So I think it would be fun to be back here," he says. "But at the same time, I am very sensitive to the issue of outstaying your welcome."
The Public Option
Most of the provisions in Vermont's new campaign-finance law are likely to increase the amount of big money in state politics. But a little-noticed one could limit it. Maybe.
In January, the legislature doubled the amount candidates for governor and lieutenant governor can receive in public financing, so long as they demonstrate broad public support and limit contributions from other sources.
At least one candidate is already taking the new regimen for a test drive: John Bauer, the little-known Democrat seeking to depose Republican Lt. Gov. Phil Scott.
"I think money in politics is a problem, plain and simple," says Bauer, a Jeffersonville resident and sound supervisor at the Spruce Peak Performing Arts Center. "And I think that public financing is one of the ways to address the problem."
In order to qualify, Bauer will have to raise $17,500 from at least 750 Vermont voters contributing $50 or less — all by June 12. If he does, the payout is big: $50,000 in public funding for his primary election bid and, if he wins that, another $150,000 for the general election.
Under the new rules, gubernatorial candidates can qualify for $150,000 and $450,000 for the primary and general election periods, respectively. But they have to raise $35,000 in small contributions from 1,500 people by that same deadline.
Whether Vermont's public financing system is robust enough to propel a candidate to office remains an open question — even with its recent doubling. The last time it was deployed successfully was in 2000, when the incumbent lieutenant governor, Democrat Doug Racine, used it to defeat an upstart Republican challenger named Brian Dubie. Progressive gubernatorial candidate Anthony Pollina also tapped the fund that year, as did Progressive LG candidate Steve Hingtgen in 2004.
Given the prohibitive costs of running a competitive gubernatorial race, it's unlikely any candidates for the state's top office will avail themselves of public financing this year. Possible Republican contender Heidi Scheuermann says she won't, while Shumlin has already disqualified himself by raising money before February 15, when candidates seeking public financing can begin to campaign.
But in the race for LG, $200,000 could make even an unknown Democrat like Bauer competitive — particularly in this left-leaning state.
In 2010, Scott spent just $181,000 to defeat Democrat Steve Howard, who spent $161,000. And in 2012, Scott outspent the equally unknown Democrat/Progressive Cassandra Gekas $129,000 to $43,000, and beat her by just 57 to 40 percent.
Scott, who's got $48,000 in the bank, says he won't be joining Bauer in seeking public financing.
"I would rather give people a choice as to whether or not they would like to contribute to my campaign," he says.
Zing!
As for whether Bauer will rake in enough contributions to qualify remains to be seen.
"I would say that I'm 10 percent of the way there," he says. "I think that's a pretty good place to be at this time. I've only been out for a month, with no name recognition, and I have another six weeks to go."
Also up in the air: whether Democrats or Progressives will field a better-known candidate to depose Vermont's sole statewide Republican by the June 12 filing deadline.
That sound you're hearing? Crickets.
Media Notes
When Biddle Duke bought the Stowe Reporter 16 years ago this week, he thought he'd hold on to it for three to five years — then sell it and move on.
"But I blew past that mark and I got to year 14 or 15 and I was like, 'OK, I'm 48, 49, 50. What's this going to look like? How's this going to feel?'" Duke says.
Last October, Duke quietly sold a 49 percent stake in the Reporter and the Waterbury Record, which he founded in January 2007, to two California investors. He first disclosed the sale earlier this month in an editorial, explaining that he'd wanted the new arrangement to gel before publicizing it.
Duke's new partners, Bob Miller and Norb Garrett, own a trio of weeklies in Southern California. Miller, a former president and CEO of Time Inc. Ventures and the youngest publisher in the history of Sports Illustrated, also owns Tennis magazine. Garrett serves as senior vice president at GrindMedia, a California-based sports and entertainment company.
According to Duke, he scoured Vermont for potential local owners, to no avail.
"Over the past half decade and in the past few years, I had offers and the opportunity to sell," he says. "But none from within Vermont and none that were acceptable to me or were in the best interests of the communities we serve or my employees."
Though they're not exactly Vermonters, Duke concedes, Miller and Garrett have been getting to know the state and are committed to making the two papers succeed. For now, the new team isn't planning any major changes to the papers or their staffing levels, Duke says.
Will he eventually sell his remaining shares to his new partners?
"My long-term plan for the Stowe Reporter and the Waterbury Record is to find a sustainable, viable operating system for the place," Duke says. "Will I be here forever and ever? Very unlikely. Will I be around and involved? For sure, but not to the extent I am right now."