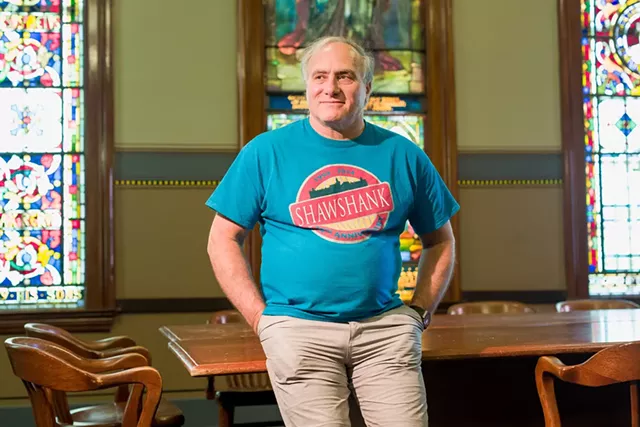 Oliver Parini
Tony Magistrale
As anyone who has seen the recent Hollywood megaflop The Dark Tower can attest, translating the works of Stephen King to the silver screen is a difficult task. For every classic film adaptation, such as Carrie (1976 version, thank you), Stand by Me or Stanley Kubrick's The Shining — the last of which King openly despises, by the way — there are countless busts like Maximum Overdrive, Silver Bullet and The Mangler. But one King movie may stand above all others, not merely as a great adaptation but as a near-universally acknowledged great movie: The Shawshank Redemption.
Based on a relatively minor 1982 King novella, Rita Hayworth and Shawshank Redemption, Shawshank the movie has achieved canonical pop-culture status. The 1994 prison-escape film, written for the screen and directed by Frank Darabont and starring Tim Robbins and Morgan Freeman, is easily among the best-loved American movies of the past 30 years — maybe of all time, if you ask Tony Magistrale.
"It's the most popular movie in history," he declares.
Magistrale, 65, isn't just saying that as a fan. An English professor at the University of Vermont with a focus on gothic film and literature, he's among the world's foremost scholars on King's flicks. Among the 20-plus books he's authored is Hollywood's Stephen King, which examines the wider cultural impact of the horror master's movies, and he's edited a collection of scholarly essays called The Films of Stephen King: From Carrie to Secret Window.
The Shawshank Experience: Tracking the History of the World's Favorite Movie by Maura Grady and Tony Magistrale, Palgrave Macmillan, 235 pages. $29.95 paperback/$99.99 hardcover.
Magistrale's latest tome, published last November, is The Shawshank Experience: Tracking the History of the World's Favorite Movie. Magistrale coauthored the book, due out in paperback in December, with Maura Grady, a UVM alum and former student of Magistrale's who now teaches at Ashland University in Ohio.
The duo's claim that Shawshank is the world's "favorite movie" could be seen as specious, or at least convenient; the assertion is based on the Internet Movie Database's Top Rated Movies chart, where users gave the film a 9.2, technically tying it with The Godfather. Still, that's good company, and there is no denying Shawshank's enduring appeal.
How did Darabont achieve a masterpiece with King's material where so many others have failed? For starters, suggests Magistrale, he didn't let King write the screenplay.
"I think what I admire the most about Shawshank is what Darabont did in adapting it beyond where King went with it," the UVM prof explains.
"It's always been my contention that [for] the best adaptations of King's novels into film, the screenplays have been written by people other than King," Magistrale continues. "The reason for that is because they're not wedded to the text in the way that King is. Even though Darabont tried very hard to remain true to the text, he also felt the freedom to move beyond the text."
As an example, the professor cites a scene where the film's protagonist, Andy Dufresne (Robbins), plays the opera The Marriage of Figaro over the prison loudspeaker. It's an important moment in the film. But, as Magistrale notes, "It's not in King's novel."
In another, even more crucial change, Darabont cast Freeman as Dufresne's friend and escape accomplice, Ellis Boyd "Red" Redding. In the novella, both Andy and Red are white; Freeman, of course, is black.
"That completely changes the complexion of their relationship," says Magistrale. Shawshank is set in the fictional Shawshank State Penitentiary in rural Maine in the 1950s and '60s, an uncommon and dangerous time and place for a mixed-race friendship.
"[Casting Freeman] opens up the possibility of reading the film in a racial context," says Magistrale. Red and Andy's relationship in the film, he believes, serves as a foundation for a larger metaphor for American culture, one that King may or may not have intended.
"There's no racism in this film ... until you begin to apply context," Magistrale points out. "And yet what happens when Red becomes a free man and rides a bus through the Deep South on his way to be free in Mexico with other dark-skinned people — the implications of that are what I find fascinating."
King is famously dismissive of academic dissections of his work. "He thinks we suck all the fun out of it," says Magistrale, who has been teaching King's works at UVM for decades and considers the author an associate, if not quite a friend. In 1999, Magistrale brought King to UVM for a Buckham Honors Seminar and a talk that filled Patrick Gymnasium. King returned the university's $15,000 honorarium, which Magistrale then used to offer one of his horror-focused courses to high school students.
In conversation, King has given at least one concession to the professor regarding the latter's interpretation of the role of women in Shawshank, Magistrale says. Given the setting of a men's prison, few women feature in the novella or the movie. Yet Magistrale theorizes that Dufresne "feminizes" himself throughout the ordeal, up to and especially including his escape through a sewer tunnel — a stand-in, he believes, for a birth canal. Or, as he puts it, "a symbolic vagina."
"King himself found this interpretation very interesting," says Magistrale. As another instance of the importance of women to the story, he points to the pinup movie posters of Rita Hayworth, Raquel Welch and others that Dufresne hangs on the wall of his cell to cover the escape hole he's painstakingly chiseling. "Every one of these women is assertive and rebellious in the role that they have, either in their own lives or in ... the film that's being photographed," Magistrale says. "All of these women are essentially undermining the patriarchy."
King might be relieved to find that Magistrale and Grady delve not solely into the possible meanings of the film but into its history and cultural relevance, covering context such as the transformation of the prison where it was filmed: the menacingly gothic Ohio State Reformatory. Thanks in large part to the success of Shawshank, OSR is now a prison museum and tourist attraction that draws more than 100,000 visitors per year. It's become a movie mecca, not unlike the cornfield baseball diamond in Iowa where Field of Dreams was shot.
It's clear throughout The Shawshank Experience that the authors bear a genuine affection for the film and its source material. They write as equal parts scholars and fans.
"It's a movie that can make men cry," reveals Magistrale. "How many films can do that?"
From The Shawshank Experience
Stephen King has been telling stories that focus on superannuated cars, pets, cell phones, hotels, cemeteries, towns, houses, and human beings for the past half century. His narratives often center on places and things possessed of a history of malfeasance that radiate evil in an effort to pull outsiders into their realm. While it is possible to argue that King has spent his career animating the inanimate, it is his attention to haunted places — human dwellings, in particular — that links him most directly to the gothic tradition in literature and film. John Sears has traced this trope in early works by Stephen King, arguing that "place effectively indicates the interpenetration in gothic modes of inside and outside, of concealed psychological depths in human minds and their unfolding, their manifestation outside themselves in the worlds they perceive and create."
Throughout his fiction, from the Marsten House in 'Salem's Lot to the metastasizing mansion in Rose Red, King's major work revolves around what he calls in Danse Macabre the "Bad Place," "psychic batteries absorbing the emotions that had been spent there, absorbing them as much as a car battery will store an electrical charge" (DM, 253).