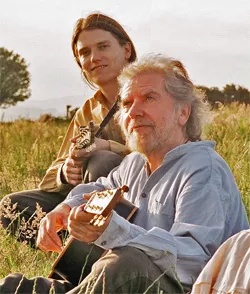 That art can inspire dramatic social or political change is a romantic idea, if sometimes a specious one. But for some, such as Irish folk singer Tommy Sands, the power of music to affect change is ironclad.
"I think everything changes things," he says in a recent phone interview from his home in Northern Ireland. "A word can change things. A nod of the head can change things, in a small way."
Sands, 67, is an internationally renowned songwriter, celebrated for his poignant and often heart-wrenching observations on the violent struggles in his native Ireland. Sing Out! magazine proclaimed him "the most powerful songwriter in Ireland, if not the world." Sands has been called the Emerald Isle's version of Pete Seeger, whom he counts as a close friend — Sands performed at Seeger's 90th birthday celebration at Madison Square Garden in 2009, a show that also featured Bruce Springsteen, Joan Baez and Emmylou Harris, among others.
Sands has built a career on the belief that music can heal and enlighten. But his is no wishy-washy, new-age philosophy. Born in County Down in Northern Ireland, he grew up during the height of the Troubles, the bloody feud between Protestant unionists and Catholic nationalists that has ravaged Northern Ireland and much of the British Isles since the 1960s. He has seen firsthand both the horrors of civil war and the transformative powers of music.
Sands, who will perform at the McCarthy Arts Center at Saint Michael's College on Tuesday, March 12, with his son, Fionán Sands, was raised in a small farmhouse surrounded by a musical family. He says his first memories are of evening jam sessions hosted by his parents, to which family friends, Protestants and Catholic alike, would sit in.
"Even though there were times when those people wouldn't have come together, whenever the music was played, they'd come," he says.
That music was the unifying factor was not lost on him.
"I thought that music could somehow connect all the secret and sacred things within us without our knowing or understanding," Sands says. "It's something that crosses barriers."
That idea has informed every aspect of his 30-plus-year career.
After a Catholic friend was killed by republican paramilitary soldiers as retaliation for the murder of a Protestant man in 1974, Sands wrote what became his best-known song, "There Were Roses." That song was an anthem of sorts at demonstrations in the weeks leading up to the Good Friday Agreement in 1998, a peace treaty between Northern Ireland's warring factions.
The impact of Sands' work has been felt across the pond as well. In 2002, he was awarded an honorary doctorate from the University of Nevada for his work teaching juvenile delinquents in Reno to write songs about their lives. Working with a family-court justice, Frances Doherty, Sands developed a program in which teenage detainees were able to submit their songs as pleas to avoid being sent to prison as adults.
"Words on their own can reach the ends of the Earth," says Sands. "But sometimes on the wings of a song, words can soar higher and reach further inside to express pain, hurt or even hope."
Sands says he worked with upwards of 70 juvenile inmates during his time in Reno, and that the program continues today. He still performs one of the songs written by an inmate, "Danielle's Song," which his daughter, Moya Sands, is recording for an upcoming album. Sands pauses, then quotes from it.
"I was born in Stanford on the Bay. It seems so long now, so far away," he recites, his Irish lilt lending a sing-song quality to the words. "There were pretty flowers all around. They grew up, but I grew down. Will you hear me? Will you hear me?"
Back home, he says the political climate in Northern Ireland, while still tense, has stabilized since the Good Friday treaty. Sands cautions that, though the violence has ebbed, there is still a long way to go.
"We're still very much in the peace process," he explains. "There is a lot still to be sorted out and a lot of work to do."
To that end, Sands hosts an annual seminar in Ireland, which he founded with Pete Seeger, called the Music of Healing, that brings members of opposing paramilitary groups together through music.
"We have people who normally wouldn't talk to each other — they would shoot each other," he says.
That includes Sinn Féin President Gerry Adams and Democratic Unionist Party leader Jeffrey Donaldson, who attended Music for Healing in 2008. Bitter enemies, the two refused to shake hands at the seminar, Sands says. But during a rendition of Seeger's "Where Have All the Flowers Gone," performed by Seeger's grandson, Tao Rodriguez-Seeger, Sands says a curious thing happened.
"Suddenly I realized both [Adams and Donaldson] were singing the song," he recalls Sands. "People said afterwards, 'Well, if they can sing a song together, it doesn't matter if they don't shake hands.' It was a very moving moment."
As the political tone in Northern Ireland has shifted, so too has the focus of Sands' own writing, from the burgeoning peace process at home to larger questions of why we fight.
Sands is currently working on a new record. One song from that forthcoming album is a response to Bob Dylan's famous antiwar song "Blowin' in the Wind."
"There was a time when we just said, 'War. Why does it happen?'" he says. "But I think there is an answer.
"All of these wars are worked out for reasons that have nothing to do with democracy and nothing to do with liberation," he continues. "Profits and expansion are often the case."
He then quotes a lyric from the song.
"How many times must the cannonball fly, before it's forever banned?' It will fly just as long as there's fortunes to be made by the wheelers and dealers of arms."
Hopeless as that may sound, Sands suggests the progress in Northern Ireland should be looked upon as a positive sign that peace is possible, even between those with centuries-old grudges.
"We were told it was impossible, that Northern Ireland has a problem for every solution," he says. "Now maybe we have solutions for problems beyond our own shores, or at least some encouragement."
He adds that, sometimes, the solutions to great problems can lie in humble ideas, or even something as simple as a song.
"I think very often, while we spend time looking for the big answer, we forget there are many small answers, which, in themselves, make up the only answer that is often available," Sands says.
Tommy Sands performs with Fionán Sands, the McFadden Academy of Irish Dance, and Tim Whiteford and Marie Claire Johnson at the McCarthy Arts Center at Saint Michael's College in Colchester on Tuesday, March 12, 7 p.m. $20 suggested donation. For reservations, email mrksustc@together.net.
The print version of this article was headlined "Songs for the Troubles".