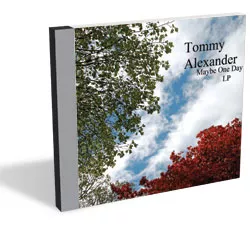 (Self-released, CD, digital download)
The title of Tommy Alexander's latest EP, Maybe One Day, reveals much about the local "basement soul" songwriter. The six songs presented by this California-born and Burlington-based tunesmith bristle with cautious optimism. But it's tempered by a palpable yearning, a sense of frustrated restlessness and unfocused wanderlust. Through a churning stream of mostly acoustic guitar and voice numbers, Alexander plays the part of the wounded troubadour, delivering an intimate and emotionally vulnerable treatise on love, life and loss and the dark, quiet corners where they intersect.
Alexander is a gifted guitarist, blessed with nimble fingers, yet, refreshingly, he doesn't overplay. His lines are often clean and clear. And when they're not, they're tastefully disjointed and ragged. The album's introductory title cut is one such example. His lightly picked, rippling progression is pretty, but it carries a foreboding undercurrent. Fleeting, discordant strokes frame the searching ruminations that follow.
As a lyricist, Alexander is less artful but no less effective. His verbal turns are generally brusque and straightforward, characterized more by direct musing than metaphorical wordplay — though he does offer choice allegorical nuggets here and there. Alexander seems taken with the idea of freedom, particularly emotional and spiritual. A wry exposition of twentysomething apathy, "Dear Fauber" is the most explicit example. Here, Alexander pleads, "And so we walk the weighted path and let the sun become our skin / And so we talk all these jaded words, though we'll never understand / That this train takes a lonely road, it rolls on and on and on." Actually, the train probably takes a lonely track. But still.
Even in lesser lyrical moments, Alexander is effective through sheer force of personality. His voice — which at times resembles the fractured, shaky croon of a young Conor Oberst — bursts with raw, emotional energy. Alexander's performance is often dramatic and forceful, but never overbearing or melodramatic. His songs are intimate and emotionally honest, not pandering. It's a fine line that Alexander walks confidently. That bodes very well for his future endeavors and suggests his "one day" is maybe closer than he thinks.
Maybe One Day by Tommy Alexander is available at tommyalexander.bandcamp.com. He plays Radio Bean in Burlington this Friday, October 28.