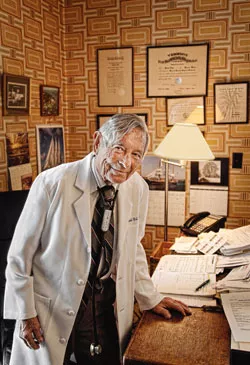 One might think that, at 87, pediatrician David Toll would be basking in the glow of his golden years — or, at the very least, enjoying a well-deserved retirement after a long career spent tending the children of the Northeast Kingdom. But Toll is not your average doctor. Today his St. Johnsbury-based practice is the biggest it's been in 61 years. He's on call 24 hours a day, seven days a week — and doles out his home phone number just in case patients need to reach him in an emergency.
"He's a doctor of the old school," says Rod Lauman, who met Toll as a patient in the 1960s. Later, fresh out of high school in 1975, he worked at a few of the franchise restaurants Toll then owned in St. J.
"He's very matter-of-fact, and that's that," Lauman says. "You're not going to get a lot of cozy hand holding, but a lot of people like that style. I would consider him the old New England country doctor … He's just an icon over here."
While that breed of doctor may be hard to come by these days, Toll shows no signs of slowing down. Aside from Wednesday afternoons, which he keeps clear for paperwork and meetings, he sees patients five days a week, from eight in the morning until five or six in the evening.
Toll's office is still decorated with the original midcentury wallpaper. On a recent afternoon, the good doctor pads around his office in a white lab coat and well-worn topsiders; the many nautical calendars and posters on his walls attest to his fondness for sailing. His shelves are piled high with medical textbooks and reference books. A wooden rocking horse stands in one corner.
Toll's offices occupy a rambling old house on St. Johnsbury's Main Street, and still look much as they did when he moved into the building in the mid-'50s. The spare examination rooms sport little more than padded exam tables covered with crisp white paper. Upstairs, a few expensive electronics are the only nods to technological advances in medicine; here Toll, who was also trained in pathology, is able to run his own lab tests for his patients.
David Coburn, a longtime family friend of the Tolls, puts it this way: "Dr. Toll is a person who is not taken in by all of the new and miracle findings when some sicknesses need only some good old practical knowhow."
Born in 1925, Toll grew up in Shaker Heights, Ohio. His parents and grandparents were Jewish immigrants from Poland and Hungary. When Toll was 16, the principal of his high school called his parents in for a chat and told them their son had learned all he could there. The message, as Toll recalls it, was this: "Your son has been here long enough. We've called Harvard, and they'll take him."
His parents put him on an overnight train to Boston, after which he found his way to Harvard Square in Cambridge. He tested out of first-year classes and by 18 had met all the requirements for attending medical school.
But that was at the height of World War II, and Toll's trip to medical school was delayed by a stint as a corpsman in the Navy. When the war wound down, the military tapped a few soldiers to head to medical school, Toll among them. The Navy shipped him back to Ohio, where he attended Western Reserve University in Cleveland. A few years later, Toll returned to Boston to complete his residency at Children's Hospital.
He didn't plan to trek north to Vermont. Instead, Toll imagined moving to Israel to minister to European Jews who were making their home in the new state after the devastating war, he recalls. He even learned Hebrew in preparation. But a run-in with some Israeli doctors gave Toll an unexpected revelation: Israel had more doctors to go around than did some remote parts of the United States.
That's when a colleague at Children's Hospital told Toll about St. Johnsbury. When he set up shop in Caledonia County's shire town, he was the only board-certified pediatrician in all of northeastern Vermont and northwestern New Hampshire — and would remain so for the next 20 years.
"It was unusual for someone that well trained to leave academic medicine and come to the country," says James Bailey, a retired local obstetrician and gynecologist who met Toll in 1958. And Toll's education didn't stop when he left school; Bailey says Toll traveled frequently to conferences and post-graduate trainings. He'd return to St. J with new tricks and techniques up his sleeve — which, months later, Bailey would begin seeing described in medical journals.
But Toll is no pedant — he's got a bit of a wild streak. When he was called to serve at a pediatric hospital in New York State during the Korean War, Toll refused to sign a statement intended to root out subversives or communist sympathizers, mostly on principle, he says. He spent the next two years counting down the days and months until his term of service was up and he could return to St. Johnsbury.
Then, just before he was due to leave, Toll got a message saying the base commander wanted to see him.
"He said, 'Toll, we were very pleased with what you did as a doctor here. But I want to tell you that as a military person you are a complete failure,'" Toll recalls with a wry chuckle. His list of demerits was a long one. He'd worn an enlisted soldier's uniform instead of an officer's ("Because that cost $30, and an officer's uniform cost $350," Toll explains). He hadn't worn the correct badges to signify his rank as a major.
Worst of all? Toll lived off base, and every day he showed up at the gates wearing an old brown storm coat, covered in spots, which read "Nate's Incorporated, St. Johnsbury, Vermont."
The officer's parting words of advice were these: "Let me tell you something: Don't ever try to work for anyone. You won't last six weeks."
As a matter of fact, Toll hasn't worked for anyone else his entire life. He's maintained a private practice, an increasingly difficult feat in recent years as more and more small clinics sell out to hospital groups. Toll says being a lone practitioner sometimes makes him feel like the odd man out, but he doesn't let it bother him. He knows what he likes, and what he likes is practicing medicine — his way.
For much of his early career, that meant making far-ranging house calls across the North Country. His patients still come from near and far: On any given day, Toll's northernmost patients live 65 miles from his southernmost. He sees families from just east of Montpelier to the border between Maine and New Hampshire.
Toll did cut back a bit when his three sons were young — but only after he realized that the boys were desperate for his attention.
"When my children were younger … they started having all kinds of symptoms, and I couldn't figure it out. There didn't seem to be anything wrong with them," Toll says. "Well, they had figured out that the only way to my attention was to say you were sick, so that's what they were doing."
Now, though, he has no plans to retire. "He'll keep working until the day he drops dead, I think," speculates Bailey.
Toll says he'll keep going as long as his brain "lasts," but it shows no sign of slowing. Earlier this year he fell from a horse he was riding and broke his collarbone and four ribs. Not only did he put off a trip to the hospital until after his granddaughter's birthday party, he was back at work the next morning.
Bailey speculates that the "young bucks" in the region are chomping at the bit to get a piece of Toll's practice when he finally does retire — but they'll have to wait a while.
"I feel like everyone in my life has been so good to me," Toll says. His way of repaying that debt is to continue working — and working hard. "I really want to keep going," he says, "as long as anyone wants me to."