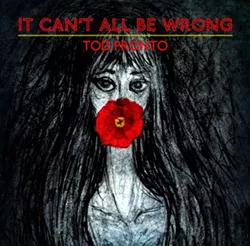 (Self-released, CD, digital download)
Five years ago, Newport, Vt., native Tod Pronto went to the cradle of country —Nashville — to record a full-length album, Nashville Stereo. The country music industrial machine often churns out boilerplate albums lacking in personality, and Pronto seemingly fell into that trap. So on his recent release, It Can't All Be Wrong, Pronto chose to self-record.
It was a good move. This time around, there's a little more heart and a little less faux-country swagger. While the record is rough around the edges and not without weaker moments, it's a more sincere attempt. It's also a more suitable direction for Pronto.
His latest is noticeably less twangy than its predecessor. While the slow, melancholy "Arizona" inches toward alt-country, many songs have only fleeting moments of fiddle, harmonica and other country instrumental staples. Instead, Pronto seems to have embraced the rock end of country-rock, which works well, especially with his mid-range voice.
It Can't All Be Wrong opens with a dash of bravado on "74 Dodge Dart," a fun and fast ode to Pronto's first car. He maintains the rock aesthetic on "Dammit I" and "Route 5." The latter speaks of stolen nights sneaking down to campgrounds with his teenage girlfriend. Pronto recalls, "Cruising Route 5, baby, full of passion and lust / With a tank full of gas and that was enough / Stopping by the riverside, kick around in the dust / Remember Route 5, baby, when that was enough?"
For anyone who grew up in a rural town, it's a relatable memory. But Pronto leans too heavily on generic wordplay, where infusing a little personality and unique experiential insight would drive his point home better.
That's a common flaw throughout the record — lyrically, there are no stunners. Pronto tends to rely on easy word pairings and worn images. Take his rhyming pleas on "Never Really Gone": "Come on, baby girl, I remember how you dance / Oh my me, I remember our romance / I'm thinking one fine day we may get another chance / I guess a love like this can put us in a trance," he sings. Similarly, "Me and My Guitar" relies on this sentiment: "We'll always be together / best friends forever / me and my guitar."
Pronto wraps up on an optimistic, if stylistically unusual, note with "The Devil Will Never Win." Over a pulsing, almost electronic beat, he chants, "The devil will never win/ The devil will never win /As long as I keep on keeping the faith / The devil will never win."
While It Can't All Be Wrong is bland in places, it's an easy listen. To his credit, Pronto's songwriting is clearly earnest, and his plainspoken singing suits the album's simple vibe. However, to further differentiate himself from Nashville cookie-cutters, Pronto might consider digging a little deeper and crafting specific, personal lyrics and employing more dynamic instrumentation.
It Can't All Be Wrong by Tod Pronto is available at iTunes. Pronto plays Radio Bean in Burlington on Sunday, July 12.