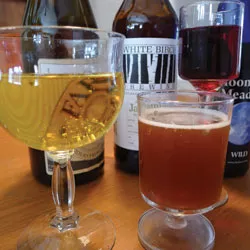 Poor New Hampshire. As Vermont steals much of the glory with its maple syrup, cheese and craft beer, the Granite State languishes in second-fiddledom, at least as far as food and drink are concerned. Sugarbushes, microbreweries, smokehouses, vineyards, farms and orchards blanket the state, but "Made in New Hampshire" on a label doesn't confer the same shelf cachet as that magical "V" word.
Yet our eastern neighbor is turning out fine and often imaginative libations. Wineries such as Walpole Mountain View Winery and Zorvino Vineyards are elevating the reputation of New Hampshire vino, often by experimenting with more grapes than their western neighbors do. The names Smuttynose Brewing Company and White Birch Brewing are familiar to beer lovers, and, when it comes to spirits, New Hampshire now offers its own limoncello (Fabrizia) and vodka and gin distilled from apples (at Flag Hill Distillery in Lee).
A trio of newish releases offer a snapshot of the subdued creativity of the state's brewers and fermenters.
Poverty Lane Orchards lies about a mile from the Vermont border in Lebanon, and its sparkling and still hard ciders — bottled under the name Farnum Hill Ciders — have become the benchmark against which other local artisanal ciders are measured.
The crew here sometimes ends up with a batch that doesn't fit the flavor profiles of its established labels, and locals show up to fill growlers with whatever flows that day. Last summer, Farnum Hill began bottling these "funkier" ciders under the Dooryard Cider label. Batch Number 1137, which I picked up recently, costs about $8 for a 750-ml bottle and has a deep golden color. Its apricot-like nose belies a scrumptious, tart austerity of orange peel and soaked tea leaves, with mouth-filling acids. At 7.5 percent alcohol, it's afternoon sippable, and its intense dryness lends it pairing versatility.
White Birch Brewing in Hooksett regularly takes on apprentice brewers for six-month stints, offering them the chance to create their own brews and release them under the Apprentice Series moniker. Mainer Kate Wallace came to White Birch last fall, and, in November, she brewed Jasmine Farmhouse Ale — a dirty-copper, Belgian-inspired ale bearing only subtle hints of the jasmine flowers with which it's brewed. Otherwise, it's hoppy and mouth drying, its finish laced with herbs, spice and honey ($7.49 for a 350-ml bottle).
Despite their recent woes, the region's bees have been busy, at least judging by the number of meaderies that have cropped up lately. Mead maker Michael Fairbrother spent years learning the craft before founding Moonlight Meadery in Londonderry last fall. His inaugural line (made from single-varietal honeys) is ambitious: two traditional meads, 12 fruit meads (or melomel), six spiced meads and six limited-edition and "open category" meads, all with one-word monikers such as Frisky and Flame. At 14.2 percent alcohol by volume, Wild is a bracing, garnet-colored fermentation of wildflower honey and wild mountain blueberries — off-dry and slightly medicinal, with a viscous undercurrent of blue and red fruit.
As liquid pickings from New Hampshire multiply and align themselves more closely with the state's terroir, Vermont has more competition on its hands.