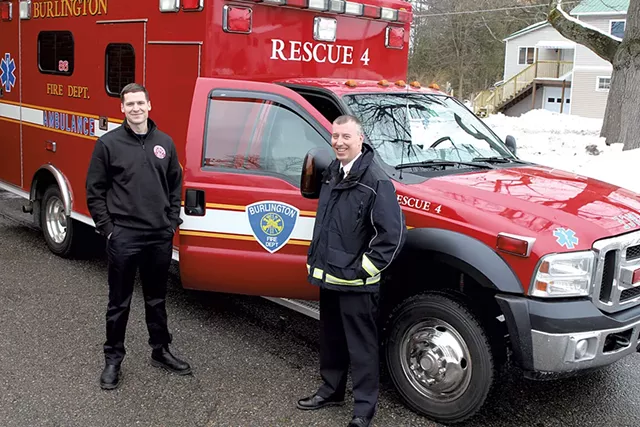 Courtney Lamdin
Firefighter Kyle Blake (left) and Fire Chief Steven Locke with the unmanned ambulance
Mary Mougey remembers one thing clearly about the day her husband had a heart attack: It took forever for the ambulance to arrive.
Her family was attending a neighborhood gathering on Crescent Beach, a private stretch of lakefront in Burlington, on August 23, 2008, when David LaBracio collapsed after a dip in Lake Champlain. Mougey and her four children watched in shock as a family friend, a nurse, started CPR while another neighbor dialed 911. When the nurse got fatigued, a doctor who was there took over compressions, then another doctor. Minutes passed.
Where the hell is that ambulance? Mougey remembered thinking. There's one stationed just three blocks away.
Unbeknownst to Mougey, that ambulance wasn't usable, because the city didn't have enough personnel to staff it. Her husband died that day; he was 48. And 12 years later, the ambulance assigned to that station still isn't staffed.
A proposal on the March 3 Town Meeting Day ballot would change that — at a cost. If voters said yes to providing funds for nine new firefighter/EMTs and other expenses, the municipal tax rate would increase by 3.5 percent. That would be the largest such bump during Mayor Miro Weinberger's eight-year tenure, though he supports the measure because increasing calls for service have stretched thin the personnel who currently staff two city ambulances.
"We've reached the point in our evolution and growth as a city where, [if] we're going to continue the level of emergency response services ... we have to add a third ambulance," Weinberger said.
"We have to come forward and ask for some rate increases if we're going to be able to keep up," he added.
But the increase isn't the only one facing Queen City residents in March. Voters will also consider a school budget increase and an item that would boost taxes to support affordable housing projects.
They'll also start paying down the hefty high school renovation bond that passed in November 2018. Add in the ongoing citywide property reappraisal — which could affect tax bills — and 2021 is shaping up to be an expensive year for those living in a city that already boasts some of the highest tax rates in Vermont. The difference between the public safety ballot item passing or failing could be how much a taxpayer's wallet can stretch.
And stretch it would. The owner of a home assessed at $250,000 already pays $7,027 in property taxes. If the public safety measure passes, that homeowner would pay $75 more in city taxes for fiscal year 2021. They'd pay an additional $11.50 if the ballot item to bolster the housing trust fund, which helps nonprofit organizations develop more affordable housing, passes.
The regular school tax bill would increase taxes by 7.4 percent, or an additional $340 in 2021 — though the amount paid is dependent on one's income. The first payment on the $70 million Burlington High School renovation will add an extra $17.
All told, that's a potential increase of $443.50 annually, or about $37 a month next fiscal year. Taxpayers would really feel the heat in 2022, when the school bond jumps to an extra $233 a year, and in 2023, when payments max out at an extra $302 annually until 2051.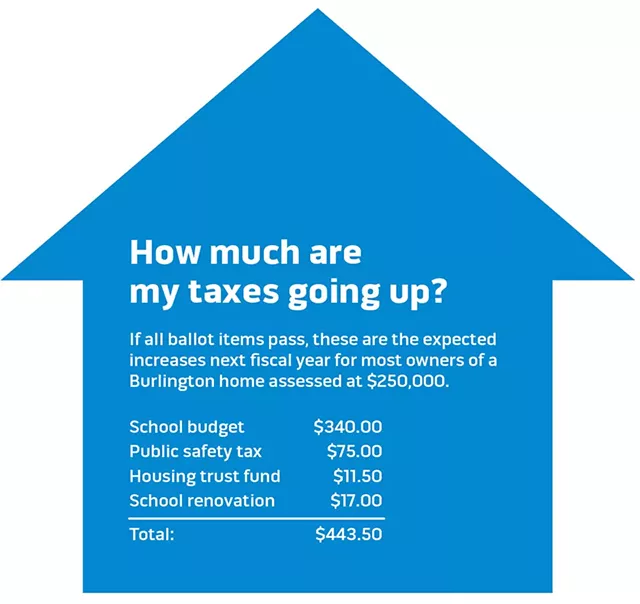 Weinberger recognizes that Burlingtonians are tax-burdened. The city has the highest residential education tax rate and the second-highest city rate in Chittenden County, falling just behind neighboring Winooski. But Weinberger says his administration has budgeted responsibly by keeping the basic operating tax rate under the rate of inflation.
"Even as we are making this request, there's been real discipline and restraint," Weinberger said, referring to his budgeting approach over his tenure. "I hope voters will see, as they consider this, that long, nine-year view."
So far, they have. Voters have not once turned down an increase proposed by the mayor since he took office in 2012. That November, residents approved a $9 million "fiscal stability bond" to cover Burlington Telecom debt, which added about $58 to tax bills for a $250,000 assessed home. Four years later, in 2016, voters approved by a three-to-one margin a $27.5 million capital improvement bond for sidewalk and street upgrades, bike path improvements, and several new fire engines.
Taxpayers have also OK'd changes that have increased water bills. Most recently, in November 2018, 92 percent of voters approved a $30 million sewer bond that Weinberger estimated would add up to an extra $64 annually.
Only one city council candidate campaigning this year has made lower taxes a part of their platform. Ericka Redic, a New North End resident running as an independent for the Ward 4 seat, says Burlingtonians are "already drowning under the weight of taxes." She pays more than $7,000 a year in property taxes for her owner-occupied triplex and has two roommates so she can make ends meet. She said she won't support Weinberger's "shameful" ask at the polls.
"He's coming to us at a time when we can least afford it, telling us that we can either choose between safety [or] affording our homes, putting food on the table," Redic said. She opined that Weinberger and some of the current city councilors "don't suffer the consequences of the policies they enact."
Still, Redic said she understands the public safety need in her neighborhood. The New North End has the city's highest percentage of medical calls, but its closest ambulance sits idle at Station 4 on North Avenue. The city has four other firehouses, but only two have staffed ambulances: Central Station on South Winooski Avenue downtown and Station 2 in the Old North End.
And those two ambulances are busy. As a Seven Days reporter watched from the Burlington Fire Department's Central Station on February 11, dispatch received three medical calls in a span of 16 minutes. One call came in from a University of Vermont residence hall and was handled by UVM Rescue, the city's primary backup crew.
Had Burlington received another 911 call, it would have had to rely on South Burlington or Colchester for help.
"This is the domino effect," deputy chief of operations Aaron Collette said. "The first three dominoes have just fallen. And now [the next patient is] just gonna wait."
In 2019, Burlington had to ask surrounding agencies to respond to its medical calls 380 times, more than once a day, Fire Chief Steven Locke said. The last time the numbers got that high, the city decided to staff another ambulance, he said.
"Mutual aid is intended to be mutual," Locke said. "We haven't gotten to this point where a fire chief will call up another fire chief and say, 'Hey, we're really providing your service' ... but that's what happens when the system gets overwhelmed."
Medical calls have gone up 60 percent since 2000 in Burlington. The Burlington Fire Fighters Association, which represents the majority of the city's 80 firefighter/EMTs, has asked for increased staffing for years and finally got it on the ballot this March. The proposal won unanimous support from the mayor, the city Board of Finance and the full city council — a rare occurrence for the partisan body.
"It's just time," said Kyle Blake, the union president. "We're at that mark where we need to add another ambulance before we start to see a decrease in our ability to provide the service to the community."
That's precisely why Councilor Franklin Paulino (D-North District) supports the measure, despite the tax bump.
"Are we at system failure yet? No. I don't think we should wait until that point, and that's what this ballot item is addressing," he said, adding, "I just think, policy wise, this is not an area you want to sacrifice on."
Even City Council President Kurt Wright (R-Ward 4), traditionally the body's fiscal conservative, is supporting the tax increase for public safety — though he's voting against the housing trust fund increase, he said.
"You can't do everything at once, and in the year that the public safety tax is going on the ballot for the ambulance in the New North End, I think something had to give," Wright said.
He suggested that if the measure passes, the city should freeze hiring or find other austerity measures "to show taxpayers that we're being fiscally responsible." Wright isn't running for reelection this year, though supporters have begun a write-in campaign for him.
Sarah Carpenter, the Democratic city council candidate in Ward 4, recognizes that taxes are high but thinks Burlingtonians get a lot for their money. Improving and maintaining services comes at a cost, she said.
"I don't think any city councilor wants to raise rates, but all of the folks that reviewed this felt pretty unanimously that we need to do this," Carpenter said.
Most of the $1.1 million raised by the public safety tax would pay for the firefighter/EMTs' salaries and benefits, while the remainder covers public safety costs that previously came from the general fund. Weinberger warned that if the ballot item fails, the city would have to make cuts — such as closing the library early on Sundays or eliminating lifeguard positions at North Beach — to achieve a balanced budget.
But Redic thinks Weinberger should have started with cuts before proposing more taxes. The city budget should pay for basic needs, not wants, and public safety shouldn't require an additional tax, Redic said.
For Mougey, whose husband had a heart attack on Crescent Beach, another ambulance is most definitely a need. She hasn't calculated the impact on her taxes, but she plans to support the measure and urges others to do the same. She's planning to tell her story at the Ward 4 Neighborhood Planning Assembly meeting next week.
"I would just hope that nobody would have to go through what I did," Mougey said.
Correction, February 19, 2020: An earlier version of this story mischaracterized the public safety tax increase. If approved, it will increase the municipal tax rate by 3.5 percent.