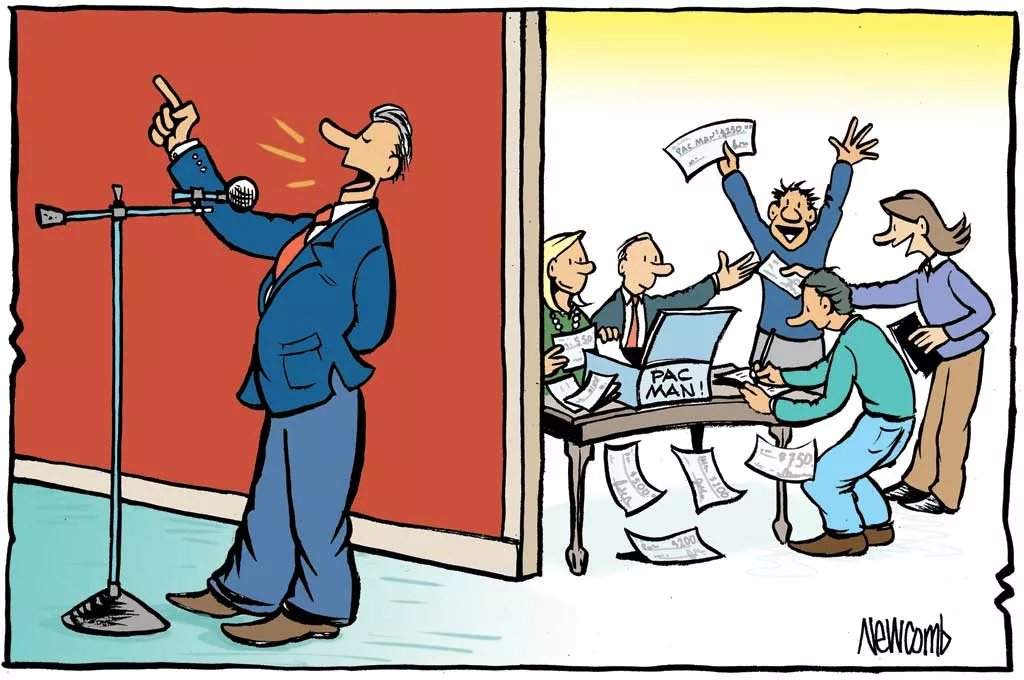 Like congregants at an old-time tent revival, members of the Vermont Senate found religion last Thursday on the issue of corporate money in politics.
One by one, they decried the U.S. Supreme Court's 2010 Citizens United decision and called for a constitutional convention to "limit the corrupting influence of money in our electoral process."
"We must amend to solve the problem of big money in politics and restore free and fair elections," said Sen. Ginny Lyons (D-Chittenden), arguing that the wealthy "have turned our political elections into private auctions and rigged the rules of government for their own private benefit."
Lyons' colleagues agreed. After an hour of debate, they voted 25 to 2 to initiate the process of amending the U.S. Constitution — a symbolic act, at least until two-thirds of the states do the same.
But when it comes to the rules governing their own campaigns, the Senate has been a little more accommodating toward special interests than its rhetoric might imply.
Last year, it voted to ban corporate donations to Vermont political candidates — only to inexplicably reverse course three weeks later. This January, it voted to increase the amount of money corporations can give statewide candidates, parties and political action committees.
And despite a long-standing ban on the practice, legislative leaders from both parties and both houses regularly accept campaign money supplied by those who lobby them.
Just last week, a political action committee benefiting Senate Republicans disclosed that it raised $4,250 last year from the parent companies of tobacco giants R.J. Reynolds and Philip Morris. The legislature is currently debating whether to raise the tax on cigarettes as it struggles to close a budget gap.
The PAC, known as the Green Mountain Republican Senate Committee, raised more than $6,000 in February alone from companies that employ Statehouse lobbyists. Many of those organizations, which include Casella Waste Systems, MVP Health Care and the Vermont Realtors,, sent representatives to a Senate GOP fundraiser last month at Montpelier's Capitol Plaza hotel.
Two Senate Democratic PACs, meanwhile, raised nearly $42,000 in the past eight months — the vast majority of which came from lobbyists, unions and corporations that regularly do business with the state.
Technically speaking, Vermont legislators aren't supposed to be hitting up such sources for campaign cash while they're busy writing laws. Until the legislature adjourns for the second year of the biennium — typically in May of even-numbered years — state law forbids individual lawmakers from taking political donations from those who employ lobbyists.
"If you're raising it at a time when the legislature is in session and giving it to candidates who are in session, that to me is a problem," says Sen. Joe Benning (R-Caledonia), who serves as Senate minority leader.
But Vermont legislators have long circumvented that ban by raising money for their reelection campaigns through ostensibly independent PACs. Benning says that, so long as a "Chinese wall" exists between PACs and legislators, that's perfectly fine with him.
Just how high is that wall? Not very.
While the PACs are typically run by a volunteer or young party operative, legislative leaders direct how the money is spent — and serve as the main attraction at their fundraisers.
According to Ellis Mills lobbyist Kevin Ellis, the script is always the same. As lobbyists and their clients mill about an event room at the Capitol Plaza, legislative leaders make a predictable — if indirect — pitch.
"They can't say anything like, 'I'm gonna help you guys out,'" Ellis says. "So they always say the same thing: 'My door's always open. We listen to everybody.'"
Quite clearly, the target audience is those doing business with the state.
Last Thursday, the Vermont House Republican PAC held its annual Winter Fest at the Capitol Plaza, with special guest and former governor Jim Douglas. In an invitation to the event, PAC treasurer Suzanne Butterfield wrote that it "remains a great opportunity to meet with Republican House members and leaders as well as some exciting candidates who intend to be elected this year!"
When Seven Days requested a copy of the invite, House Minority Leader Don Turner (R-Milton) forwarded an email from Butterfield saying, "Don: here is what I mailed around to the lobbyists........."
MacLean Meehan and Rice lobbyist Andrew MacLean says he often receives such invitations and works with his clients to determine "whether it makes sense to contribute" to the PACs. Occasionally he'll accompany his clients to the fundraisers, but other times they'll simply mail in a check.
"A lot of times they don't even show up," MacLean says. "For a lot of these clients, it's a part of the process in most, if not all, the states they work in."
Precisely whom Butterfield works for is a little unclear. Both she and Turner say that her fundraising activities are completely walled off from House Republican leadership.
"I'm basically an outside person who attempts to raise money to help support the right candidates for office," says Butterfield, a former Windsor County GOP chairwoman who lives in Gaysville. "The ones who are actually elected, legislators, have nothing to do with it."
But Butterfield admits that legislators are in charge of spending the money.
"When the session ends and when it's time to help people run, then I will be at their direction. Don Turner and [Minority Whip Brian Savage (R-Swanton)] will probably sit down with me and decide what we're going to do," she says. "They'll say, 'Cut a check to so and so.'"
The relationship between Senate Democratic leaders and the two PACs that benefit their caucus' reelection campaigns is similarly murky.
According to Senate Majority Leader Philip Baruth (D-Chittenden), a former Senate intern named Judith Harris is currently "running and handling the fundraising and record-keeping" for the PACs. Asked if Harris reports to him and Senate President Pro Tem John Campbell (D-Windsor), Baruth says, "I do talk with her, but she's not really reporting to us. She's operating the PACs."
But as Baruth describes the PACs' operations, he routinely slips into the first-person plural.
"One of the things we've been trying to do is not hold [fundraisers] when we're actually in the building," he says, adding, "We've raised substantially less than a year ago."
And Harris, a senior at the University of Vermont, says that, in fact, she does report to Baruth and Campbell.
The lines of authority are a little clearer for House Democrats, who run the most sophisticated political operation of the legislative caucuses.
Nick Garcia, who serves as full-time executive director of the Vermont Democratic House Campaign, says he's hired by a board that includes the chamber's three top Democrats and four former House members. A regular presence at the Statehouse, Garcia meets with House Speaker Shap Smith (D-Morrisville) and his leadership team on a weekly basis, according to Majority Leader Willem Jewett (D-Ripton).
"We're in pretty close contact about the way the campaign's going to be shaping up," Garcia says. "It would be disingenuous to say I don't work closely with [Smith], but he doesn't formally direct my activities."
For his part, Smith says he shows up at VHDC's fundraisers, attends house parties around the state and "occasionally make[s] phone calls" to drum up money for the PACs.
"Given that a million dollars was spent by Vermonters First last year on both legislative and statewide races, I do believe we have to raise money to support our candidates," Smith says, referring to the conservative super PAC funded by Burlington's Lenore Broughton.
Last week, Garcia reported that the three PACs he runs raised nearly $57,000 in the past eight months. Some of that came in the form of dues from Democratic legislators, but much of it came from corporations, unions and trade associations that lobby the House.
Among those contributing $1,000 or more to House Dems were the Corrections Corporation of America, Comcast, Anheuser-Busch, the Pharmaceutical Research and Manufacturers of America and RAI, which owns Reynolds Tobacco.
The caucus hardly shies away from raising money from lobbyist-employing entities during the legislative session. Two months ago, it held a fundraiser for labor unions at Montpelier's Sweet Melissa's featuring Smith and 20 other House Democrats. Since January, the PACs have taken money from the Vermont State Employees Association, the American Federation of State, County and Municipal Employees, and the Burlington law and lobbying firm Downs Rachlin Martin.
So why do all these special interest groups donate to Speaker Smith's caucus?
"People want to support legislators that they believe support their values — and that's exactly what happens here," Garcia says. "The Democratic Party in Vermont stands for something, and people want to support that."
Asked why, if that's the case, so many corporate donors give money to both parties, Garcia says, "I couldn't tell you why any one particular donor gives to the House campaign and I don't, frankly, make it my business to question them."
Ellis, the Montpelier lobbyist, has a theory.
"I've never seen anybody in Vermont do something because they got a campaign contribution, but it's like Howard Dean's old adage, which he repeated often: 'A contribution doesn't buy you a decision. It buys you access,'" Ellis says.
Smith doesn't quite see it that way.
"Given the fact that my door is open to anyone who wants to come in, I don't really know why they're providing the cash," he says. "If you ask for a meeting with the speaker, you get it."