Stephen Mease
South End Art Hop
Looking to do like the locals? Follow them to a festival or seven. While it would be impossible to include all of the city's goings-on in one list, we've compiled this calendar of major events that keep the good times rolling all year round. For a weekly rundown of can't-miss happenings in Burlington and beyond, check the Seven Days calendar listings in print or online and sign up for the weekly Notes on the Weekend newsletter.
Fall 2017
South End Art Hop
Thousands flock to South End studios and businesses for exhibits, fashion shows, artist markets, live demos and music from more than 600 participating creatives.
September 8-10, South End, Burlington, seaba.com
Pride Vermont Parade & Festival
LGBTQ individuals and allies paint the town red — er, rainbow — with a lively procession from Church Street to Battery Park, where an epic all-day party awaits.
September 10, Downtown Burlington, pridecentervt.org
Grand Point North
Bona fide rock star and Vermont native Grace Potter headlines two nights of lakeside live tunes by area and national acts. Also "gracing" this fest? Beer, wine, local eats and an art installation.
September 16-17, Waterfront Park, Burlington, grandpointnorth.com
Vermont International Film Festival
A showcase of international, independent and local flicks hits silver screens for a celluloid celebration with filmmaker Q&As, receptions and discussions.
October 20-29, Burlington, vtiff.org
Vermont Tech Jam
Dozens of Vermont's fastest-growing and most innovative companies gather under one roof to recruit employees and talk trends at this career and tech expo organized by Seven Days. Bring your résumé.
October 20-21, Champlain Valley Exposition, Essex Junction, techjamvt.com
Winter 2017-18
Matthew Thorsen
Magic Hat Mardi Gras
First Night Burlington
Music, dance, comedy, circus arts and a midnight fireworks display take over the Queen City at this substance-free festival.
December 31, Downtown Burlington, firstnightburlington.org
Vermont Burlesque Festival
A luscious lineup of local, national and international talent and a steamy selection of performance classes turn up the heat during one of the coldest months of the year.
January 18-20, Burlington And Barre, vermontburlesquefestival.com
Winter Is a Drag Ball
Queen City drag troupe House of LeMay helps revelers combat cold-weather woes at a colorful bash complete with a costume contest, live entertainment and DJ sets. Proceeds benefit the Vermont People With Aids Coalition.
February, Higher Ground, South Burlington, highergroundmusic.com
Magic Hat Mardi Gras Parade
Burlington parties Big Easy-style with tunes, brews, beads and a lively procession of creatively constructed floats down Main Street. Keep your shirts on, people — this is a family event.
March 10, Downtown Burlington, magichat.net
Spring 2018
courtesy of britt shorter/waking windows
Waking Windows
Burlington Yoga Conference
Seasoned yogis and those hitting the mat for the first time come together to do the downward-facing dog under the direction of regional teachers. Namaste!
April 14-15, University Of Vermont, Burlington, burlingtonyogaconference.com
Vermont Restaurant Week
Foodies get their fill of prix-fixe menus and themed events that put local fare front and center — and won't break the bank.
April 20-29, Statewide, vermontrestaurantweek.com
Waking Windows
Indie-music lovers can catch their favorite bands at this ever-hip extravaganza of live tunes, comedy, art, food and drink taking place in and around the Onion City's traffic circle.
Early May, Downtown Winooski, wakingwindows.com
People's United Bank Vermont City Marathon & Relay
Runners pound 26.2 miles of pavement or split the distance with relay teams. Non-runners can order brunch at outside tables and gawk.
May 27, Downtown Burlington, vermontcitymarathon.org
Summer 2018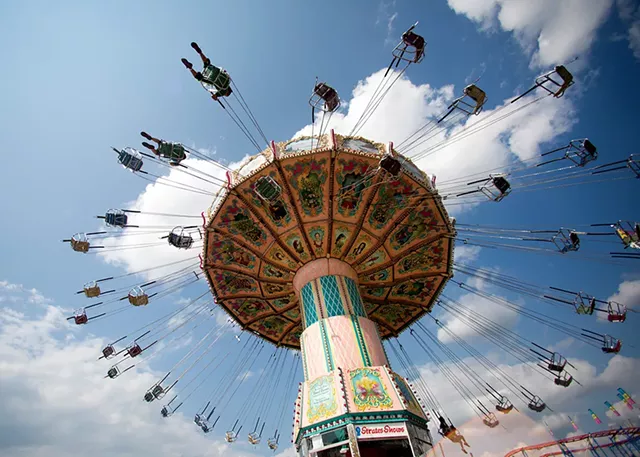 File: James Buck
Champlain Valley Fair
Burlington Discover Jazz Festival
Cool cats tap their toes to the swingin' sounds of local, regional and legendary jazz masters on indoor and outdoor stages around Burlington.
June 1-10, Downtown Burlington, discoverjazz.com
Burlington Wine & Food Festival Grand Tasting
Several days of taste-bud-tempting events culminate in a culinary affair with palate-pleasing vinos, gourmet bites and seminars with celebrated winemakers.
Mid-June, Waterfront Park, Burlington, burlingtonwineandfoodfestival.com
Vermont Brewers Festival
More than 150 craft beers beckon suds lovers of legal age, who sip samples during scheduled tasting sessions.
July 21 & 22, Waterfront Park, Burlington, vtbrewfest.com
The Ramble
Burlington's Old North End showcases its one-of-a-kind qualities with community-wide displays of art, music, food, performances and pop-ups. Anything goes!
July 28, Old North End, Burlington, theramble.org
Festival of Fools
Along with area venues, Queen City streets host internationally renowned buskers, comedians, musicians and quirky performers.
August 3-5, Downtown Burlington, vermontfestivaloffools.com
Champlain Valley Fair
Fried foods fuel revelers at this annual amusement featuring rides, games, agricultural displays, a demolition derby and grandstand concerts by big-name acts.
August 24-September 2, Champlain Valley Exposition, Essex Junction, champlainvalleyfair.org
A-Dog Day
With an annual day of skateboarding, art, eats, beats and a bone-marrow drive, friends and fans fête the life and legacy of DJ Andy "A-Dog" Williams, who died of leukemia in 2013.
August 25, Downtown Burlington, friendsforadog.org
Survival Tips:
Skip the hassle — and expense — of festival parking. Bike instead!
If you're an introvert or claustrophobe, the crowded Burlington Farmers Market might be your worst nightmare — strollers and dogs and tourists, oh my! Check the calendar listings at sevendaysvt.com for lower-density alternatives in Winooski, Richmond, Shelburne and beyond.