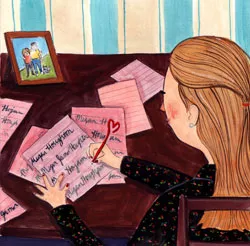 I once spent an entire math class writing "Megan Miller," over and over, in the pages of my Trapper Keeper. Oh, Doug Miller, you were so dreamy! It was no coincidence that I was cast as your wife in our fourth-grade musical, Rip Van Winkle. Your blond hair, your math smarts, your enthusiastic participation in chorus. You were the Gilbert Blythe to my Anne Shirley. We were meant to be together.
Like so many young girls, I engaged in the ritual of fantasy name changing long before I had my first boyfriend — or dared talk to boys, for that matter. I grew out of it. I went to college and dipped my toes in women's and gender studies just enough to start feeling I was getting shortchanged in life simply because I was a woman.
Then I started writing for newspapers and saw my name in print. What a name! I thought, week after week (such is the heady influence of a byline). I'm never giving it up. I felt proud of my work and my identity. I couldn't imagine being anyone else.
Until a few weeks ago, when I asked my fiancé — in that jokey way you do when you're testing emotional waters — if he'd be hurt if I didn't take his last name. His earnest response took me aback. "Yeah," he said. "I kind of would."
Daniel doesn't cling to traditional gender roles. He talks seriously about being a stay-at-home dad. He has a weakness for self-help novels. I've known him to set up a full-service salon in our bathroom to cut my hair and wax my legs. I never imagined he would care what I did with his name.
So I went looking for some history. The first American woman to keep her maiden name after marriage was Lucy Stone, a Massachusetts suffragette in the 1850s. A league of Lucy Stoners exists to this day, fighting to keep women from abandoning their names, which they consider a form of sex discrimination. But, according to a study conducted several years ago at Harvard, the percentage of women keeping their maiden names after marriage dropped between 1990 and 2000, from 23 to 17 percent.
In some ways, I'd more easily give up Megan. My mother named me after Meggie Cleary from the hit '80s miniseries "The Thorn Birds." When I was in middle school, she made me watch it with her. She wept through the entire thing; I thought it was creepy. What could a girl my age possibly see in lechy old priest Richard Chamberlain?
But "James" is another story. I love its single syllable, its simple masculinity. It connects me to my English family, to my grandmother Olive in London, who was literally blown off the toilet when a Nazi doodlebug dropped on the house next door (she survived to enthusiastically tell the tale). It connects me to my father.
My mother thinks I should do it — change my name. "That's the whole point of getting married," she says. "It's about forming a union, becoming family." Her parents never even gave her a middle name. Why bother? they figured. She's just going to get married anyway.
She eagerly took my father's name, all but dooming her maiden name to oblivion. Until recently, when she started writing professionally again — she had written for newspapers before she married — and quietly slipped the name back into her byline.
A friend of mine has been married more than a decade but still has to mouth out the spelling of her husband's name every time she writes it. A bank clerk caught her doing it recently and asked to see extra ID. Lately she's considered going back to her maiden name.
Many of my unmarried friends say they'll never take their partners' names. Some are PhD candidates already publishing — one admitted she's keeping her Spanish name because it boosts her chances of getting grants — while others believe it's simply unfair for either partner to ask the other to give up a name.
The patriarchal implications of the tradition aren't lost on me. But neither are the sexist origins of marriage itself, and that didn't stop me from agreeing to marry this guy. Daniel says he'd consider adding my name to his, but frankly, I'm not sure I want to share it. We could create a brand-new name, but that strips away what I love most about names: They link us to our ancestors.
The other day, for the first time in years, I opened a notebook and wrote out a list of potential names. I don't like the rhythm of Megan Houghton. The repetition of the two-syllable names, both ending in "n," sounds clunky. But Megan James Houghton — that's not bad! It's like an Oreo cookie, with James as the one-syllable cream filling.
I was warming to the idea, so I asked Daniel why it mattered to him. None of his three older sisters kept the name, he told me. "We would take ownership of it."
Daniel and I have been together for five years and lived together for the last four and a half. For all intents and purposes, we're already married. It's difficult to imagine how making it legal will change anything.
But when I began to consider taking his name, something strange happened: I started to feel the weight of what I've signed up for. When we get married, we won't just be throwing a party for our family and friends; we'll be agreeing to merge our lives — for the rest of our lives. That's a big fucking deal. I don't want it to feel incidental. I can't pretend that a commitment so huge won't change me.
And Daniel? He says it's just as scary sharing his name with me. What if I resent him for it? He jokes that he'll be forever indebted to me. Never again can he refuse my requests for a back rub, never again override my picks on our Netflix queue.
When I resized the ring he gave me — his maternal grandmother's engagement ring — it was important to me that we keep the engraving intact: TMD for Thomas Mason Duthie and FBR for Frances Brown Reeves. I loved those names as soon as I heard them, but it wasn't until I started wearing the ring that I understood why: Neither is mine, yet they arrived on my finger like a map to the past. I want to be a part of that map going forward.
But who am I kidding? It's silly to try and justify it. I am not a rational person, and this is not a rational decision. All it took was one imploring look from the man I love, and I was sold. After all, it's just a name.