Luke Awtry
Clayton Rabideau
C
layton Rabideau was in England when the pandemic began. But before the borders closed, he left the country and returned to Vermont, where he grew up. As a computer scientist, he can work from anywhere.
Even so, Rabideau found that surprisingly difficult. At first he tried to work from home, a Richmond house he shares with his girlfriend and two housemates. But he was easily distracted by people coming and going — and by warm, sunny days when everyone else was headed out for a hike.
In September, he discovered a new option: renting a cubicle at
MyCube
, a new coworking space in Winooski. Founded by a couple of nomadic professionals who also came to Vermont to escape COVID-19, MyCube offers an office environment that is comfortable, flexible, safe and affordable.
Rabideau reports that it's a good fit for him. He appreciates the secure, industrial-strength internet connection, the free coffee and the abundance of lunch options within walking distance. But mostly, he enjoys being in a space where he can concentrate and "get actual deep work done," he says. "There's something about just leaving your house that's good for productivity."
Plenty of Space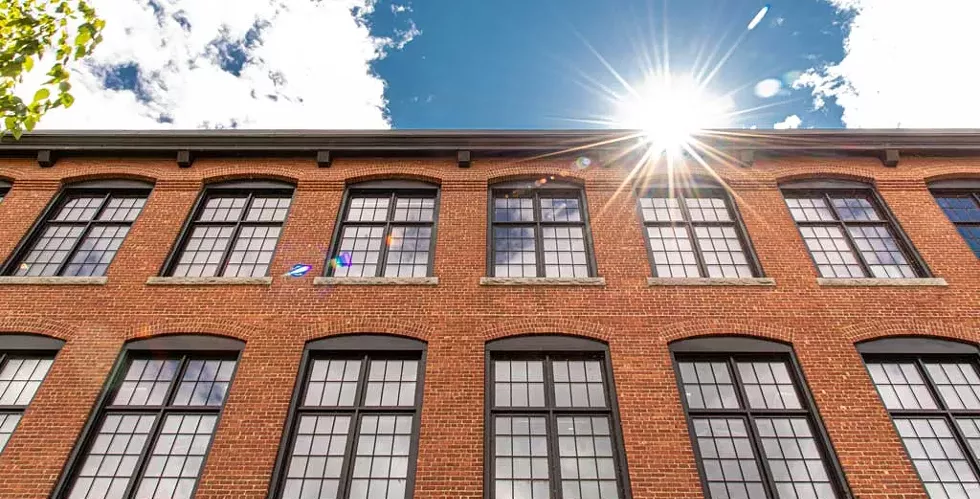 Courtesy of Sarah Lavoie for MyCube
The Champlain Mill in Winooski
MyCube is in the heart of downtown, occupying a stylish office space in the historic Champlain Mill that overlooks the Winooski River.
In many ways, it's an ideal spot to work during a pandemic. Completed in 1912, the mill housed giant mechanical looms and hundreds of workers before the American Woolen Company shuttered the facility in 1954. Though it's been renovated since, it retains a spacious industrial feel with exposed brick walls, high ceilings, and visible pipes, ducts and wires. But now it houses far fewer people.
The Heritage Winooski Mill Museum and the Winooski Historical Society Museum, both located in the mill, are closed because of COVID-19. Most of the companies that have offices there are encouraging employees to work remotely. Waterworks Food + Drink is the liveliest tenant. It's on the level below MyCube, but restaurant patrons rarely venture into the rest of the building.
In normal times, this setup might feel a bit too cavernous. Not now.
Courtesy of Sarah Lavoie for MyCube
MyCube work spaces
MyCube offers six workstations, as well as four private offices/conference rooms; a staff station occupies the center of the space. The Centers for Disease Control and Prevention recommends that office workers be given at least 100 square feet each; MyCube easily exceeds that amount.
And the stations are set up to ensure maximum distance. Each person sits facing a wall next to a window. The six-foot-long desks are contained within half-wall cubicles that allow occupants some privacy, too. Each station comes equipped with a large screen monitor, Clorox wipes and a small bottle of hand sanitizer.
Additional safety measures include temperature screening upon entry, a mask requirement when moving around in the space, and windows that open to let in fresh air — and the soothing sound of rushing water. Rentable sessions end 10 minutes before the hour, allowing staff to sanitize the workstation before the next user arrives.
As offices go, says Rabideau, "It seems pretty corona-safe."

Courtesy of Sarah Lavoie for MyCube
MyCube conference rooms are also for rent
MyCube also offers plenty of natural light and great views. Most of the desks and offices/conference rooms are positioned along the river side of the building. Each has a pair of tall, southern-facing windows looking out over the water.
The place has proved to be an oasis for Steve, a state employee who lives in Winooski and prefers to use only his first name. For the last few months, he and his wife have been working from home while also parenting their 2- and 4-year-old children. The home office they use has a door but is not childproof. More than once, partially clothed tots have interrupted sensitive Zoom meetings.
"I love my kids. I love my family. I love my home," says Steve. But after months of "being on top of each other," he was ready for a change. He's thrilled that MyCube is just a few blocks from his house. "There's just enough white noise that I can keep focused on my work," he says.
Both he and Rabideau have researched comparable coworking spaces in Burlington and say that, at an introductory price of $8 for 50 minutes at a desk or $32 for an eight-hour day — or $35 to $140 for a conference room — MyCube is competitively priced. "It works out to my advantage," says Rabideau.
MyCube also now has monthly rates including weekend and off-hours access, and it's looking at expanding into event hosting, as well, once health protocol allows.
From the Big Apple to the Onion City
Courtesy of Sarah Lavoie for MyCube
Owners Gretchen Tarrant and Chris Gulla
Those comments confirm what MyCube founders Gretchen Tarrant and Chris Gulla suspected: Other professionals out there are looking for actual office space.
The couple lived in New York City when the pandemic hit. Both of their jobs transitioned to remote work. Before long, life in the city became much less appealing. "You couldn't take the subway; you couldn't pack into the bar with your friends to watch the big game," says Gulla.
Like many urban dwellers, they decided to flee to Vermont. Tarrant grew up here — her dad, Jerry Tarrant, is one of the owners of the mill. "I always planned to move back to Vermont," Tarrant says. "I just didn't think it would be now."
When they first left the city, Tarrant and Gulla figured they would soon return. Tarrant was scheduled to leave her marketing job and start a master's program at Columbia University Journalism School in the fall. But after a month or so, she decided to defer for a year, and the couple committed to extending their Vermont stay.
The idea for their new coworking business grew out of personal experience. Tarrant wasn't the only one in her family who moved home during the pandemic. Once here, she and her siblings needed a place to work. "We all kept coming into my dad's office and he was like, 'Get out of here!'" she says. "I thought,
If we need work space, other people must need it, too.
"
Courtesy of Sarah Lavoie for MyCube
The Champlain Mill in Winooski
When she heard that one of the tenants in the mill was leaving, Tarrant sensed an opportunity. "It was serendipitous," she says. She notes that she and Gulla aren't getting any special treatment; they still have a lease and rent payments.
Tarrant had mused about opening a café/coworking space before. Pre-pandemic, she was "a creature of coffee shops," she says. She knew well the hazards of sharing those spaces with others — the lack of privacy, the lack of security on public Wi-Fi networks, the dread of sitting near someone loud or annoying. And she applied that knowledge to designing MyCube.
Tarrant and Gulla, who works in finance for PwC, were both intrigued by entrepreneurship. They had both been college athletes — he played football at Penn State University; she played hockey and lacrosse at Yale University. The experience helped shape their work ethic and drive to be part of something bigger than themselves; it also taught them firsthand lessons in the rewards of sacrifice and risk taking.
Tarrant had secondhand experience in that, as well. She grew up in a family of entrepreneurs — her dad and uncles founded MyWebGrocer, now part of Mi9 Retail; her grandfather, Richard Tarrant, founded IDX Systems Corp., now part of GE Healthcare, and Marathon Health, which is headquartered at the Champlain Mill.
Gulla and Tarrant knew that starting a business wouldn't be easy. They've spent many hours building financial models, outfitting the space, assembling office furniture and computer hardware, and creating safety protocols and marketing materials. But the venture is exciting, too, especially the idea of revitalizing the mill. "It would be so cool to see life come back into this a little bit," Tarrant says.
In reviewing the history of the local mills, Tarrant read about the immigrants from all over the world who flocked to Winooski. Part of her family is Lebanese, and she points out that some of them had come to the area seeking work. "It's pretty crazy to think about the fact that some of our ancestors likely were working some really tough jobs in this building not that long ago," she says.
Living and Working in Winooski
Courtesy of Sarah Lavoie for MyCube
Your view of the Winooski River from MyCube
Winooski City Manager Jessie Baker is also eager to see people returning to the mill. During the pandemic, fewer office workers have been commuting to jobs in the city, which means fewer customers for businesses such as Sneakers Bistro, Golden Hour Gift Co. (formerly Birdfolk Collective), Morning Light Bakery, Mule Bar, and Scout & Co. An accessible coworking space will make it easier for Winooski residents to work in the community where they live.
MyCube will likely continue to attract out-of-towners like Rabideau, who are drawn to an office in a walkable downtown that offers options for lunch, dinner, after-work drinks and rejuvenating strolls along the Winooski Riverwalk. The sound of water cascading over the rocks even drowns out the traffic noise from the bridge.
Baker observes that it's nice on the inside, too. "The mill is a gorgeous building," she says. "Who wouldn't want to work there a couple hours a week?"
This article was commissioned and paid for by MyCube.