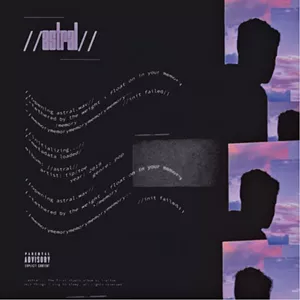 (Self-released, digital)
In a September 2019 episode of the New York Times podcast "Popcast," host and pop music critic Jon Caramanica weighed in on Post Malone and Rae Sremmurd's success in the streaming ecosystem. "The entire point of streaming is, you press play and hopefully never press stop," he said. He argued that the ideal music for the modern-day digital listening environment "just kind of carries you along; cradles you from out of one song and into the next song."
Crafting a sound that's sufficiently edgy and interesting to compel a streaming-age listener to press play, and digestible enough that it fits seamlessly into a playlist, is a skill all its own. On his debut LP, //astral//, Essex Junction's Connor Meehan, who uses the moniker tip/toe (and lots of slashes), has it down.
Sonically, the producer, singer and songwriter's bedroom pop would be an appropriate soundtrack for a day of self-care. Light trap beats flutter over ambient noises that create moods ranging from serene to charged. The overall effect is a sticky and submerged sound that would adapt comfortably alongside anyone from Palmistry to Rome Fortune to Massive Attack on a playlist.
The 11-song album spans only 20 minutes and 28 seconds. Meehan cites alternative hip-hop artist Tierra Whack's minute-long songs as inspiration for the short project. He's certainly on trend with the likes of Whack, Pusha T, Kanye West and others who have released sub-30-minute LPs in the past couple of years.
Meehan's ambient, hip-hop-influenced pop music is palatable but not fluffy. The 22-year-old is asking big questions: Why are we here? What happens when we die? When will the apocalypse come, and what will it be like?
In "//born to see the end// (outro)," Meehan sings, "Sometimes I think we were born to see the end of the world / Generational karma, that's just what we deserve." Given the climate crisis, he may be right.
Existential anxiety takes over in "//aokigahara//": "I can't tell you what it's like on the other side / All I know is I'm alive and I don't know why / What you think about in the night?" His feather-light delivery lands somewhere between singing and rapping, a pervasive mode heard in today's melodic hip-hop artists and mainstream pop singers such as Ariana Grande.
With //astral//, Meehan shows his production skills, intellectual curiosity and ear for trends. He knows the rules. On his next project, maybe he'll break them.
//astral// is available at soundcloud.com/tiptoemakesmusic, as well as Spotify and other digital streaming services.