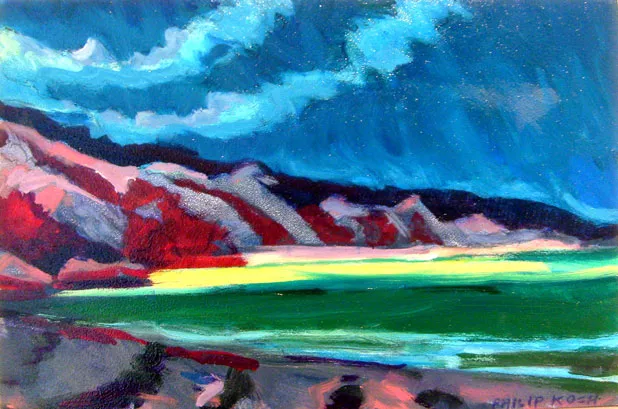 "Full Moon" by Philip Koch
Middlebury's spacious Edgewater Gallery has a stunning view of the Otter Creek Falls from its back window, and there's plenty of dramatic work on its walls, as well. The venue is celebrating its one-year anniversary with more than 100 small works in an exhibition aptly titled "Petite." The show is stylistically eclectic, but the caliber of the work is uniformly high.
Boston artist Ellen Rolli paints with heavy impastos and close color harmonies. "Pink Intrusion" is a 12-by-12-inch nonobjective abstraction made with a broad range of reds, from a pink bordering on lilac to a deep, red-wine hue. In the same size, the acrylic-on-canvas "Break Away" presents a field of dark yellows with patches of cerulean blue, red-orange and various greens stirring the atmosphere. Rolli creates lush, bright images using raw colors of similar intensity and value.
"Delivering the Hay, Morocco" by Jan Roy of Newburyport, Mass., is a 14-by-14-inch painting that portrays a sandstone escarpment with a tunnel running through it at the lower left of the scene. A truck heaped with hay bales looks tiny in relation to the scale of the mountain. In Roy's portrayal of mass, context is everything. Juxtaposing the small truck with the broad mountainside makes the whole image seem larger than it is.
Janis Sanders is a plein-air painter working in eastern Massachusetts. "Rust & Reflections I, II, III" is a group of three 5-by-5-inch canvases — essentially a triptych, even though the pieces are priced individually. Together they offer a panoramic view across a bog with a channel moving toward the upper right. A crystal-blue sky is reflected in the placid water. There is marsh vegetation the color of straw, and a stand of rust-hued trees at the horizon. Sanders' palette of just three main colors condenses the landscape into essential shapes and forms.
Ellen Welch Granter of Brookline, Mass., paints a lot of birds. Little songbirds are a recurring theme on her website. In the Middlebury show, Granter's 12-by-12-inch "City Silhouette" presents five songbirds over a gold-leaf background. It's an elegant composition, with birds dotting the canvas like a little archipelago.
In addition to "Petite," the gallery is presenting an exhibition of 15 paintings by Maryland artist Philip Koch. The featured artist of the month, he's got some small works, too. "Full Moon" is a 7-by-10-inch abstract landscape showing moonlight falling across a shoreline. Halos of lunar light hover at upper left, indicating a moon just beyond the borders of the piece. That technique is used again in "The Red Whisper": The 30-by-40-inch oil has an unnatural crimson sky, and its light source hangs directly above a stand of pines centered in the composition. By making light seem to emanate from just beyond the perimeter of his picture, Koch heightens its expressionistic mood.
The artist cites Edward Hopper as an influence, but Koch's work is more mystical. Canadian painter Lawren S. Harris, of the Group of Seven, seems like a closer match. The firmament of Koch's 7-by-10-inch oil-on-panel "Northern Sky" is a golden yellow, with strands of gray cirrus cloud wafting over a rocky peninsula. These cloud forms are reflected peacefully in the water.
The 16-by-20-inch "Deep Forest Pool" has more traditional autumnal colors of a birch forest in the foreground, but its background is nearly black. White and gray tree trunks hold the composition together like the bones of a skeleton.
Edgewater is a dynamic gallery that will most likely continue to show excellent works in its second year. It's a well-curated space, and the visual competition of a waterfall nearby shouldn't be too difficult to overcome.