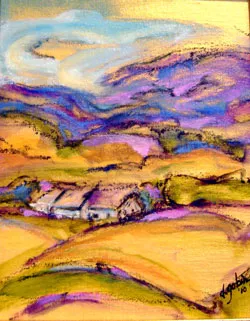 "Williy and Nel's Place" by Debi Gobin
Once again the Bryan Memorial Gallery in Jeffersonville is hosting a big show of little images. The 2010 installment of the gallery's annual "Small Pictures" exhibit includes about 200 works, none larger than 12 by 16 inches. Landscapes dominate, as is common at the Bryan, but this exhibition offers more diversity within the genre than one might expect. Plenty of nonlandscape pieces appear as well, including some solid abstractions.
Tinka Martell's pair of untitled 12-by-7-inch vertical compositions is among the best of the latter group. Her organic forms have mass despite being diminutive. Earth tones make up Martell's palette, brightened by touches of gold leaf. Dark-brown shapes at the top and bottom of both pieces anchor the compositions.
"Sunflower" is a textural, 10-by-10-inch abstraction by Longina Smolinski. A floral form is in the middle of two overlapped squares; her acrylic colors range from deep turquoise to orange. Smolinski's "In the Garden" features a group of crimson poppies dotting a bright blue-green color field. She most likely used a palette knife to layer the backgrounds thickly, and then scumbled details over them with broad brushes.
Marilyn James creates abstract landscapes with simplified shapes and broad, vertical brush strokes. Her 8-by-10-inch oils "Purple and Gold" and "On the Road" are ensconced in broad yet plain gold frames that are integral to the works' overall chromatic harmonies. Though almost art nouveau in appearance, the works more closely recall those of a group of French post-impressionist artists called les nabis. James' purple shadows contrast vividly with yellow-gold trees and peacock-blue skies.
Debi Gobin's paintings — landscapes that portray little hillside villages — swirl with lilac and ochre hues. Her 9-by-12-inch oil "Mountain Breeze" is dominated by a looping sky, while the vertically oriented "Willy & Nel's Place" is a 10-by-8-inch hamlet in a similarly magical kind of space.
Remarkably expansive for a 6-by-16-inch canvas, Robert Huntoon's "After Glow" is a more traditional landscape, although he captures colors that would please Maxfield Parrish. It's a broad Lake Champlain view with a calm yet luminously warm-hued sky vaulted over the placid, reflective water. A large island at right provides a dark counterpoint to Huntoon's radiating firmament.
Kathleen Manley's 12-by-12-inch "Elephant Grass" employs traditional colors to describe sky and land, but applies them in heavy impastos. White cumulus clouds drift over the scruffy field, and a few reddish-brown trees appear in the distance. Manley's confident brushwork makes this one of the liveliest paintings in the show.
A few interesting photographs are included in "Small Pictures," but the required scale is more typical for photographs than it is for paintings. Scott Funk's 8-by-11-inch digital photo "Rain Delay" shows an antique red tractor in an apple orchard. It's a nice, off-centered composition with a shallow space. Amanda Lass' 8-by-13-inch "Sewing Stone #1" and "Sewing Stone #2" are more unusual. She photographed masonry arches and combined framed prints of each, as in a diptych. But in both pairs, white threads are stitched over the mortar of the arches in the left-hand print. The pieces become objects themselves rather than just photos of objects.
Susan Goodby's 3-by-3-inch mixed-media works "Solobi #3" and "Solobi #7" are the smallest of the small. The playful patchworks of color with print and collage elements are about the size of stocking stuffers.
The Lilliputian parameters of the "Small Pictures" exhibit haven't limited the vision of the participating artists. Perhaps the size also encourages viewers to look more closely than they might at a show of larger works. While bigger pictures may take more time to paint, the smaller ones can take more time to see.