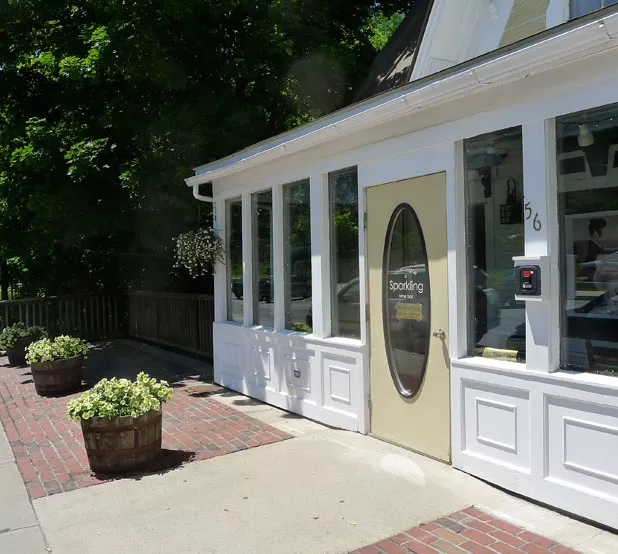 Champagne & Sparkling Wine Bar
Can one of the only dedicated sparkling-wine bars in the country thrive in Middlebury? Nancy Weber-Curth clearly thinks so. In May, she opened Champagne & Sparkling Wine Bar in a historic building on College Street.
"I love sparkling wine and Champagne, and thought this would be great in an area that I'm passionate about," says Weber-Curth, a chemist and business trainer who lives in Ferrisburgh. "Sparkling wine or Champagne makes the day special, even if there is not an 'official' reason to celebrate. It also pairs very well with food."
For now, Weber-Curth has limited the pairing material to chocolates from Vergennes' Daily Chocolate and local cheeses such as ones from Blue Ledge Farm and Orb Weaver Farm — so as to avoid competing with existing food businesses, she says, and to encourage pre- and postprandial sipping.
The menu features a weekly rotating roster of four wines by the glass, with prices ranging from $5 to $11 each; and 16 by the bottle — from the familiar Cava, Prosecco, and Champagne to sparklers from South Africa, Argentina and Germany.
Weber-Curth found some of her wines during a spring research trip to France, where she met with growers. "I didn't focus on the big Champagne giants. I went to smaller vineyards that really focus on making an excellent product," she says.
The Champagne region was a far cry from where Weber-Curth spent much of the last eight years: Baghdad, where she ran a nongovernmental organization. "I believe life should never be boring," she says.
The wine bar is open Wednesday through Saturday, 4 to 10 p.m.; and Sunday, noon to 6 p.m.