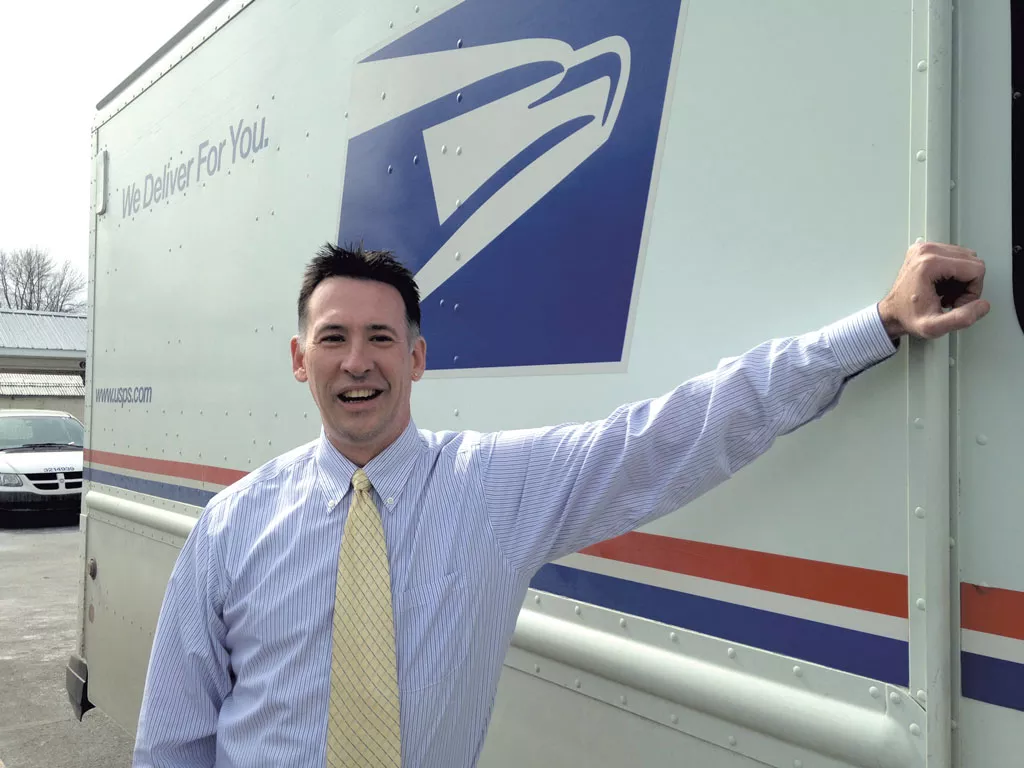 Molly Walsh
Jerry Reen
Heather Hogan was irked. The Burlington resident wanted to know why the U.S. Postal Service suspended her mail delivery on South Winooski Avenue for several days in late February. She said her husband promptly shoveled their front steps after a letter carrier complained they were too icy, but no mail arrived for three days and a package was in limbo for five.
"Apparently our mailman doesn't like snow," Hogan said — perhaps an inadvertent reference to the postal service line about "snow nor rain nor heat nor gloom of night..."
Hogan said she repeatedly called the Pine Street postal distribution center without reaching a human being, and it took hours of dialing — and assistance from someone at the Elmwood Avenue branch downtown — to finally get help.
Her tale of postal woe is not isolated. Other Burlington customers have complained on Front Porch Forum this winter about mail not showing up. Postal workers have confirmed that entire routes went undelivered for days due to understaffing.
"I don't have it as bad as some people," Hogan concluded.
The postal service has received the message.
"I've been here two weeks; there were some challenges when I got here," Burlington's new acting postmaster, Jerry Reen, acknowledged last Friday.
Weather-related mail "holds" and staff vacancies were among the challenges Reen cited during a recent interview. The 25-year veteran of the postal service has worked as a letter carrier, small-town postmaster and as manager of post office operations for northern Vermont.
Reen moved into the postmaster's office on Pine Street on February 16, while his predecessor, Raymond Bourbeau, moved on to a new "detail." Reen declined to comment on Bourbeau's departure from Pine Street, as did the USPS spokeswoman for Vermont, Boston-based Melissa Lohnes.
"I actually cannot comment on personnel issues," Lohnes said.
She did comment on the harsh winter, which has been a challenge across New England this year. If snow or ice creates a hazard at a property, postal workers have the option of suspending delivery rather than risking injury, Lohnes said. Such situations usually get resolved quickly. "They do want to deliver the mail," she said. "They don't want to bring the mail back."
Even with the bitter cold and snowdrifts, regional performance was off only slightly, according to Lohnes, although she said she did not have Burlington-specific data. Carriers met delivery standards 94.5 percent of the time between January 1 and March 13 in the three-county Champlain Valley Region that includes Burlington, according to Reen and Lohnes. That's very close to the average, which is between 96 and 98 percent, they said.
The trouble may be that "delivery standards" have changed. As of January, the U.S. Postal Service no longer strives to deliver local first-class mail the day after it's posted. New national rules set the goal at 2.1 days — a decision Sen. Bernie Sanders (I-Vt.) strongly protested, saying it would slow mail to millions of Americans, lead to more job cuts and put the ailing postal service into a "death spiral."
"I miss the days when you could mail something in Vermont and it would arrive the next day," said Hogan. Now it seems to sometimes take four days, she added.
Charley McClintock, a retired letter carrier who lives in Burlington, said his own mail has failed to arrive on multiple occasions of late — something that rarely happened during his two decades on the job. It's indicative of serious staffing problems, according to McClintock, who retired in 2008.
Not getting the mail "used to be a big deal," McClintock said, adding, "The postal service is in danger, and it's not because the carriers don't care. They are getting worked into the ground."
A local union official confirmed that half a dozen routes in Burlington, South Burlington and Winooski do not have a permanent letter carrier. Mail was not delivered to addresses on South Union and South Willard streets in Burlington for three or four days this winter because no carrier was available, said Jeff Towsley, chief steward for Local 521 of the National Association of Letter Carriers. Management hasn't filled jobs fast enough as people retire or leave, and that, he said, accounts for many of the service problems — not the weather.
"They knew these retirements were happening, and they didn't backfill anything," Towsley said. "It takes a long time to get people on board."
Reen confirmed he's had to bring in carriers from other locations to get the mail delivered in Burlington.
The job pays well once a letter carrier has racked up some miles: After 26 years, Towsley earned $84,400 with overtime last year, he said.
And while the pay is good, it doesn't start at $84K. Under contract rules, some new hires have to wait as long as 10 years to gain the permanent status that confers full union wages and benefits. Others get into the union in less than a year, but it still takes time to work to the top of the wage scale.
Working conditions, including the physical demands and weather as well as required overtime, can be a challenge. Experience Kring, president of Local 521, declined to comment on mandatory overtime for letter carriers or the recent delivery problems, saying he did not want to jeopardize ongoing or potential labor grievances in Burlington.
Kring works 60 hours a week most of the time, he said, noting the postal service strives to deliver on time, in every season.
Now that means working on Sundays. Even as it has phased out next-day letter delivery, the postal service is implementing an ambitious new service: Sunday package delivery started last month in parts of Chittenden County and is designed to accommodate changing consumer demand. The Pine Street Postal Service facility is currently hiring assistant carriers — starting at $15.68 per hour — to pull it off.
Many people and businesses are using email rather than snail mail for letters and bills, which has dramatically cut letter volume. The demand for package delivery is strong as people shop more online. "What we are doing is re-creating our network for the future," Lohnes said.
McClintock doesn't buy the spin. "That's a joke," said the retired letter carrier. "They can't even get the mail out now — without delivering on Sunday."