Page 9 of 21
2003
February 13: In Inside Track, Peter Freyne reports that all but one of Fletcher Allen Health Care's board of trustees resigned after Gov. Jim Douglas called on them to step down.
March 3: Ken Picard checks Howard Dean's political pulse in New Hampshire in a cover story, "The Doctor is In."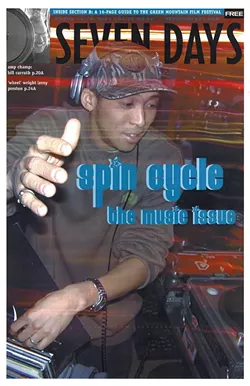 March 12: Ethan Covey profiles DJ A-Dog in "Vinyl Answer." "Inching the volume higher on the classic funk track pulsing through the room's speakers, he cuts his hand across the record, sending forth a staccato flurry of notes. A soft murmur of praise rises from the assembling crowd. Heads nod in approval. A-Dog lets slip a thin smile, then turns to rummage through a black crate overflowing with 12-inch vinyl."
March 19: U.S. invasion of Iraq begins.
April 2: In Local Matters, a new bi-weekly column, Ken Picard chronicles the state of Vermont.
June 18: Ken Picard documents the increasing presence of Mexican farmworkers on Vermont dairy farms in "Green Mountain Campesinos." "Pinched by low milk prices and a shortage of workers willing to put in long, grueling hours for low pay, Vermont dairy farmers are increasingly looking south of the border for hands to keep their operations running." VPA (1st place Best Local Story, nondaily)
June 23: Howard Dean announces he's running for president.
June 26: Music editor Ethan Covey wins John D. Donoghue Award for arts criticism from the Vermont Press Association.
July 30: You picked the Daysies! Seven Days reveals the winners of the first Seven Daysies Readers' Picks.
September 17: Before there was Facebook and MySpace, there was Friendster. Cathy Resmer explores the early social media site in "Best Friendsters?: Casting a worldwide personal network without leaving home." Zephyr Teachout, Howard Dean's director of online organizing and outreach, is "excited" about its potential: "It's even better for organizing than it is for dating," she says.
October 4: Fred Tuttle dies of a heart attack on the same Tunbridge farm where he was born.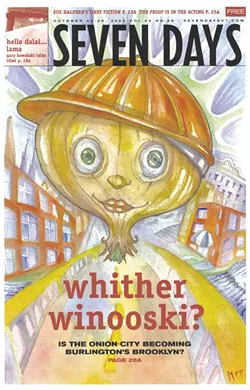 October 22: Seven Days writers ask, "Whither Winooski?: Is the Onion City becoming Burlington's Brooklyn?" "Downtown Winooski is essentially a parking lot," says Higher Ground co-owner Alex Crothers, "and it has so much potential."
October 29: Paula Routly passes the arts and culture beat to contributing editor David Warner, whose new column is called State of the Arts.