Page 7 of 21
2001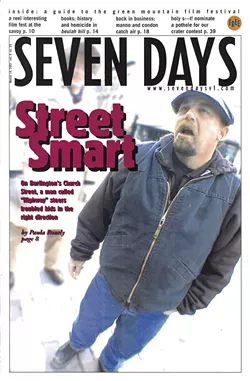 March 21: Paula Routly hangs out on Church Street with an ex-con in "Street Smart: On Burlington's Church Street, a man called 'Highway' steers troubled kids in the right direction." VPA (1st Place, Best Feature, nondaily)
March 28: Border-busting "world citizen" Garry Davis talks with Susan Green about his new book in the cover story, "Passport to Fame?" The 79-year-old idealist believes that being human should be the only criteria necessary for crossing borders.
May 24: Sen. Jim Jeffords leaves the Republican party.
July: At its annual convention in New Orleans, AAN awards Peter Freyne second place, Political Column, for Inside Track, and Peter Kurth, third place, Column, for Crank Call.
September 11: Nineteen Islamic terrorists fly four commercial jets into the World Trade Center, the Pentagon and a field in Pennsylvania, killing almost 3,000 people.
September 12: In Inside Track, Peter Freyne analyzes the Bush administration's chaotic response to the attacks the day before.
September 19: Seven Days art critic Marc Awodey writes about his architect father, who helped design the World Trade Center. The original blueprints for the towers accompany the story.
October 7: U.S.-led invasion of Afghanistan begins.