Page 5 of 21
1999
January 27: Terry Allen reveals that Vermont is importing elk that may contain a rare and debilitating disease in the cover story, "How Now, Mad Cow?"
February 3: Burlington thespians protest a lack of performance space in a cover story, "Just a Stage?" by Erik Esckilsen.
March 3: Paula Routly gets a read on Sandy Baird in the cover story, "The Baird Essentials: Lawyer, activist and former mayoral candidate Sandy Baird just wants women — and democracy — to have a fighting chance."
April 14: David Lines writes about a divisive teacher's strike in the cover story, "A Town Divided: Has democracy been derailed in Hyde Park?"
April 20: Mass shooting at Columbine High School in Littleton, Colo.
April 21: For the Music Issue, Pamela Polston interviews Big Heavy World's Jim Lockridge and Paula Routly pens "Strings Attached," about musician, producer and opera house manager Pete Sutherland.
May 5: In Inside Track, Peter Freyne recaps Rep. Bernie Sanders' standing-room-only town meeting on the war in Yugoslavia. "One woman noted that Ol' Bernardo was 'the only congressman' she knew who would have a public meeting on such a touchy subject, knowing full well that 'half of the audience would get up and condemn him.' 'I would be very happy if it was only half,' replied Sanders, in one of the rare light moments of a very hot night." The authors of "Webwise" take note of a national survey: "Gallup reports that 68 percent of the people surveyed in this country feel that the internet is 'to blame' for the events in Littleton."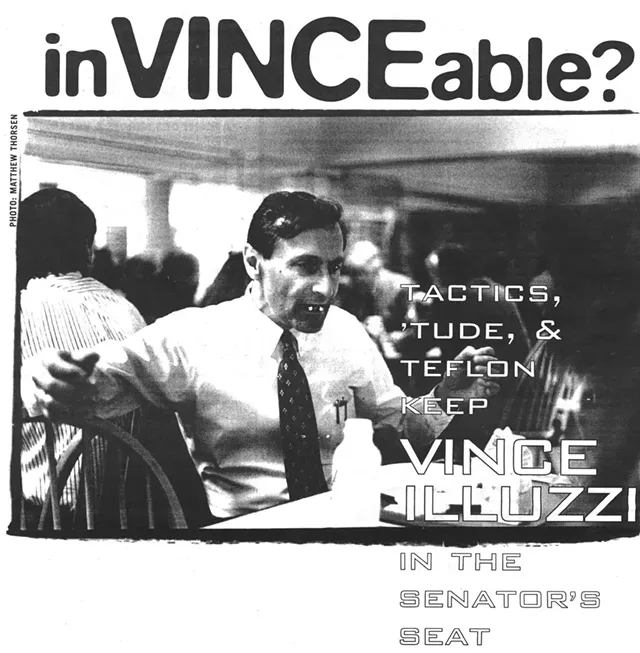 May 12: Seven Days apologizes for the "vampire fangs" that appeared on the photo of Sen. Vince Illuzzi in the previous week's cover story by Paula Routly: "It was a couple of ill-placed dust specks in the camera room at B.D. Press that made him look so 'long in the tooth.' Our apologies for the bizarre, but accidental, foul-up." Ruth Horowitz wonders whether Shaw's can satisfy Burlington's craving for a downtown grocery story in "Market Share." "Also being explored is a downtown satellite outlet, or complete relocation, of the Onion River Co-op."
May 19: Paula Routly wonders whether Vermont can "pass the Hollywood screen test" in "Lights, Camera ... Compromise?" "The coincidence of two big-budget movies — Me, Myself and Irene and What Lies Beneath — coming to Vermont in the next four months suggests Hollywood may be reconsidering the state as a serious setting."
May 26: Movie reviewer Rick Kisonak pans the new Star Wars movie, Episode 1: The Phantom Menace. On Jar Jar Binks: "He's got to be the most annoying special effect since Howard the Duck."
June 3: Vermont Pub & Brewery honors Seven Days founders Pamela Polston and Paula Routly for "making Burlington a better place to live and play" with a live award ceremony at the downtown brewpub.
June 6: Burlington's downtown Price Chopper closes.
June 23: Burlington's "already-sizzling housing market" is beginning to overheat. So says Kevin J. Kelley in "Gimme Shelter: There's no place like home — if you can find one." "Any Hill Section or South End home not requiring extensive renovations and priced for less than $175,000 will be snapped up almost overnight, local realtors report."
June 30: "King Garbage" by Terence Mickey wins the Seven Days-UVM Summer Writing Program Emerging Writers Competition. In Rhythm & News, Pamela Polston writes that singer-songwriter Jerry Trudell is fed up with Burlington's food situation. "As reported here a few weeks back, Trudell organized an old-fashioned musical protest outside the downtown Burlington Price Chopper the day it closed ... Look forward to another performance of 'Where Have All the Groceries Gone?' — with apologies to Pete Seeger — and other meaningful material this Friday at two."
July 21: The owner of Thunder Road talks with Paula Routly for the cover story "King of the Road: In racing and radio, Ken Squier is right on track."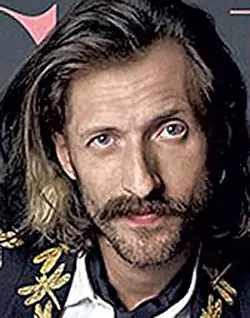 August 11: In Rhythm & News, Pamela Polston notes that Eugene Hutz, formerly Eugene Nikolaev, is taking New York City by storm as a runway model — and making mustaches cool. His new band, Gogol Bordello, is a big hit.
September 22: In Rhythm & News, Pamela Polston reports that Rolling Stone named Phish's 1995 New Year's Eve gig at Madison Square Garden one of the best shows of the '90s. "The band got its name on the cover, right there between Metallica and U2."
October 10: Ellen DeGeneres appears at UVM's Patrick Gym for National Coming Out Week.
October 13: In Inside Track, Peter Freyne labels the Burlington grocery store selection controversy as "the biggest political food fight of the modern era."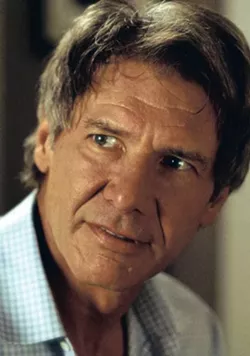 October 20: In Back Talk, Paula Routly reports on Harrison Ford's Vermont visit during the filming of What Lies Beneath: "Nectar's doesn't take credit cards — not even from Harrison Ford. When the fun-loving star of What Lies Beneath found himself out of money at the end of a night of carousing in Burlington, he proffered the plastic. No go. Word has it one of his 'body guards' coughed up the cash."
November 10: Nina H. explodes the myth that heroin addiction is new in Vermont in "Heroin Worship: Can methadone fix Vermont's growing drug problem?" by Pamela Polston. "It has been here at least 20 years," says Nina. One thing is different, though: "In 1994, you couldn't buy heroin in City Hall Park in Burlington. Now you can."
November 14: National cable TV station A&E selects Burlington as the most livable city in the U.S.
December 1: Notable Vermonters reveal how they plan to spend the last night of the century in "Dropping the Ball? Celebrating New Year's Eve, the Y2K way..." by Paula Routly. Very Special Arts director Alex Chirelstein says he's going to Paris. Astronomer Joanna Rankin plans to do First Night. Yolanda says she'll be "running through the streets naked with a strap-on dildo in Montréal." Says Burlington assistant city attorney Jessica Oski: "A lot of people I know are going to Florida, but I'm supposed to be present at the Burlington Emergency Operation Center, located at the Burlington Police Station, in the event of any Y2K emergency."
December 20: Vermont Supreme Court rules in Baker v. State of Vermont that same-sex couples are entitled to the benefits of marriage under the state's constitution.