Page 4 of 21
1998
January 8: Epic ice storm paralyzes Vermont for almost a week.
January 14: "Ol' Bernardo's emergence on Capitol Hill as an effective and outspoken coalition builder was the biggest unheralded news story of '97," writes Peter Freyne in Inside Track. In Rhythm & News, Pamela Polston notes the opening of Burlington bar Red Square. "Nothin' like a new venue in town to shake things up."
January 26: Bill Clinton makes a statement on national TV that "I did not have sexual relations with that woman, Miss Lewinsky."
January 27: Hillary Clinton describes attacks on her husband as part of a "vast, right-wing conspiracy."
February 4: Seven Days publishes the first in a series of monthly restaurant reviews by nationally known critic Marialisa Calta of Calais. Of Asiago Wood Grill & Noodle Bar Bistro in Stowe, she writes: "I tend to judge restaurants on how they treat vegetarians, and Asiago came through with flying colors."
February 11: The "shocking results" of Seven Days first sex survey reveal Vermonters have a thing for TV weathermen. Which politician do Vermonters most want to bang? Howard Dean. Seven Days adds a new comic, "Troubletown," by Lloyd Dangle, and a crossword puzzle.
February 18: Seven Days gets its own domain name: sevendaysvt.com.
March 11: Vermont lawmakers vote Peter Freyne Best Statehouse Print Reporter. Says then-senator Peter Shumlin: "Peter Freyne is the only columnist in Vermont who is consistently intriguing. Legislators grab Seven Days every week like kids in a candy shop — mostly out of fear, of course."
March 25: Pamela Polston reports in Rhythm & News that Agents of Good Roots will play the grand opening of Higher Ground on April 15 in Winooski.
April 8: In Crank Call, Peter Kurth laments the imminent closing of Burlington bookstore Chassman & Bem. "What's going on in Burlington bookstores is just a miniature reflection of the new order, where what you know, what you learn and what you read are determined almost entirely by corporate interests."
May 6: Jeanne Keller debuts a new monthly column, Real Ville Montréal, with insider information "to help you look less like a tourist."
June 6: Borders Bookstore opens on the Church Street Marketplace.
June 17: Peter Kurth interviews drag queen Cherie Tartt's sidekick, Yolanda, in advance of "A Faery Home Companion" at Club Toast.
June 24: Seven Days adds two new comics: "Red Meat" by Max Cannon and "Story Minute" by Carol Lay.
July 1: Kimberly Jones wins the Seven Days Emerging Writers Contest, and her short story, "Falling," is the centerpiece of the double Summer Reading Issue. Paula Routly compiles 63 of the state's published authors in a guide to local literati.
July 22: Burlington artist Selene Colburn removes her group show from the city-owned Firehouse Gallery, inspiring Pamela Polston to pen a rare op-ed: "Public Exposure: A flare-up at the Firehouse Gallery begs the question: When does censorship make sense?"
July 29: Seven Days is accepted as a member of the Association of Alternative Newsweeklies, now the Association of Alternative Newsmedia.
September 2: Vermont celebrities remember their low points in the cover story, "You Win Some, You Lose Some." Ben & Jerry's founder Ben Cohen, Burlington mayor Peter Clavelle, Republican gubernatorial candidate Ruth Dwyer and drag queen Cherie Tartt contribute.
September 8: Fred Tuttle defeats Jack McMullen in Republican primary election for U.S. Senate.
September 9: Seven Days unveils a redesign in its third anniversary issue, which includes "The Question," a new feature in which random people respond to a random query. Diane Sullivan, a salesperson at Burlington's Feet Street, is one of three locals who answer the first question, "What is Labor Day?" She later comes to work at Seven Days.
September 16: Erik Esckilsen, Seven Days' first staff writer, reviews "The Logger": "Think Ethan Allen meets Robert De Niro," he writes. Seven Days adds another comic strip, "The Mostly Unfabulous Social Life of Ethan Green," by Eric Orner.
October 21: Seven Days art critic Marc Awodey wins the John D. Donoghue Award for arts criticism from the Vermont Press Association.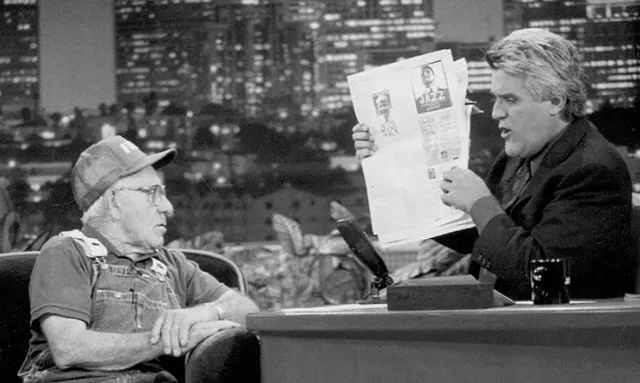 November 4: In Back Talk, Paula Routly notes Fred Tuttle's appearance on the "Tonight Show," during which he held up a copy of Seven Days to show his sole campaign ad.
November 18: In "Bread Head," Molly Stevens raves about Gérard Rubaud's uncommonly good loafs. "Gérard's bread may appear under-dressed, but the experience of eating it is a revelation."
December 9: In Rhythm & News, Pamela Polston writes: "Now that Dennis Wygmans has confirmed the imminent sale of Club Toast to Club Extreme, everyone is getting all misty-eyed about their 'last gig at Toast' this month."
December 19: The U.S. House of Representatives impeaches President Bill Clinton.