Page 2 of 21
1996
January 17: Seven Days launches its personal ads with a live Dating Game promotion. It runs every Wednesday night for 13 weeks at upstairs Nectar's.
January 31: In "Winning Ticket," Paula Routly gives a thumbs up to A Man With a Plan, John O'Brien's mockumentary about dairy farmer Fred Tuttle and his fictional campaign for office.
February 9: First-ever "Winter Is a Drag Ball" takes place at Memorial Auditorium, Burlington.
March 6: A cover story by Peter Freyne looks at a lawsuit against Vermont's largest daily newspaper, subtitled, "Paul Teetor takes on the Burlington Free Press in a landmark case about race, truth and political correctness." In "Downtown Doldrums," Kevin J. Kelley marvels at all the chain stores on Burlington's Church Street Marketplace. "Are there enough high-end shoppers to support still more glitz and chintz?"
April 3: "Unabomber" Theodore Kaczynski arrested.
April 10: In "Down by the Riverside: Winooski Puts Its Money Where Its Mills Were," Kevin J. Kelley describes the Onion City's plans to build a Riverwalk and revitalize its downtown.
May 15: Seven Days starts accepting personal ads online at wizn.com/7days.htm.
May 22: Pamela Polston dips a toe in Lake Champlain and comes out with "Interview With a Zebra Mussel." Paula Routly writes about learning to rollerblade in the same issue.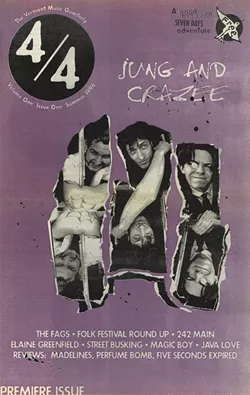 June 5: Seven Days publishes the first installment of its short-lived music quarterly, 4/4, with a story on the 15th anniversary of punk club 242 Main and a comic by James Kochalka.
July 24: Seven Days compiles its first food issue, featuring Pamela Polston's "Cross Dressings and Haute Sauce: Vermont specialty food producers spice things up."
September 4: In "Back Talk," Paula Routly reports: "Bernie Sanders was also in the national news last week. The congressman got written up in the New York Times for playing the rear end of a tiger in Bread and Puppet's annual Domestic Resurrection Circus."
September 9: In honor of the paper's first anniversary, Burlington Mayor Peter Clavelle issues a proclamation and calls Seven Days a "must read."
September 11: Seven Days' first anniversary issue contains a local sex advice column by Lola the Love Counselor and a new monthly column: Peter Kurth's Crank Call.
October 16: Peter Freyne reveals family secrets in the cover story, "Portrait of an Assassin: Terrorist-hero Michael Collins stirs up reel-life memories for one Irish-American lad." He writes, "My father rarely spoke of his early years carrying out the orders of Michael Collins, and when he did it was in hushed tones."
October 23: Vermont actor Rusty DeWees appears on the cover of Seven Days for the first time in Paula Routly's "Kingdom Come: Vermont actor Rusty DeWees gets a ride with 'A Stranger.'" In Inside Track, Peter Freyne reports that Gov. Howard Dean is considering a presidential run.
October 30: Kevin J. Kelley profiles developer Jeff Davis, aka "The Man Who Malled Williston." Pamela Polston reports on the music scene in a new column, Rhythm & News.
November 6: first Animal Issue debuts a reader-submitted pet photo contest called Paw Prints.
November 13: Film critic Rick Kisonak launches the monthly TV column Tubefed.