Page 10 of 21
2004
January 18: Former Fletcher Allen CEO Bill Boettcher pleads guilty to conspiracy charges.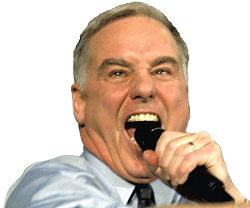 January 19: Presidential candidate Howard Dean places third in Iowa caucuses, gives a speech to supporters during which he pledges to keep fighting — and shrieks in what will become known as "the Dean scream."
February 18: Major Jackson is the subject of "Major Talent: UVM's most prized poet lines up between Langston Hughes and hip-hop" by David Warner. And in Inside Track, Peter Freyne reports: "The amazing political ride came to a sad end Wednesday as Howard Dean went before the cameras one last time to say he's 'no longer actively pursuing the presidency.'"
March 10: Paula Routly starts writing a monthly feature, Edible Complex, to cover Vermont's growing food scene.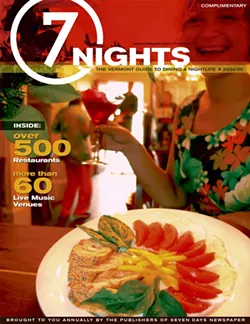 May: Seven Days publishes the first 7 Nights, an annual dining and nightlife guide with listings of every restaurant in northern Vermont. The first edition is 100 pages. AAN (Honorable Mention, Special Section)
June 9: Margot Harrison reviews two memoirs in which writers search for lost fathers in "Daddies Dearest" "...both books suggest that we'd all rather think of ourselves as the wounded inner child ("I don't have a father!") than the wounding, compromised adults we've become." AAN (3rd place, Arts Criticism) VPA (John Donoghue Award for Arts Criticism)
June 16: In "Getting Roofied: Sobering up to the reality of rape drugs in Vermont," Ruth Horowitz interviews a UVM student who was drugged at a Burlington bar. And in "Pop Fly: Catching the fishing bug from Schirmer's Fly Shop," Sarah Tuff Dunn visits Ed Schirmer, "a fly-tying wizard who's amassed decades of insight into the peculiar tastes of fish, and has the talent to assemble insects from tufts of hair, slices of feather and flecks of paint." VPA (1st place, Best Sports Writing, nondaily)
August 4: Cathy Resmer explores a capital city union drive in "A More Perfect Union: Montpelier's downtown workers are fighting for their rights — to organize." VPA (1st place, Best Local Story, nondaily)
September 29: Homophobia, harassment and hate crimes: In "Bullied in Brandon," Ken Picard outlines a pattern of abuse against a local family, and wonders where were the police? VPA (1st Place, Best Local Story, nondaily)
October 13: Jerome Armstrong, who started the first grassroots Howard Dean website, is one of an army of liberal activists using blogs as a political organizing tool. Cathy Resmer explains how in "The Blogger: One Vermonter's internet ax-grinding attracts national attention." AAN (1st place, Editorial Layout)
November 2: George W. Bush is reelected president.
November 10: The U.S. defense budget could surpass $500 billion in 2005. How much of that comes back to Vermont? Ken Picard and Cathy Resmer do the math in "War Gains: Vermont's Pentagon payout — what's our bang for the buck?" VPA (2nd place, Best State Story)
December 26: An earthquake in the Pacific causes a tsunami that kills more than 200,000 people in Southeast Asia.