1995
September 6: The first, 28-page issue is published with a "back-to-seminary" essay by Peter Freyne, a short story excerpt by UVM prof Philip Baruth, and a pizza survey headlined "The Pies Have It." The winner? Leonardo's. The calendar spotlights Rusty DeWees in Seven Days. The paper's sole comic strip is dug Nap's "Duane."
September 13: Seven Days gets an email address, sevenday@together.net and a classifieds section. The first of more than 1,000 mottos is: Better read than dead.
October 18: The cover story is prescient: "Fermenting Revolution: Vermont's beer biz hops to it" spotlights Long Trail, Otter Creek, Catamount and Magic Hat. Writer Irving Shelby Smith predicts: "The word 'Vermont' may soon also say 'great beer' to the rest of the nation." Peter Freyne's Inside Track debuts in Seven Days.
October 25: A directory of local musicians in the first Music Issue spotlights James Kochalka, Superstar, Wide Wail keyboardist Amanda Gustafson and the Fags. Ukrainian frontman Eugene Nikolaev would go on to create Gogol Bordello (as Eugene Hutz).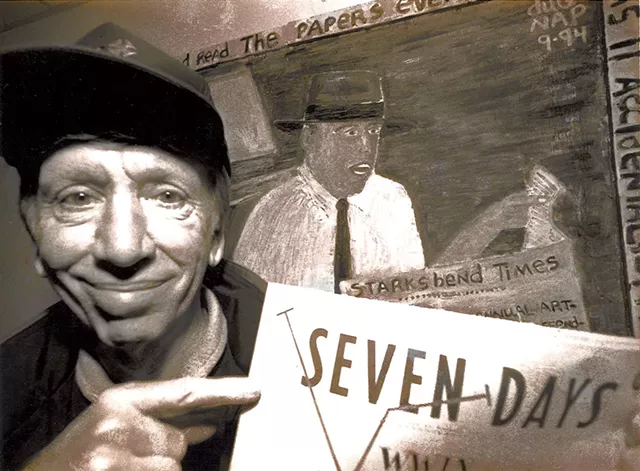 November 8: Paula Routly reports in Back Talk that Bob Denver, aka Gilligan, visited the office. The paper publishes its first two iSpys, the better of which reads: "I spy with my little eye a M who's sexy, sweet, caring, hairless, a morning person, huggable, has a fetish for cows and is keepable. Box P-14"
November 15: Peter Freyne pens the cover story: "Billy the Kid: William Greer, football folk hero or biggest drug dealer in Vermont?" The former Rice High School football star is accused, and later convicted, of masterminding Vermont's largest pot and hashish smuggling operation.
December 20: Tom Paine's short story "From Basra to Bethlehem" appears in the first Winter Reading Issue. A few months later, it earns the paper a prestigious Pushcart Prize.
1996
January 17: Seven Days launches its personal ads with a live Dating Game promotion. It runs every Wednesday night for 13 weeks at upstairs Nectar's.
January 31: In "Winning Ticket," Paula Routly gives a thumbs up to A Man With a Plan, John O'Brien's mockumentary about dairy farmer Fred Tuttle and his fictional campaign for office.
February 9: First-ever "Winter Is a Drag Ball" takes place at Memorial Auditorium, Burlington.
March 6: A cover story by Peter Freyne looks at a lawsuit against Vermont's largest daily newspaper, subtitled, "Paul Teetor takes on the Burlington Free Press in a landmark case about race, truth and political correctness." In "Downtown Doldrums," Kevin J. Kelley marvels at all the chain stores on Burlington's Church Street Marketplace. "Are there enough high-end shoppers to support still more glitz and chintz?"
April 3: "Unabomber" Theodore Kaczynski arrested.
April 10: In "Down by the Riverside: Winooski Puts Its Money Where Its Mills Were," Kevin J. Kelley describes the Onion City's plans to build a Riverwalk and revitalize its downtown.
May 15: Seven Days starts accepting personal ads online at wizn.com/7days.htm.
May 22: Pamela Polston dips a toe in Lake Champlain and comes out with "Interview With a Zebra Mussel." Paula Routly writes about learning to rollerblade in the same issue.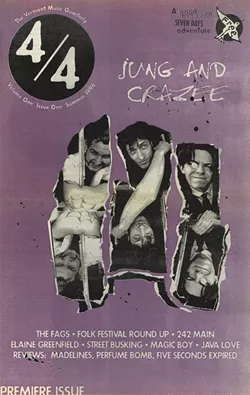 June 5: Seven Days publishes the first installment of its short-lived music quarterly, 4/4, with a story on the 15th anniversary of punk club 242 Main and a comic by James Kochalka.
July 24: Seven Days compiles its first food issue, featuring Pamela Polston's "Cross Dressings and Haute Sauce: Vermont specialty food producers spice things up."
September 4: In "Back Talk," Paula Routly reports: "Bernie Sanders was also in the national news last week. The congressman got written up in the New York Times for playing the rear end of a tiger in Bread and Puppet's annual Domestic Resurrection Circus."
September 9: In honor of the paper's first anniversary, Burlington Mayor Peter Clavelle issues a proclamation and calls Seven Days a "must read."
September 11: Seven Days' first anniversary issue contains a local sex advice column by Lola the Love Counselor and a new monthly column: Peter Kurth's Crank Call.
October 16: Peter Freyne reveals family secrets in the cover story, "Portrait of an Assassin: Terrorist-hero Michael Collins stirs up reel-life memories for one Irish-American lad." He writes, "My father rarely spoke of his early years carrying out the orders of Michael Collins, and when he did it was in hushed tones."
October 23: Vermont actor Rusty DeWees appears on the cover of Seven Days for the first time in Paula Routly's "Kingdom Come: Vermont actor Rusty DeWees gets a ride with 'A Stranger.'" In Inside Track, Peter Freyne reports that Gov. Howard Dean is considering a presidential run.
October 30: Kevin J. Kelley profiles developer Jeff Davis, aka "The Man Who Malled Williston." Pamela Polston reports on the music scene in a new column, Rhythm & News.
November 6: first Animal Issue debuts a reader-submitted pet photo contest called Paw Prints.
November 13: Film critic Rick Kisonak launches the monthly TV column Tubefed.
1997
January 29: The first Cyber Issue contains reviews of Vermont websites and an essay by former Vermont Times writer Dwight Garner about his new gig at Salon. In Inside Track, Peter Freyne notes the Burlington Free Press doesn't have a website. Turns out the URL www.bfp.com goes to an S&M site called "Bound for Pleasure."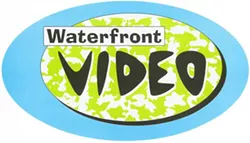 February 5: Pamela Polston profiles Burlington's quirky local video store in "A Small Empire Strikes Back: Waterfront Video shoots from the hip."
February 26: Seven Days' first Women's Issue features Paula Routly's provocative essay, "You've Come a Long Way Without a Baby."
March 19: Seven Days introduces Webwise, a monthly column about the internet, by Margaret Levine Young and Jordan Young, the Cornwall-based authors of Internet for Dummies.
April 23: In Back Talk, Paula Routly notes a new eatery called Stone Soup on Burlington's College Street.
April 30: Seven Days announces its first Emerging Writers competition, sponsored by the Book Rack and Children's Pages.
May 14: Webwise explains how to write an email.
May 28: Pamela Polston interviews a 23-year-old Burlington woman in "What Happens After Rape? A survivor of sexual assault has her say."NENPA (1st place, Human Interest Feature)
June 11: In Back Talk, Paula Routly announces that Borders Bookstore will be coming to the Church Street Marketplace, displacing J. Lemay, Scribbles and Samsara Café.
July 2: Laurel Saville of Jericho wins the first Seven Days Emerging Writers competition. Peter Freyne pans Bernie Sanders' new book, Outsider in the House. "Sanders apparently wouldn't know an anecdote if it punched him in the face," writes Freyne.
July 16: Seven Days adds two new comic strips: "Dykes to Watch Out For" by Alison Bechdel and "Life in Hell" by Matt Groening.
July 23: The Seven Days office moves from Church Street to 255 South Champlain.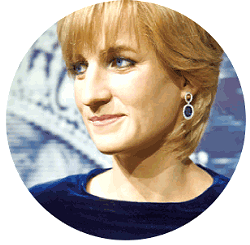 August 31: Princess Diana dies in a car crash.
September 10: The second issue of 4/4 includes an eight-page guide to the second Burlington Music Conference.
September 24: Pamela Polston delivers a blast from the past in "Living History: Lilian Baker Carlisle remembers Electra Havemeyer Webb and the birth of the Shelburne Museum."
December 3: Peter Freyne reports on Howard Dean in Inside Track: "I'd say the guy's got a serious case of presidential fever."
1998
January 8: Epic ice storm paralyzes Vermont for almost a week.
January 14: "Ol' Bernardo's emergence on Capitol Hill as an effective and outspoken coalition builder was the biggest unheralded news story of '97," writes Peter Freyne in Inside Track. In Rhythm & News, Pamela Polston notes the opening of Burlington bar Red Square. "Nothin' like a new venue in town to shake things up."
January 26: Bill Clinton makes a statement on national TV that "I did not have sexual relations with that woman, Miss Lewinsky."
January 27: Hillary Clinton describes attacks on her husband as part of a "vast, right-wing conspiracy."
February 4: Seven Days publishes the first in a series of monthly restaurant reviews by nationally known critic Marialisa Calta of Calais. Of Asiago Wood Grill & Noodle Bar Bistro in Stowe, she writes: "I tend to judge restaurants on how they treat vegetarians, and Asiago came through with flying colors."
February 11: The "shocking results" of Seven Days first sex survey reveal Vermonters have a thing for TV weathermen. Which politician do Vermonters most want to bang? Howard Dean. Seven Days adds a new comic, "Troubletown," by Lloyd Dangle, and a crossword puzzle.
February 18: Seven Days gets its own domain name: sevendaysvt.com.
March 11: Vermont lawmakers vote Peter Freyne Best Statehouse Print Reporter. Says then-senator Peter Shumlin: "Peter Freyne is the only columnist in Vermont who is consistently intriguing. Legislators grab Seven Days every week like kids in a candy shop — mostly out of fear, of course."
March 25: Pamela Polston reports in Rhythm & News that Agents of Good Roots will play the grand opening of Higher Ground on April 15 in Winooski.
April 8: In Crank Call, Peter Kurth laments the imminent closing of Burlington bookstore Chassman & Bem. "What's going on in Burlington bookstores is just a miniature reflection of the new order, where what you know, what you learn and what you read are determined almost entirely by corporate interests."
May 6: Jeanne Keller debuts a new monthly column, Real Ville Montréal, with insider information "to help you look less like a tourist."
June 6: Borders Bookstore opens on the Church Street Marketplace.
June 17: Peter Kurth interviews drag queen Cherie Tartt's sidekick, Yolanda, in advance of "A Faery Home Companion" at Club Toast.
June 24: Seven Days adds two new comics: "Red Meat" by Max Cannon and "Story Minute" by Carol Lay.
July 1: Kimberly Jones wins the Seven Days Emerging Writers Contest, and her short story, "Falling," is the centerpiece of the double Summer Reading Issue. Paula Routly compiles 63 of the state's published authors in a guide to local literati.
July 22: Burlington artist Selene Colburn removes her group show from the city-owned Firehouse Gallery, inspiring Pamela Polston to pen a rare op-ed: "Public Exposure: A flare-up at the Firehouse Gallery begs the question: When does censorship make sense?"
July 29: Seven Days is accepted as a member of the Association of Alternative Newsweeklies, now the Association of Alternative Newsmedia.
September 2: Vermont celebrities remember their low points in the cover story, "You Win Some, You Lose Some." Ben & Jerry's founder Ben Cohen, Burlington mayor Peter Clavelle, Republican gubernatorial candidate Ruth Dwyer and drag queen Cherie Tartt contribute.
September 8: Fred Tuttle defeats Jack McMullen in Republican primary election for U.S. Senate.
September 9: Seven Days unveils a redesign in its third anniversary issue, which includes "The Question," a new feature in which random people respond to a random query. Diane Sullivan, a salesperson at Burlington's Feet Street, is one of three locals who answer the first question, "What is Labor Day?" She later comes to work at Seven Days.
September 16: Erik Esckilsen, Seven Days' first staff writer, reviews "The Logger": "Think Ethan Allen meets Robert De Niro," he writes. Seven Days adds another comic strip, "The Mostly Unfabulous Social Life of Ethan Green," by Eric Orner.
October 21: Seven Days art critic Marc Awodey wins the John D. Donoghue Award for arts criticism from the Vermont Press Association.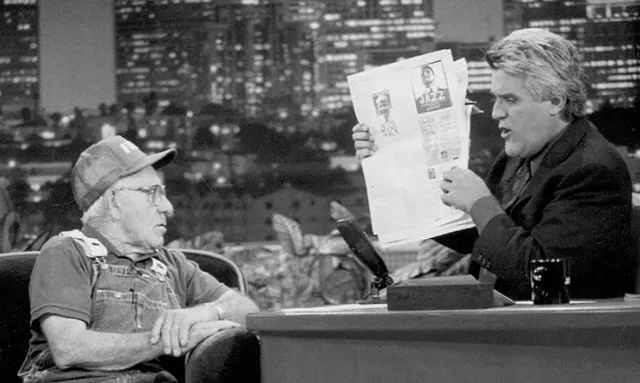 November 4: In Back Talk, Paula Routly notes Fred Tuttle's appearance on the "Tonight Show," during which he held up a copy of Seven Days to show his sole campaign ad.
November 18: In "Bread Head," Molly Stevens raves about Gérard Rubaud's uncommonly good loafs. "Gérard's bread may appear under-dressed, but the experience of eating it is a revelation."
December 9: In Rhythm & News, Pamela Polston writes: "Now that Dennis Wygmans has confirmed the imminent sale of Club Toast to Club Extreme, everyone is getting all misty-eyed about their 'last gig at Toast' this month."
December 19: The U.S. House of Representatives impeaches President Bill Clinton.
1999
January 27: Terry Allen reveals that Vermont is importing elk that may contain a rare and debilitating disease in the cover story, "How Now, Mad Cow?"
February 3: Burlington thespians protest a lack of performance space in a cover story, "Just a Stage?" by Erik Esckilsen.
March 3: Paula Routly gets a read on Sandy Baird in the cover story, "The Baird Essentials: Lawyer, activist and former mayoral candidate Sandy Baird just wants women — and democracy — to have a fighting chance."
April 14: David Lines writes about a divisive teacher's strike in the cover story, "A Town Divided: Has democracy been derailed in Hyde Park?"
April 20: Mass shooting at Columbine High School in Littleton, Colo.
April 21: For the Music Issue, Pamela Polston interviews Big Heavy World's Jim Lockridge and Paula Routly pens "Strings Attached," about musician, producer and opera house manager Pete Sutherland.
May 5: In Inside Track, Peter Freyne recaps Rep. Bernie Sanders' standing-room-only town meeting on the war in Yugoslavia. "One woman noted that Ol' Bernardo was 'the only congressman' she knew who would have a public meeting on such a touchy subject, knowing full well that 'half of the audience would get up and condemn him.' 'I would be very happy if it was only half,' replied Sanders, in one of the rare light moments of a very hot night." The authors of "Webwise" take note of a national survey: "Gallup reports that 68 percent of the people surveyed in this country feel that the internet is 'to blame' for the events in Littleton."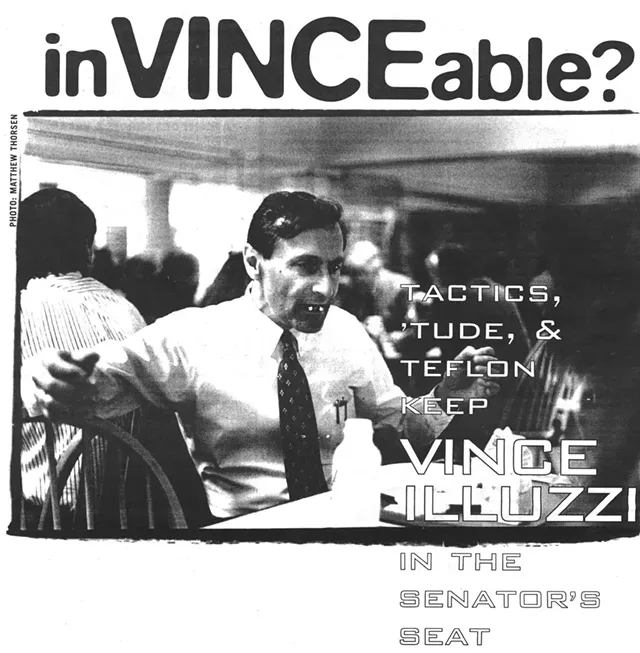 May 12: Seven Days apologizes for the "vampire fangs" that appeared on the photo of Sen. Vince Illuzzi in the previous week's cover story by Paula Routly: "It was a couple of ill-placed dust specks in the camera room at B.D. Press that made him look so 'long in the tooth.' Our apologies for the bizarre, but accidental, foul-up." Ruth Horowitz wonders whether Shaw's can satisfy Burlington's craving for a downtown grocery story in "Market Share." "Also being explored is a downtown satellite outlet, or complete relocation, of the Onion River Co-op."
May 19: Paula Routly wonders whether Vermont can "pass the Hollywood screen test" in "Lights, Camera ... Compromise?" "The coincidence of two big-budget movies — Me, Myself and Irene and What Lies Beneath — coming to Vermont in the next four months suggests Hollywood may be reconsidering the state as a serious setting."
May 26: Movie reviewer Rick Kisonak pans the new Star Wars movie, Episode 1: The Phantom Menace. On Jar Jar Binks: "He's got to be the most annoying special effect since Howard the Duck."
June 3: Vermont Pub & Brewery honors Seven Days founders Pamela Polston and Paula Routly for "making Burlington a better place to live and play" with a live award ceremony at the downtown brewpub.
June 6: Burlington's downtown Price Chopper closes.
June 23: Burlington's "already-sizzling housing market" is beginning to overheat. So says Kevin J. Kelley in "Gimme Shelter: There's no place like home — if you can find one." "Any Hill Section or South End home not requiring extensive renovations and priced for less than $175,000 will be snapped up almost overnight, local realtors report."
June 30: "King Garbage" by Terence Mickey wins the Seven Days-UVM Summer Writing Program Emerging Writers Competition. In Rhythm & News, Pamela Polston writes that singer-songwriter Jerry Trudell is fed up with Burlington's food situation. "As reported here a few weeks back, Trudell organized an old-fashioned musical protest outside the downtown Burlington Price Chopper the day it closed ... Look forward to another performance of 'Where Have All the Groceries Gone?' — with apologies to Pete Seeger — and other meaningful material this Friday at two."
July 21: The owner of Thunder Road talks with Paula Routly for the cover story "King of the Road: In racing and radio, Ken Squier is right on track."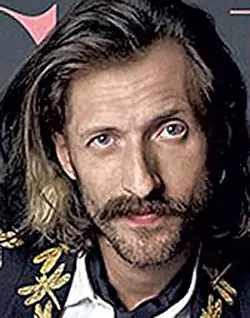 August 11: In Rhythm & News, Pamela Polston notes that Eugene Hutz, formerly Eugene Nikolaev, is taking New York City by storm as a runway model — and making mustaches cool. His new band, Gogol Bordello, is a big hit.
September 22: In Rhythm & News, Pamela Polston reports that Rolling Stone named Phish's 1995 New Year's Eve gig at Madison Square Garden one of the best shows of the '90s. "The band got its name on the cover, right there between Metallica and U2."
October 10: Ellen DeGeneres appears at UVM's Patrick Gym for National Coming Out Week.
October 13: In Inside Track, Peter Freyne labels the Burlington grocery store selection controversy as "the biggest political food fight of the modern era."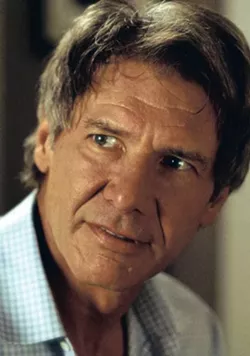 October 20: In Back Talk, Paula Routly reports on Harrison Ford's Vermont visit during the filming of What Lies Beneath: "Nectar's doesn't take credit cards — not even from Harrison Ford. When the fun-loving star of What Lies Beneath found himself out of money at the end of a night of carousing in Burlington, he proffered the plastic. No go. Word has it one of his 'body guards' coughed up the cash."
November 10: Nina H. explodes the myth that heroin addiction is new in Vermont in "Heroin Worship: Can methadone fix Vermont's growing drug problem?" by Pamela Polston. "It has been here at least 20 years," says Nina. One thing is different, though: "In 1994, you couldn't buy heroin in City Hall Park in Burlington. Now you can."
November 14: National cable TV station A&E selects Burlington as the most livable city in the U.S.
December 1: Notable Vermonters reveal how they plan to spend the last night of the century in "Dropping the Ball? Celebrating New Year's Eve, the Y2K way..." by Paula Routly. Very Special Arts director Alex Chirelstein says he's going to Paris. Astronomer Joanna Rankin plans to do First Night. Yolanda says she'll be "running through the streets naked with a strap-on dildo in Montréal." Says Burlington assistant city attorney Jessica Oski: "A lot of people I know are going to Florida, but I'm supposed to be present at the Burlington Emergency Operation Center, located at the Burlington Police Station, in the event of any Y2K emergency."
December 20: Vermont Supreme Court rules in Baker v. State of Vermont that same-sex couples are entitled to the benefits of marriage under the state's constitution.
2000
January 25: Hundreds of Vermonters flock to the Statehouse in Montpelier for a public hearing on same-sex marriage.
January 26: "Obtaining Congressman Bernie Sanders' position on the gay marriage issue was like pulling teeth ... from a rhinoceros... " Peter Freyne writes in Inside Track. "Bernie's statement wins him the Vermont congressional delegation's Wishy-Washy Award hands down. Once more he 'applauds' the court decision but won't go anywhere near choosing between same-sex 'marriage' and domestic partnership. 'By all accounts the legislature is approaching this issue in a considered and appropriate manner and I support the current process.' Supports the current process, does he? What a courageous radical!"
February 23: Pamela Polston interviews guerrilla publisher Cathy Resmer in "'Zine Warriors: A Burlington chapbook comes out with lesbian lit." Resmer later joins the Seven Days staff.
March 15: Seven Days adds Hackie, a biweekly column by cabbie Jernigan Pontiac.
March 16: Civil-unions bill passes the Vermont legislature.
April 12: In Inside Track, Peter Freyne reports: "Independent Congressman Bernie Sanders got great press this week in the New York Times and Boston Globe for his leadership in the battle against the greedy pharmaceutical companies. His bus trips to Canada and his proposed legislation have made him the recognized leader of the fight."
April 26: In Back Talk, Paula Routly reports on the first-ever Burlington Super Slam-Off. The first People's Republic of Vermont Poetry Slam Team includes Leah Gardner, Bethany Ogilby, Michael Nedell and Kim Jordan. Geof Hewitt is an alternate.
April 26: Howard Dean signs civil-unions legislation into law in a private ceremony behind closed doors.
May 3: First editorial cartoon by Tim Newcomb, showing Howard Dean signing the civil unions bill behind closed doors, appears in Seven Days.
May 17: In the Food Issue, Pamela Polston reports that consumers can now buy groceries online at Healthy Living Market. Eli Lesser-Goldsmith concedes that "some customers are still nervous about using a credit card on the internet, but insists it's no different — or greater risk — than ordering from catalogs."
May 24: Mark Waskow appears on the cover in "Got Art? One Vermont collector sees the big picture — and buys it, too," by Pamela Polston.
June 21: Can Rutland stage a comeback? Kevin J. Kelley explores the question in "Rutland Revival: With its newly restored Paramount Theatre, Vermont's second city makes a play for prosperity."
September 6: Seven Days adds a second section for employment classifieds, personals and comics.
October: Business People Vermont put Seven Days on its cover. The story is headlined: "Sevens and Elevens: Pamela Polston and Paula Routly have put in long hours to overcome tough odds at Seven Days, Burlington's weekly alternative newspaper."
November 7: Election night ends without a winner, as the presidential election, between George W. Bush and Al Gore, is too close to call.
November 21: The Lake Champlain Regional Chamber of Commerce names Seven Days Business of the Year.
December 13: Al Gore concedes the presidency to George W. Bush.
2001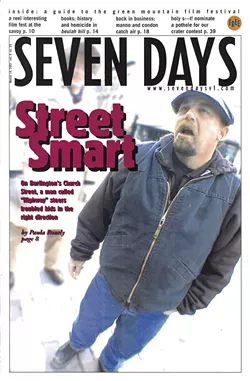 March 21: Paula Routly hangs out on Church Street with an ex-con in "Street Smart: On Burlington's Church Street, a man called 'Highway' steers troubled kids in the right direction." VPA (1st Place, Best Feature, nondaily)
March 28: Border-busting "world citizen" Garry Davis talks with Susan Green about his new book in the cover story, "Passport to Fame?" The 79-year-old idealist believes that being human should be the only criteria necessary for crossing borders.
May 24: Sen. Jim Jeffords leaves the Republican party.
July: At its annual convention in New Orleans, AAN awards Peter Freyne second place, Political Column, for Inside Track, and Peter Kurth, third place, Column, for Crank Call.
September 11: Nineteen Islamic terrorists fly four commercial jets into the World Trade Center, the Pentagon and a field in Pennsylvania, killing almost 3,000 people.
September 12: In Inside Track, Peter Freyne analyzes the Bush administration's chaotic response to the attacks the day before.
September 19: Seven Days art critic Marc Awodey writes about his architect father, who helped design the World Trade Center. The original blueprints for the towers accompany the story.
October 7: U.S.-led invasion of Afghanistan begins.
2002
January 8: President Bush signs the "No Child Left Behind Act."
April 17: Pamela Polston passes the torch to new music editor Ethan Covey.
June 19: Paula Routly interviews part-time Vermonter Judith Levine about her radical writings and national reaction to her new book Harmful to Minors: The Perils of Protecting Children from Sex. Levine later becomes a columnist for Seven Days.
July 31: In Inside Track, Peter Freyne outlines an "Enron-style conspiracy" at Fletcher Allen Health Care overseen by CEO Bill Boettcher.
August 7: Paula Routly bares all to get the scoop on a nudist camp in Sheldon Springs. "Undercover Story" makes the cover.
August 28: In Inside Track, Peter Freyne predicts that Jim Douglas will be the next governor of Vermont.
September 7: In honor of Seven Days' seventh anniversary, Burlington Mayor Peter Clavelle proclaims September 7, 2002, to be Seven Days Day. "Seven Days has become essential reading for anyone wanting to stay current with Burlington's — and Vermont's — cultural happenings and political shenanigans," he says.
September 25: Peter Kurth pens final Crank Call.
October 30: For the first Work, a monthly column about Vermonters on the job, Susan Green interviews a gravestone guy: Tony Socinski of Densmore Monuments.
November 5: Republicans win majorities in both the U.S. House and Senate. Jim Douglas elected governor.
November 6: Former Vermonter Hayden Carruth is honored with four readings around the state — and a spot on the cover of Seven Days. Paula Routly delivers "The Whole Carruth." VPA (1st Place, Best Feature, nondaily)
December 18: In the Winter Reading Issue, seven short-fiction writers serve up scenarios that take place at the abandoned Panda Inn on Shelburne Road.
2003
February 13: In Inside Track, Peter Freyne reports that all but one of Fletcher Allen Health Care's board of trustees resigned after Gov. Jim Douglas called on them to step down.
March 3: Ken Picard checks Howard Dean's political pulse in New Hampshire in a cover story, "The Doctor is In."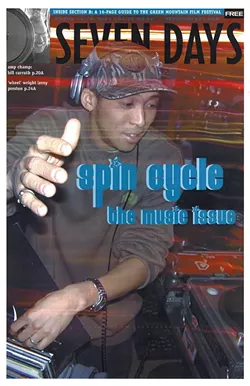 March 12: Ethan Covey profiles DJ A-Dog in "Vinyl Answer." "Inching the volume higher on the classic funk track pulsing through the room's speakers, he cuts his hand across the record, sending forth a staccato flurry of notes. A soft murmur of praise rises from the assembling crowd. Heads nod in approval. A-Dog lets slip a thin smile, then turns to rummage through a black crate overflowing with 12-inch vinyl."
March 19: U.S. invasion of Iraq begins.
April 2: In Local Matters, a new bi-weekly column, Ken Picard chronicles the state of Vermont.
June 18: Ken Picard documents the increasing presence of Mexican farmworkers on Vermont dairy farms in "Green Mountain Campesinos." "Pinched by low milk prices and a shortage of workers willing to put in long, grueling hours for low pay, Vermont dairy farmers are increasingly looking south of the border for hands to keep their operations running." VPA (1st place Best Local Story, nondaily)
June 23: Howard Dean announces he's running for president.
June 26: Music editor Ethan Covey wins John D. Donoghue Award for arts criticism from the Vermont Press Association.
July 30: You picked the Daysies! Seven Days reveals the winners of the first Seven Daysies Readers' Picks.
September 17: Before there was Facebook and MySpace, there was Friendster. Cathy Resmer explores the early social media site in "Best Friendsters?: Casting a worldwide personal network without leaving home." Zephyr Teachout, Howard Dean's director of online organizing and outreach, is "excited" about its potential: "It's even better for organizing than it is for dating," she says.
October 4: Fred Tuttle dies of a heart attack on the same Tunbridge farm where he was born.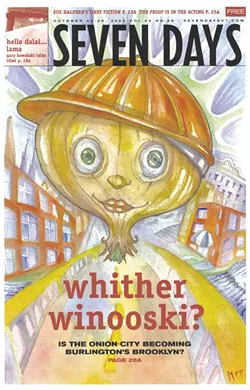 October 22: Seven Days writers ask, "Whither Winooski?: Is the Onion City becoming Burlington's Brooklyn?" "Downtown Winooski is essentially a parking lot," says Higher Ground co-owner Alex Crothers, "and it has so much potential."
October 29: Paula Routly passes the arts and culture beat to contributing editor David Warner, whose new column is called State of the Arts.
2004
January 18: Former Fletcher Allen CEO Bill Boettcher pleads guilty to conspiracy charges.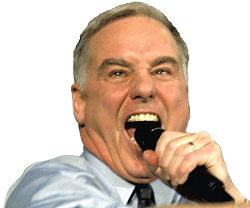 January 19: Presidential candidate Howard Dean places third in Iowa caucuses, gives a speech to supporters during which he pledges to keep fighting — and shrieks in what will become known as "the Dean scream."
February 18: Major Jackson is the subject of "Major Talent: UVM's most prized poet lines up between Langston Hughes and hip-hop" by David Warner. And in Inside Track, Peter Freyne reports: "The amazing political ride came to a sad end Wednesday as Howard Dean went before the cameras one last time to say he's 'no longer actively pursuing the presidency.'"
March 10: Paula Routly starts writing a monthly feature, Edible Complex, to cover Vermont's growing food scene.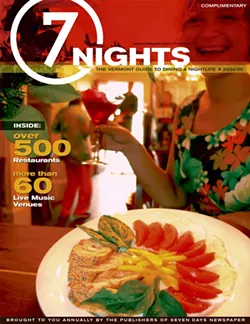 May: Seven Days publishes the first 7 Nights, an annual dining and nightlife guide with listings of every restaurant in northern Vermont. The first edition is 100 pages. AAN (Honorable Mention, Special Section)
June 9: Margot Harrison reviews two memoirs in which writers search for lost fathers in "Daddies Dearest" "...both books suggest that we'd all rather think of ourselves as the wounded inner child ("I don't have a father!") than the wounding, compromised adults we've become." AAN (3rd place, Arts Criticism) VPA (John Donoghue Award for Arts Criticism)
June 16: In "Getting Roofied: Sobering up to the reality of rape drugs in Vermont," Ruth Horowitz interviews a UVM student who was drugged at a Burlington bar. And in "Pop Fly: Catching the fishing bug from Schirmer's Fly Shop," Sarah Tuff Dunn visits Ed Schirmer, "a fly-tying wizard who's amassed decades of insight into the peculiar tastes of fish, and has the talent to assemble insects from tufts of hair, slices of feather and flecks of paint." VPA (1st place, Best Sports Writing, nondaily)
August 4: Cathy Resmer explores a capital city union drive in "A More Perfect Union: Montpelier's downtown workers are fighting for their rights — to organize." VPA (1st place, Best Local Story, nondaily)
September 29: Homophobia, harassment and hate crimes: In "Bullied in Brandon," Ken Picard outlines a pattern of abuse against a local family, and wonders where were the police? VPA (1st Place, Best Local Story, nondaily)
October 13: Jerome Armstrong, who started the first grassroots Howard Dean website, is one of an army of liberal activists using blogs as a political organizing tool. Cathy Resmer explains how in "The Blogger: One Vermonter's internet ax-grinding attracts national attention." AAN (1st place, Editorial Layout)
November 2: George W. Bush is reelected president.
November 10: The U.S. defense budget could surpass $500 billion in 2005. How much of that comes back to Vermont? Ken Picard and Cathy Resmer do the math in "War Gains: Vermont's Pentagon payout — what's our bang for the buck?" VPA (2nd place, Best State Story)
December 26: An earthquake in the Pacific causes a tsunami that kills more than 200,000 people in Southeast Asia.
2005
January 12: In Inside Track, Peter Freyne welcomes incoming Burlington Free Press reporter Terri Hallenbeck to the Statehouse; she had been the daily's assistant metro editor.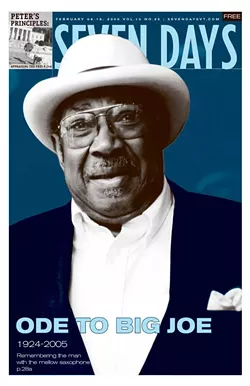 February 9: Vermont musicians honor the late Big Joe Burrell in "Ode to Big Joe: Remembering the man with the mellow saxophone" by Pamela Polston. Burrell died February 2.
March 9: In Tubefed, Rick Kisonak interviews Eva Sollberger, who has recently moved back to Vermont and started producing her own cable-access show. "SD: What do you see 'The Deadbeat Club' doing for your career? ES: I see the show as a great learning experience. It is a way for me to practice editing and creating. I doubt it will lead to anything career-wise, but stranger things have happened." Years later, Sollberger becomes a full-time video journalist at Seven Days.
March 9: Laura Winterbottom is murdered in Burlington.
March 16: In State of the Arts, Paula Routly laments the loss of another underground venue. "Gezellig was Burlington's arts incubator — an under-the-radar rehearsal space, black-box theater, meeting place, nightclub and cinema that hatched all kinds of inventive stuff."
April 1: Pope John Paul II dies.
April 20: Sen. Jim Jeffords decides not to run for reelection; Bernie Sanders enters the Senate race.
April 28: Seven Days launches its first blog, 802 Online, by Cathy Resmer.
Matthew Thorsen
Grace Potter & The Nocturnals
May 4: The Spielpalast Cabaret makes the cover in "Decadent Descent," a theater review by Elisabeth Crean. Music editor Casey Rae interviews rocker Grace Potter in "Grace Notes." "It probably won't be long before the rest of the world knows about Grace Potter & the Nocturnals. Already one of the most talked-about acts in the Green Mountains, Potter and company are beginning to attract the attention of some music-biz big shots."
May 18: Peter Freyne writes in Inside Track: "...last Thursday, Gov. Jim Douglas signed into law a bill that will forever change the way Burlingtonians elect their mayor — Instant Runoff Voting has arrived in Vermont! ...Mayor Peter Clavelle told Inside Track this week that, despite the lack of fanfare surrounding the new law, IRV will 'invigorate democracy' in the Queen City."
June 1: In Inside Track, Peter Freyne reports on a run-in with Senate hopeful Richard Tarrant at the Vermont Business Expo. "The IDX gazillionaire told us he's thinking about getting rid of the Bentley. That would be his new 2005 Bentley Coupe GT with a list price of $156,285 that we reported on last week. Ritchie Rich told Inside Track he keeps his magnificent new wheels at his Florida residence."
June 22: Seven Days brings on Judith Levine as a regular contributor. Her Poli Psy column is about "the uses and abuses of emotion."
June 29: Vermonters are winning — and losing — a fortune playing online poker, writes Cathy Resmer in "Ri$ky Bu$iness: It may not be legal, but online gambling's a hands-down hit." AAN (3rd place illustration, Jo Scott)
July 27: The changing demographics of Burlington's Old North End are the subject of "Word on the Street" by Ken Picard. "The children pedaling their bicycles along the sidewalk on North Street in Burlington don't even slow down as they dodge a tall, thin African woman carrying a large white trash bag on her head. Two or three years ago this woman's bright purple headscarf and gonfu, or Bantu wraparound dress, might have made neighborhood children stop and stare. Today, her impressive laundry-balancing trick is such a common sight that the kids on this block barely notice."
August 17: In Poli Psy: "Uncivil Disobedience," Judith Levine expresses regret that she didn't heckle Chief Justice William Rehnquist, a part-time Vermonter, at the Galaxy Bookstore in Hardwick. AAN (1st place, Political Column)
August 29: Hurricane Katrina makes landfall in New Orleans.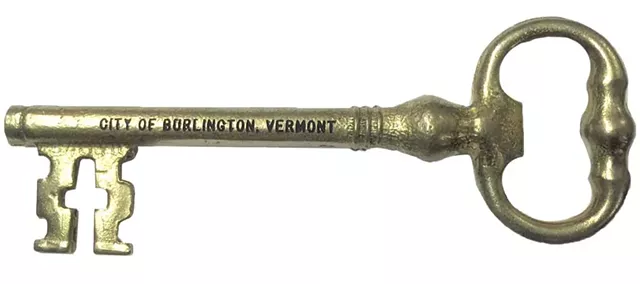 September 10: In honor of Seven Days' 10th anniversary, Burlington Mayor Peter Clavelle proclaims September 10 Seven Days 10th Anniversary Day and gives the staff a key to the city. It doubles as a bottle opener.
October 11: Cathy Resmer reports on the Onion City's new circulator in "Winooski Construction, Rotary Snafus Send Drivers Around the Bend."
October 25: Will Vermont leave the U.S.? Cathy Resmer wonders in "Most Likely to Secede?: Does the Second Vermont Republic stand a chance? And should it?" "SVR's eye-catching street theater has proven irresistible to the media, as has its exponential growth in the aftermath of the 2004 elections. The combination of whimsy and chutzpah has garnered attention from local newspapers and television stations, as well as the national and international press."
November 2: Rusty DeWees returns to the cover of Seven Days in "Diamonds and Rusty: How the Logger turned himself into a hot commodity" by Paula Routly. "Acting as his own agent, producer, presenter, director, publicist and fulfillment service, 44-year-old Dewees, a former concrete worker, has proved he's no dumb woodchuck. Shrewd, disciplined and seemingly tireless, he's grown a cussin' character of his own creation into a powerful brand that nets him six figures a year." VPA (1st place Best Feature, nondaily) AAN (2nd place, Feature Story).
November: Seven Days receives a Community Leadership Against Domestic Violence Award from the Vermont Council on Domestic Violence.
November 7: At its annual conference, the Vermont Press Association gives Ken Picard the Mavis Doyle award for excellence in news reporting. Music editor Casey Rae and associate editor Margot Harrison tie for the John D. Donoghue Award for arts criticism. The VPA gives Seven Days the first of six General Excellence awards.
2006
February 8: The organizers of the annual Winter Is a Drag Ball reveal their saucy secrets in Cathy Resmer's "The Babes of Beaver Pond: The ladies LeMay gussy up for yet another good cause." Michael "Marguerite" Hayes explains how to make fake breasts: Take a pair of nylons and cut off the legs. Then fill them with birdseed. "You can even make a nipple if you tie it just right," he says.
March 1: Seven Days introduces readers to the concept of instant runoff voting by inviting them to pick which comics the paper should keep. Lloyd Dangle's Troubletown is eliminated in the first round.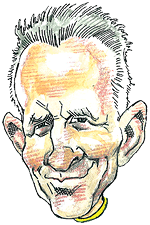 March 7: Burlington voters elect Progressive Bob Kiss as mayor in two rounds of Instant Runoff Voting.
May 24: In advance of a reunion concert on May 27, the Pants talk with music editor Casey Rae in "Classic Fit: Vintage but not distressed, Burlington's beloved '90s band the Pants roll up their cuffs for one more show."
May 30: Bolton cartoonist Alison Bechdel discusses her forthcoming book, Fun Home, in "Life Drawing: With a new graphic memoir, cartoonist Alison Bechdel proves she's more than just a Dyke to Watch Out For" by Margot Harrison. The book is later adapted for the stage and becomes a Tony Award-winning Broadway show.
June 27: What happened to 12 former nuclear missile silos in the North Country? Cathy Resmer visits them all in "Bombs Away." The accompanying audio slideshow won an award. AAN (1st place, Best Website Content Feature)
August 15: Inside Track columnist Peter Freyne launches a blog called Freyne Land.
September 28: Seven Days hires its first food writer, Suzanne Podhaizer, and creates a regular weekly food section in the newspaper.
October 2: Peter Freyne writes on his blog that Republican Congressional candidate Martha Rainville's website contains policy statements plagiarized from Hillary Clinton. The campaign site shuts down temporarily, and a staffer gets axed.
October 7: Michelle Gardner-Quinn is abducted and murdered in Burlington.
November 7: Democrat Peter Welch wins Vermont's sole House seat; Bernie Sanders elected to the U.S. Senate.
December 27: Burlington residents have discovered a new way to communicate, writes Cathy Resmer in "Neighbors Congregate in Front Porch Forums." "The free service allows people to receive email newsletters containing announcements from their neighbors. Forum users write about everything from petty crime to politics to lost cats."
2007
January 11: Seven Days publishes its first email newsletter, Notes on the Weekend.
January 25: Peter Freyne is diagnosed with lymphoma and begins blogging about his impending chemotherapy on Freyne Land. "Let me tell ya, after all those years of writing about the bloody monster of an underground garage that Bill Boettcher and the Boys stuck four stories deep into Hospital Hill, I'm finally getting to become intimately familiar with it. And helping to pay for it."



February 4:
The first episode of Eva Sollberger's web video series
Stuck in Vermont
debuts on the
Seven Days
website. It spotlights a comics exhibit at the Helen Day Art Center in Stowe.
March 2: Eva Sollberger films antiwar activist Cindy Sheehan's visit to the Vermont Statehouse during a debate over whether to recall Vermont troops serving in Iraq and Afghanistan.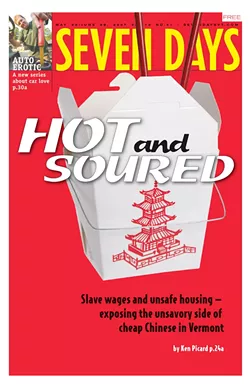 May 30: Ken Picard documents abusive labor practices in "Hot and Soured: Slave wages and unsafe housing, exposing the unsavory side of cheap Chinese in Vermont." "This highly organized employment network is kept afloat by poor Chinese villagers pursuing the American dream." AAN (3rd place, Investigative Reporting)
June 5: Seven Days joins Twitter.
July 11: "Stuck in Vermont" focuses on Vermont Works for Women's "Rosie's Girls" summer camp. AAN (3rd place, Best Blog)
July 18: In "Barre's Bloomberg," Ken Picard asks, "Is Mayor Thom Lauzon rocking, or splitting apart, the Granite City?"
August 1: Rusty DeWees takes off his clothes for the cover of the Daysies issue.
September 20: Theater critic Elisabeth Crean wins the John D. Donoghue Award for arts criticism from the Vermont Press Association.
December 19: Suzanne Podhaizer sucks down seafood with oyster expert Rowan Jacobsen in "Shuck and Awe." AAN (1st place, Best Food Writing)
2008
January 26: Seven Days is a lead organizer of the first Vermont 3.0 Creative/Tech Career Jam, a "job fair on steroids" that draws 1,800 people to the Main Street Landing Performing Arts Center in Burlington.
March 19: Peter Freyne pens his last "Inside Track"; Seven Days launches Blurt: The Seven Days staff blog.
April 9: The Burlington Business Association names Seven Days Business of the Year, citing the company's financial success and contributions to the community and promotion of Burlington.
April 29: Seven Days introduces Fair Game, a political column by Shay Totten, former founder and editor of the Vermont Guardian.
June 18: Peter Freyne writes his last blog post, "Signing Off."
July 16: "Headmaster Dana Blackhurst is trying to save Pine Ridge School, but will he destroy it first?" Ken Picard asks in "Hard Lessons." VPA (1st place, Best Feature Writing, nondaily)
August 27: Seven Days publishes the first edition of What's Good: The student's off-campus guide to Burlington. AAN (1st place, Special Section)
September 15: Dealer.com and Seven Days team up to launch AutoFinder, a local car search website, on the same day Lehman Brothers files for bankruptcy.
October 7: Seven Days switches to tabloid size.
October 26: The second Vermont 3.0 Creative/Tech Career Jam takes place at Champlain College during an economic slowdown. Organizers decide to scale back to one Jam a year.
November 4: Seven Days hosts its first election-night live blog on sevendaysvt.com using CoverItLive. Barack Obama is elected president.


November 19:
Tiny-house builder Peter King of Bakersfield
appears in episode 105
of Eva Sollberger's Stuck in Vermont. The video goes viral.
November 26: Two risqué snowboard designs prompt a backlash against one of Burlington's best-known companies. The founders fight back in "Flipping the Board: Burton founders lash out at critics trying to shred their good name" by Ken Picard.
December 10: Ken Picard interviews newly arrived Iraqi refugees in "Exiles on North Street." VPA (1st Place, Best Local Story, nondaily)
2009
January 7: Peter Freyne dies on the first day of the legislative session. Lawmakers recognize him with a moment of silence.
January 12: Seven Days joins Facebook.
January 16: Pamela Polston and Paula Routly designate a Seven Days succession team: Creative director Don Eggert, online editor Cathy Resmer and director of sales Colby Roberts become associate publishers.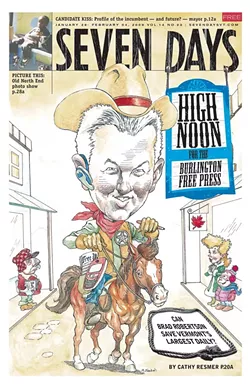 January 28: "This is the wild, wild West media-wise, and nobody knows what the future holds," says the 36-year-old publisher of the Burlington Free Press. Cathy Resmer takes on the competition in "High Noon for the Burlington Free Press: Can Brad Robertson save Vermont's largest daily?" AAN (2nd place, Media Criticism)
January 29: Hundreds of friends, colleagues and politicians attend Peter Freyne's memorial service at Burlington's Union Station. Shyla Nelson sings "Danny Boy."
March 3: Burlington voters reelect Progressive Mayor Bob Kiss in the third round of Instant Runoff Voting.
April 7: The Vermont legislature overrides Gov. Jim Douglas' veto and legalizes same-sex marriage.
April 23: Pamela Polston and Paula Routly deliver a tech-related keynote address at the Women Business Owners Network conference in Burlington. Seven Days announces a media partnership with WPTZ Newschannel 5: Seven Days reporters will appear on-air three nights a week.
May 20: Ken Picard asks a hard question in the cover story "Continuing Ed: Three and a half years after his near-fatal car crash, is Sen. Ed Flanagan still up to the job?"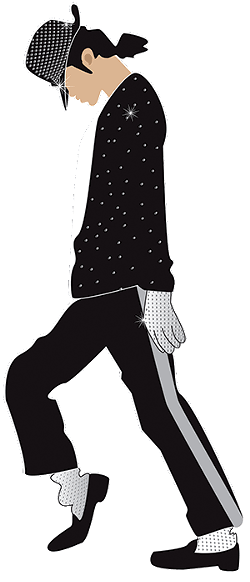 June 25: Pop star Michael Jackson dies.
July 24: Seven Days hosts "One Glove: A Michael Jackson Tribute Night at Higher Ground," with a Who's Bad karaoke contest and a Man in the Mirror costume contest.
November 11: Judith Levine scolds companies using unpaid interns in Poli Psy: "Intern Nation." AAN (3rd place, Political Column)
November 25: Winooski still hasn't taken off, Andy Bromage writes in "Waiting for Winooski: Four years after the city's latest downtown development opened for business, where are the retailers?"
2010
January: Don Eggert, Cathy Resmer and Colby Roberts become minority owners of Seven Days.
January 20: In the first installment of Whiskey Tango Foxtrot, Paula Routly asks WTF is with all those reminder and registration phone calls from the doctor's office?
January 25: Seven Days launches the Daily 7 — a weekday email newsletter featuring the top seven Vermont stories across all media.
January 27: In the first-ever Seven Days Media Issue, Cathy Resmer explores how Vermont journalists, activists and entrepreneurs are reinventing the media in "We've Got News For You." Says Anne Galloway of the new VTDigger.org: "I pull an all-nighter at least once every 10 days. I'm obsessed."
February 1: Some readers are confused by Cathy Resmer and Don Eggert's Twitter parody cover from the first Media Issue, so Eva Sollberger makes a video explaining tweets, hashtags and trending topics. AAN (Honorable Mention, innovation/format buster)
February 17: In an issue devoted to stories about the Vermont Yankee nuclear power plant, Seven Days writers explore Entergy's lobbying efforts, the legal ramifications of shutting down Vermont's only nuclear power plant, and how Yankee's downstream neighbors feel about it.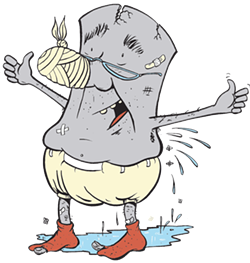 February 24: Vermont Senate votes to close Vermont Yankee.
March 3: On Town Meeting Day, Burlington voters repeal Instant Runoff Voting.
March 17: A scant sample imperils the statistical significance of Seven Days' first legislative survey, but the results ring true in "Survey Says...: A 'pol' poll shines a light on Montpelier's winner, losers and snoozers." Sen. Peter Shumlin emerges as "Most Ethically Challenged."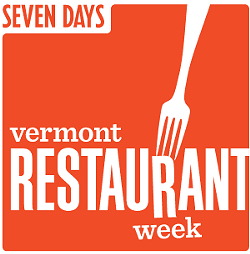 May 14-20: Seven Days organizes the first-ever Vermont Restaurant Week, during which more than 50 restaurants offer prix-fixe meals over seven days.
July 28: The first Adirondack Issue does more than just look across the lake.
August 11: Paula Routly scopes out Stellafane, the biggest astronomy event you've never heard of, in "Star Struck." VPA (2nd place, Feature Writing, nondaily)
September 29: The Republican Governors Association airs a TV ad claiming that Democratic gubernatorial candidate Peter Shumlin is "ethically challenged" based on the the results of the Seven Days legislative survey. Mainstream journalists and Democratic activists pile on to discredit Seven Days.
October 6: Music editor Dan Bolles chronicles the history of proto-punk band Death and Burlington's Rough Francis in "The Breakout: Reunited and revitalized, Death keep on knocking." AAN (Honorable Mention, Arts Feature)
October 27: Shay Totten profiles Harlan Sylvester, "The Man Behind the Throne." When Sylvester talks, Vermont govs listen.
November 16: In "Three Bird Night," Alice Levitt gets a wrap on turducken, one layer at a time. AAN (1st place, Food Writing)
November 29: Fran Stoddard interviews Pamela Polston and Paula Routly on her Vermont PBS show, "Profile."
December 6: Seven Days purchases Kids VT, Vermont's free monthly parenting magazine. "We have great confidence that we are leaving our 'baby' in the best possible hands," says Kids VT editor and copublisher Susan Holson.
2011
January 26: Colchester Sen. Dick Mazza is Montpelier's most influential pol, writes Andy Bromage in "The Adviser"
February 1: The first issue of the redesigned Kids VT — Seven Days' parenting magazine — hits the streets. PMA (1st place, Best Cover Illustration, newsprint.)
April 27: Megan James and Margot Harrison analyze the state of local public broadcasting in "Boxed In: Can Vermont Public Television survive in a changing media landscape?" AAN (2nd place, Media Criticism)
May 2: Osama bin Laden is killed.
May 24: In Fair Game: "Dangerous Liaisons," Shay Totten reveals that Rachel Kahn-Fogel, wife of UVM president Dan Fogel, "sent suggestive emails to a member of the UVM staff assigned to work with her on fundraising and special events."
June: Contributing writer Alice Levitt becomes Seven Days' second full-time food writer.
June 1: In "Fair Game: Fogel Fallout," Shay Totten reports that as a result of Seven Days' inquiries, UVM trustees have launched an investigation into the relationship between President Dan Fogel's wife, Rachel Kahn-Fogel, and an administrator assigned to work with her.
August 28: Tropical Storm Irene hits Vermont.
October 17: Shay Totten reports on the local Occupy Wall Street movement in "Two Days, Two Rallies Bring Hundreds to 'Occupy' Burlington." "On Saturday, the roughly 500 protesters filled a city block as they moved, en masse, up Church Street."
October 28: Seven Days organizes the fifth Vermont Tech Jam at the newly vacant Borders Books and Music store.
2012
January 11: Andy Bromage takes over the "Fair Game" column from departing political reporter Shay Totten.
January 16: Seven Days and Kids VT start a media partnership with WCAX Channel 3. Writers appear three nights a week on "The :30" and twice monthly on the morning news.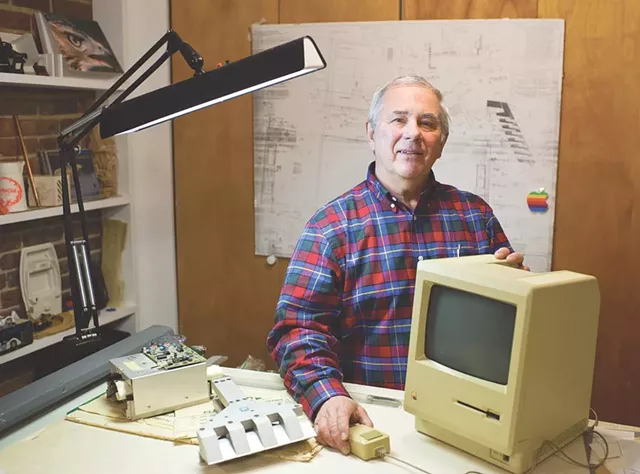 February 1: Burlington Mac maker Jerry Manock remembers his old boss, the late Steve Jobs, in "iWitness" by Paula Routly. "Jobs wasn't in favor of focus groups, which were very popular at that time. He'd say: They're going to base their knowledge on what exists now. I know what is going to exist five years from now, and they're not going to understand that."
March 3: The Parenting Media Association honors redesigned Kids VT with six awards in its circulation class, including Best Overall Writing and Best Overall Design.
March 21: Seven Days staff interviews Vermont "power couples" to find out how they manage conflicts of interest in "Double Trouble?"
May 23: New food trucks in Vermont are satisfying a hunger for creative food made from fresh ingredients, reports Alice Levitt in "Snack Attack 2012: Summer food goes mobile."
June: Seven Days publishes the first issue of BTV: The Burlington Airport Quarterly, with articles in English and French.
June 27: Seven Days promotes Andy Bromage to news editor; Paul Heintz takes over the Fair Game political column.
August 1: Hollywood innovation could put an end to Vermont's surviving drive-ins, writes Margot Harrison in "Last Picture Show?" AAN (3rd place, Arts Feature)
September 17: RIP Blurt, Seven Days' staff blog. Writers now post to politics and news blog Off Message, food blog Bite Club and arts blog Live Culture.
September 19: "Who Will Be Vermont's Next Auditor?" Ken Picard scrutinizes the scrutinizers in this cover story on the race between Progressive Doug Hoffer and Republican Vince Illuzzi.
October 24: Seven Days' digital media manager, Tyler Machado, wins an honorable mention in MyWebGrocer's annual HackVT competition. He offers tips on "How to Hack It in a Hackathon: Lessons from a 24-hour coding project in Winooski" in the Tech Issue.
November 6: President Barack Obama is reelected.
November 7: Ken Picard profiles Ben Chater, who has cerebral palsy, in "A Man of Conviction: The many trials of Ben Chater, a disabled Chittenden County prosecutor." VPA (1st place, Feature Writing, nondaily)
December 5: Seven Days' first mobile app, BurlApp, debuts.
2013
January 9: Legislators, lobbyists and reporters mingle at the Vermont Statehouse on the opening day of the legislative session during the first "Off the Record Mixer" in honor of Peter Freyne.
February 13: Kristin Carlson from WCAX turns the camera on Eva Sollberger for the 300th episode of Stuck in Vermont.
March 4: Editor & Publisher magazine selects Seven Days as one of "10 Newspapers That Do It Right 2013."
March 14: Paula Routly delivers the "Speaking From Experience" lecture as part of Champlain College's BYOBiz Entrepreneurship Series.
March 27: Seven Days writers are dispatched to find religion in America's most godless state. The resulting cover story is, "Are You There God? It's Me, Vermont."
April 15: Two bombs explode at the Boston Marathon, killing three people and injuring 264 others.
May 15: In its first Comedy Issue, Seven Days checks in with the local standup scene in advance of the fifth Green Mountain Comedy Festival.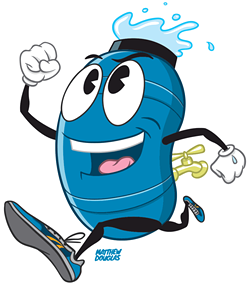 June 27: Seven Days, Kids VT and Birnam Wood Games create Runoff, an educational video game about water pollution. The arcade version lives at ECHO Leahy Center for Lake Champlain.
July 3: Seven Days gets graphic. Writers and cartoonists collaborate on news and arts stories for the first-ever Cartoon Issue.
July 24: "In Looking Up, Looking Down," Pamela Polston reviews the "optical rollercoaster that is 'Wyeth Vertigo,' a highly stimulating exhibit at the Shelburne Museum this summer." VPA (Winner, John Donoghue Award for Arts Criticism)
July 30: Seven Days begins publishing obituaries, starting with Vermonter and "world citizen" Garry Davis, who died July 24.
September 12: "Burlington's Front Porch Forum Expands Statewide," writes Cathy Resmer.
September 20: Atlantic writer James Fallows notes Seven Days' unusual success in a blog post titled "Strange Tales From the North Country: A Profitable (Print) Newspaper."
October 30: Paul Heintz profiles "Stratton's Stewards: From 4,000 feet, Hugh and Jeanne Joudry Have Kept Watch Over Stratton Mountain for Decades." VPA (3rd place, Feature Writing, nondaily)
December 12: Seven Days wins the Vermont Press Association's General Excellence Award in the nondaily category — for the sixth time. The judges praise the paper's "huge sense of place" and its "terrifically readable and well-presented articles." "Kudos to the New Yorker of the North!"
2014
January 8: Musicians and friends reminisce about DJ A-Dog, who died of leukemia on December 26, 2013, in "Burlington Remembers Andy 'A-Dog' Williams" by Dan Bolles.
March 19: A lesbian couple in the town of Addison made headlines for suing the town for discrimination, but the story is more complicated than it looks. Kathryn Flagg sorts it out in "Two Against a Town: Sour grapes or hometown harassment?" VPA (2nd place, Best Local Story, nondaily)
April 30: Political editor Paul Heintz covers influence peddling in his Fair Game column, but a cover story was called for. "The Vermont Statehouse Is Crawling With Lobbyists: What does that mean for our democracy?" he asks in "Under the Influence." VPA (1st place, Best State Story)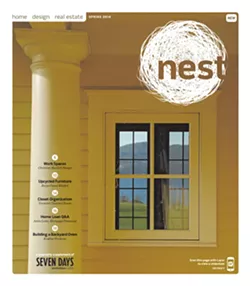 May 14: Seven Days publishes the first issue of Nest, a quarterly home, design and real estate supplement to the paper.
June 11: More than 3,300 pages of emails shed light on Burlington's school budget crisis in "Emails Reveal Tensions, Doubt as Burlington School Budget Deficit Emerged" by Alicia Freese. VPA (1st place, Best Local Story, nondaily)
June 18: Most people know Sen. Dick Sears as the chair of judiciary and for his work on a legislative committee charged with reforming the Department for Children and Families. In "From State Ward to the Statehouse," Mark Davis reveals that Sears started life as foster child. VPA (1st place, Feature Writing, nondaily)
June: The Middlebury College alumni magazine lists Seven Days among "44 Ideas, Inventions, Discoveries and Creations that Middlebury (and Its People) Have Given the World." Cofounder Paula Routly was class of '82.
August 5: Seven Days publishes the first standalone magazine of Daysies winners, called "All the Best: The Locals' Guide to Vermont."
August 9: A police officer in Ferguson, Mo., fatally shoots 18-year-old Michael Brown.
August 20: In "Pass or Fail?: What happens if Burlington College drops out?" Alicia Freese tests the resiliency of a small, private college struggling to hang on to its new lakefront campus.
August 27: A Cabot Family Makes the Case for 'Unschooling" in "School's Out Completely" by Kathryn Flagg. This story first appeared in Kids VT. PMA (1st place, Best General Feature)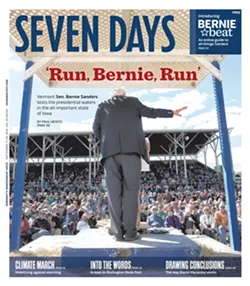 September 17: In "'Run, Bernie, Run,'" political editor Paul Heintz follows Sen. Sanders to Iowa to gauge support for a possible presidential run. Seven Days launches the Bernie Beat, an online repository of historical photos, archival materials and articles from Vermont's alternative media spanning Sanders' political career, from 1972 to the present.
September 18: Seven Days gets a shout out on "Hardball With Chris Matthews" for unearthing Bernie Sanders' 1987 recording, We Shall Overcome.
September 20: A Texas hospital treats the first case of Ebola in the U.S.
November 26: Seven Days hires veteran Burlington Free Press Statehouse reporters Terri Hallenbeck and Nancy Remsen.
December 13: Kids VT produces the first-ever "Spectacular Spectacular: A Talent Show for Vermont's Rising Stars" at Higher Ground in South Burlington.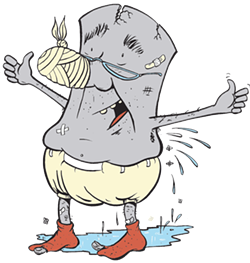 December 30: Vermont Yankee shuts down.
2015
February 20: Pamela Polston and Paula Routly are inducted into the New England Newspaper Hall of Fame.
February 28: The Parenting Media Association recognizes Kids VT for Best Overall Writing in its circulation class — for the fourth year in a row.
April 15: Seven Days publishes the results of its first Weeders Survey.
April 22: Pamela Polston and Eva Sollberger cover the Broadway production of Fun Home, a musical based on Alison Bechdel's graphic memoir.
April 24-May 3: More than 100 restaurants participate in Seven Days' sixth Vermont Restaurant Week, which raises in excess of $20,000 for the Vermont Foodbank.
April 29: In "Full Circle," music editor Dan Bolles explores the past, present and future of uber-hip, 5-year-old music festival, Waking Windows, which takes place in lively downtown Winooski.
May 1: The New Yorker takes note of Bernie Sanders' 1987 folk album: "When the short album was rediscovered last year, by the Vermont alternative weekly Seven Days, it made brief rounds as a political curio, but now that Sanders is officially running for President, the songs will get a new and wider airing."
June 8: On the Live Culture blog, Pamela Polston reports that "Fun Home Wins Big at the Tonys!" The musical based on Alison Bechdel's graphic memoir wins five Tony awards, including Best Musical.
July 15: Political editor Paul Heintz makes his second trip to Iowa to see Sen. Sanders on the campaign trail. "'Summer of Sanders': Bern-storming the Midwest with Vermont's favorite son" is reprinted in papers in California, South Carolina, Ohio and Pennsylvania.
July 16: The Vermont Press Association gives its John D. Donoghue arts criticism award to Pamela Polston and its Mavis Doyle award for news reporting to political editor Paul Heintz.
July 17: Says Gawker: "The best site for following [Bernie] Sanders and his career is that maintained by Vermont's alternative weekly Seven Days."
July 18: Seven Days' Live Culture blog wins first place for arts and culture blog at the Association of Alternative Media awards in Salt Lake City, Utah.