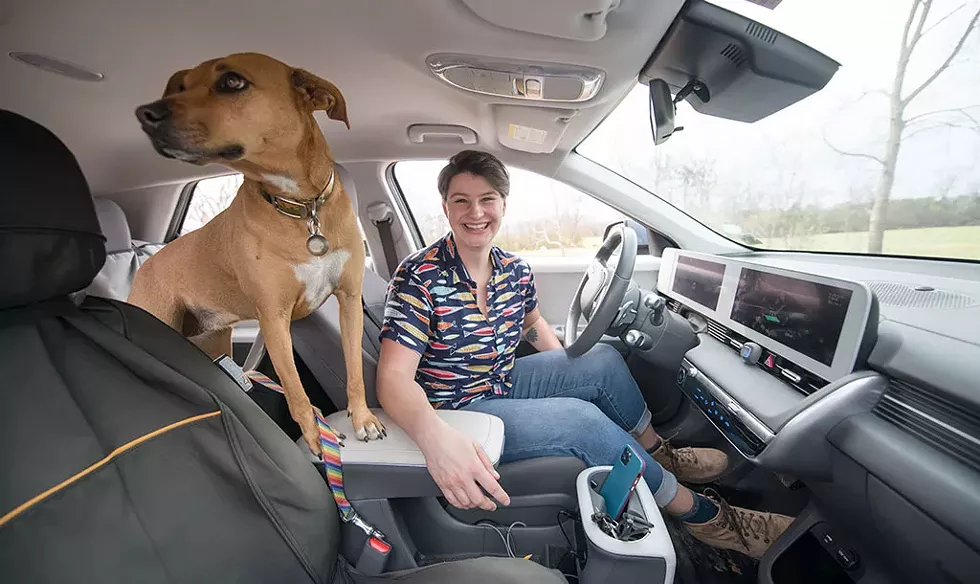 Daria Bishop
Molly Smith and her dog Violet
W
hen Molly Smith started researching electric vehicles in January, she thought she was planning for a purchase much farther down the road. With the price tag of electric models still higher than traditional internal combustion engine vehicles, the Vermont resident assumed going electric wouldn't be financially feasible just yet.
But when she realized she was eligible for roughly $11,000 in incentives through local, state and federal programs, putting her old car in the rearview mirror didn't seem so far-fetched. Those savings made the decision simple.
"Everybody was a little skeptical because it seemed like I did it really quickly and kind of on a whim. But this was right before the price of gas went through the roof," Smith said. "So I felt pretty good about my decision then."
She's since put about 10,000 miles on her Hyundai IONIQ 5, and Smith said she'd been impressed with the improvements manufacturers have made to electric vehicles in recent years, from the increased number of size options to the extended driving range.
"I thought that this was going to be a sacrifice that I was making to lower my carbon footprint. And that really ended up not being the case," Smith said. "Driving an EV is so much fun. It's been cheaper. It's quiet. The whole experience — I just love my car."
Thanks to the incentives now available through state programs, federal programs and utility companies, there has never been a better time for drivers like Smith to make the switch to an electric model.
State EV Incentives
Daria Bishop
Kevin Thorley
It's clear that drivers are getting the message. Between July 2021 and July 2022, the number of plug-in electric vehicles registered in Vermont increased by about 50 percent, to more than 7,500 registered vehicles, according to Drive Electric Vermont with roughly half of those being all-electric models powered only by a battery. Nationwide, EV registrations jumped a whopping 60 percent in the first quarter of 2022, according to a report by Automotive News, even as car registrations overall dropped 18 percent.
Electric vehicle owners and transportation advocates say the growth has a lot to do with incentives designed to encourage adoption of EVs, along with the release of new models that appeal to a wider range of drivers.
As the energy and community development planner for the town of Williston, Melinda Scott often fields questions about up-front costs and incentive options when purchasing an EV. She usually points interested residents to the resources offered by Drive Electric Vermont, such as the organization's incentive calculator, which helps users find out which programs they qualify for.
"I think the incentives can really make a difference to make this viable for your average person," said Scott, who purchased her own EV last winter with about $12,000 in incentives. "Having those incentives can dramatically decrease those up-front costs."
Ready to Drive Electric?
Compare the vehicles that are available in Vermont right now and learn all about cost-saving incentives and charging options.
Under Vermont's incentive program for new electric vehicles, buyers can receive between $1,500 and $4,000 in rebates toward their purchase, while the MileageSmart program covers up to 25 percent, or $5,000 maximum, of the cost of a used high-efficiency vehicle.
A new program launched in September offers additional savings for those who scrap and replace their older internal combustion engine vehicles: The Replace Your Ride program offers a $3,000 rebate to income-eligible buyers that can be used for a new or used EV or toward other clean mobility options; a prepaid card option will be available starting on November 16. That means that Vermonters could benefit from up to $8,000 in incentives through state programs alone. And residents are taking advantage of these offers — in fact, one program supporting e-bike purchases has already maxed out its funding.
The incentives are a central component of Vermont's climate action plan, which aims to cut the state's climate emissions in half by 2030. For Kevin Thorley, a member of one of Vermont's volunteer town energy committees who drives an electric Tesla, the potential role of electric vehicles in meeting those benchmarks is substantial.
"Forty percent of Vermont's emissions come from the transportation sector, and personal transportation is a big piece of that," Thorley said. "So one of the nice things about Vermont is, because of that largely carbon-free electric grid that we have, the emission-reduction benefits of driving an EV are even more significant here."
Utility Incentives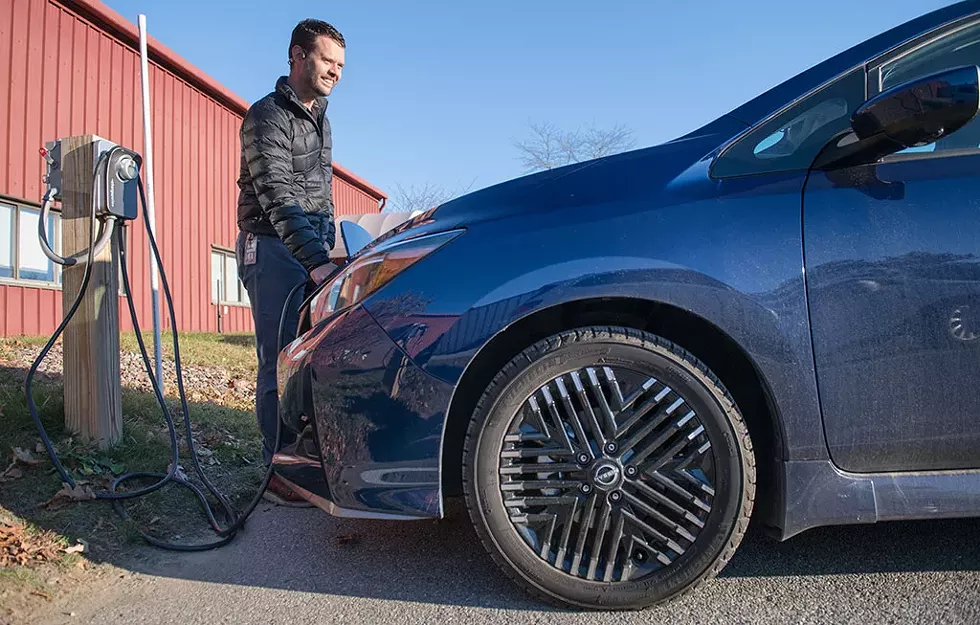 Daria Bishop
Ben Kinstedt charging his Nissan LEAF at work
The state-sponsored incentives are considerable, but the savings don't stop there. Drivers could benefit from anywhere between $750 and $2,900 toward the purchase or lease of an EV through their local utility company, with incentives offered by Burlington Electric Department, Green Mountain Power, Stowe Electric Department, Vermont Electric Cooperative, Vermont Public Power Supply Authority and Washington Electric Co-op.
And utility-based programs are attempting to address another concern Scott often hears about from potential buyers: charging.
"People who are living in a single-family home have their own electric meter, and it's pretty easy for them to charge at home, even if they're just using a 120-volt outlet," Scott said.
But incentives offered by utility companies make it even easier. Green Mountain Power, for instance, provides a free level-2 charger — which charges faster than your run-of-the-mill outlet — with the purchase of an electric vehicle and offers discounted rates at off-peak hours to customers using compatible charging equipment.
Through Burlington Electric, EV owners can benefit from up to $900 in incentives for residential charging. Burlington Electric also covers up to 75 percent of the cost to install workplace chargers, an amenity that Scott said more employers are starting to invest in. Katie and Ben Kinstedt of Burlington, who own a hybrid Toyota RAV4 Prime and an all-electric Nissan LEAF, said powering up with the chargers at Ben's workplace is a staple of their routine.
Daria Bishop
The charging ports for a Nissan LEAF
And while public charging stations still aren't as ubiquitous as gas stations, the Kinstedts are encouraged to see more public chargers popping up across the state, including on recent travels through the Northeast Kingdom. According to Drive Electric Vermont, there were 329 public charging locations in Vermont as of July.
"I figured in the country, being more rural, people would lean more towards a gas vehicle," Ben Kinstedt said. "So to see the infrastructure expanding into remote areas was really great."
Thorley noted that as word has spread about the available incentives over the past several years, Vermonters have appeared eager to jump on the offers. When their town held an informational event about electric vehicles in October, 18 drivers representing a wide variety of models brought their EVs to show off, and about 75 people showed up to learn more.
"It's gone from something of, you'd see one Tesla and it would be a big deal, to now they're everywhere — the LEAF and the Bolt and newer models, as well," Thorley said. "So it really seems that Vermont's incentives and these incentives from the power companies are really having an impact."
Federal Incentives
Daria Bishop
Molly Smith and her dog Violet
Electric vehicle owners say one of the best ways to get the most bang for your buck is by combining offers available through different programs.
"We were able to take advantage of the three incentives — the federal, state and then our local utility incentives. It definitely made the transition easier," Katie Kinstedt said. "It might have been a few years out if it weren't for the incentives, waiting for when the national market price is a little bit more in line with the internal combustion engine counterparts."
Ready to Drive Electric?
Compare the vehicles that are available in Vermont right now and learn all about cost-saving incentives and charging options.
At the federal level, buyers are eligible for up to $7,500 in tax credits when purchasing qualified new all-electric cars and hybrid plug-ins. Due to recent changes under the Inflation Reduction Act of 2022, these credits apply only to models with final assembly in North America, so buyers may need to double-check whether the model they have their eye on is still eligible. A new tax credit for used EV purchases will offer up to $4,000 when it launches in January 2023.
That's why taking advantage of the available guidance about the process is so crucial.
"Definitely do your research; figure out exactly what you're entitled to before you start the process," Smith said. And feel free to reach out to Efficiency Vermont for customer support.
This article was commissioned and paid for by Efficiency Vermont in support of the fight against climate change.