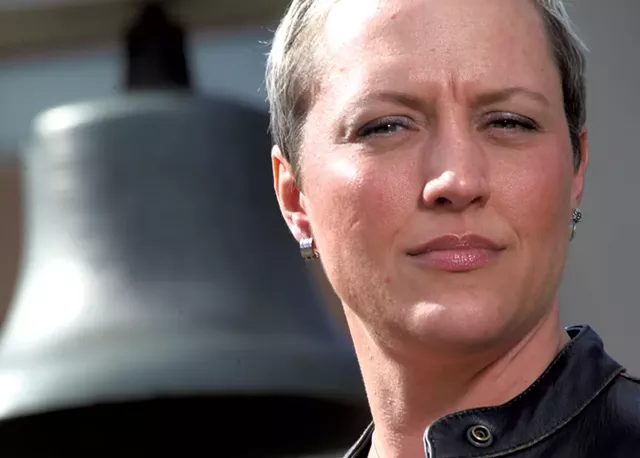 Matthew Thorsen
Toni Foote
School officials suspended Toni Foote's 13-year-old son multiple times when he was in seventh grade at Burlington's Lyman C. Hunt Middle School. They cited him for dress code violations and disrespectful behavior. From his mother's perspective, the punishment seemed at times arbitrary and harsh.
Speaking for her son, who did not want to be interviewed for this story, Foote said he had a tendency to question things, which charmed the staff at his elementary school. But once in middle school, that so-called oppositional thinking marked him as a problem student.
His mother was nonetheless shocked when Burlington police called one day to say that her son wasn't at school — he was in their custody. Could she come and pick him up?
Her son had been suspended, and although Foote acknowledged there was some initial confusion about the matter, she claimed an administrator told her it was an "in-school suspension." So she sent him to school. She later learned from police that he checked in at the main office and was told he wasn't supposed to be there. He asked for an administrator to clarify the situation, according to his mother, but the principal called the police.
Foote said her son wasn't "causing a fuss or being disruptive." A Burlington police affidavit describing the incident says the boy refused to leave school after repeatedly being asked to, and he told the principal he had a "right to access his education." Even after police arrived and told him he was committing unlawful trespass and needed to leave school, the boy refused. He cooperated as two officers restrained him and drove him to the station, according to the affidavit.
"They came and took him out of the middle school in handcuffs," Foote said.
The boy, who is the eldest of Foote's six children, was sent to juvenile court for trespassing. The shame and embarrassment of the experience led to a sense of alienation, Foote said. "He failed all of his classes. He decided he himself was a troublemaker. We lost him for a while."
Now 16 and enrolled at Burlington High School, the boy has straightened himself out, his mother said. Seven Days agreed not to name him because he is a minor. "He's a great kid," Foote said. "He's going to be a great adult."
She shared her story during a recent meeting organized by Parents and Youth for Change, an advocacy group that works in tandem with the grant-funded Winooski-Burlington Partnership for Change. In its effort to encourage more public involvement in schools, the group has successfully lobbied for personalized advisers at BHS and new report cards for students whose native language is not English, responding to immigrant and refugee parents who said they couldn't tell how their children were doing.
Now it's calling for a new approach to school discipline — and parents, students and alumni are joining the chorus. About 50 people attended the March 28 discussion at the St. Joseph School, and the presenters had done their homework. They reported that between 2008 and 2014, the Burlington School District issued between 500 and 650 suspensions per year. More likely to be disciplined, they said, were students who are poor, on special education plans, nonwhite and male. That's from a 2013-2014 Burlington School District report that mirrors a national trend.
Parents said they want better communication with the schools when problems begin. They also asked for a reduction in out-of-school suspensions that disrupt student learning and often force parents to stay home from work.
"It just punishes the family," Foote said.
Burlington school Superintendent Yaw Obeng and school board member Stephanie Seguino, chair of the board's Diversity and Equity Committee, represented the district at the meeting. Asked if they would agree to work for solutions — including setting clear expectations for behavior; collecting and sharing data; and providing more training for school employees — they said they would.
Kids care about fairness, said Seguino, who has led a push for more detailed record keeping on discipline and has called for alternatives to suspensions. "When kids are excluded or marginalized, they give up," she told the crowd.
The push for reforms in Burlington echoes calls for change at the national and state levels. Education policy makers are responding to increasing evidence that serious punishment — and especially encounters with law enforcement — have a criminalizing effect on young people, a phenomenon known as the "school-to-prison pipeline."
This winter, lawmakers in Montpelier debated a bill to make so-called exclusionary discipline, aka suspensions and expulsions, measures of last resort. State law already limits when students can be kicked out of public schools, but supporters of the bill say it happens too often. Under Vermont statute, students can be suspended for up to 10 days for misconduct. In some cases, with school board approval, they can be "expelled" — though not permanently, as the word implies — for a longer period.
Vermont has about 77,700 public school students. About 5 percent of them are suspended, expelled or placed in alternative schools annually, according to a Vermont Agency of Education study of data from 2013 to 2015. That's actually lower than the national rate, which four years ago was 14.4 percent, according to the U.S. Department of Education.
What's causing students to be kicked out of their schools, or sent to special rooms where they serve in-school suspensions? More often than not, it's nonviolent rule breaking. In Vermont, 52 percent of suspensions, expulsions and alternative school placements over three years were for violations of conduct rules or school policy.
Also getting kids suspended: fights, "disorderly conduct," assaults, threats, harassment, drugs, bullying, tobacco, weapons possession and alcohol. Officials reported rare cases of sexual assault — 11 incidents over the three years studied.
Vermont's pattern of discipline also raises concerns about racial profiling. Nonwhite Vermont students represent about 8 percent of student enrollment but 11 percent of those suspended or expelled. Poor students, boys and students with disabilities are even more likely to be overrepresented. Foote's son qualifies for free and reduced-cost lunch.
Asked why discipline is meted out disproportionately to certain populations, Amy Fowler, Vermont deputy education secretary, said it's unclear. "It could be they are unfairly punished," she said. "It could be they are committing the types of infractions that lead to suspension more frequently."
Lawmakers recently considered additional restrictions on school discipline. Senators Brian Campion and Dick Sears, both Democrats from Bennington County, sponsored a bill that calls for an end to "zero-tolerance discipline policies" for nonviolent offenses and infractions. It would make it more difficult to suspend or expel students and, in the process, supporters hoped, reduce disparities.
The proposal would still allow administrators to "immediately remove dangerous or potentially dangerous" students from school as well as "repeatedly disruptive" students after other interventions failed.
The Senate Education Committee took up the bill this winter and weighed complaints of grossly unfair and arbitrary discipline in Vermont. Greg Hale provided written testimony to the committee about his 17-year-old son's experience at Bellows Free Academy St. Albans. The young man has "severe hearing issues" that weren't being accommodated, according to his dad. At one point, he faced 13 in-school suspensions, during which students "sit there, all day, during the school day, doing nothing."
Hale, who is superintendent of the Northwest State Correctional Facility, noted, "We call this solitary confinement or segregation in my career field."
Children deserve an equal chance to learn from their mistakes, rather than be pulled out of school, only to fall behind and face social alienation, Jay Diaz, staff attorney for the American Civil Liberties Union of Vermont, told committee members. "Unfortunately in Vermont's schools, children who misbehave in minor ways are regularly kicked out for days, weeks and months," he said. Diaz coauthored a 2015 report titled "Kicked Out! Unfair and Unequal Student Discipline in Vermont's Public Schools."
Seguino came from Burlington to speak in support of the bill.
But the "education establishment," as Sears called it, said his proposed legislation went too far. "There will be incidents in school that require the removal of a student from the classroom for a period of time," Emily Simmons, director of legal and policy services for the Vermont School Boards Association, testified. "Our administrators and teachers are committed, well-trained, thoughtful professionals and best positioned to know the most about Vermont's students ... The laws we already have allow these adults to work as a team to make decisions that are in the best interest of all students."
Also working against the bill: Some parents say schools are not suspending students frequently enough to discourage bullying, harassment, stealing and fights. And if a classroom becomes chaotic due to disruptive behaviors, school leaders are expected to respond. "Parents of all students want their classrooms to be conducive to learning, and they don't want that environment to be disrupted by another student," said Fowler.
In the end, the Agency of Education opposed the "last resort" bill, Fowler confirmed, on grounds that it had no tools for enforcement and would not have brought about change.
The bill stalled in committee and never made it to the Senate floor for a vote.
That won't prevent parents, including Foote, from seeking a better balance between school safety and excessive discipline in Burlington.
Superintendent Obeng was not on the job when Foote's son was hauled away by police. But he said he understands why she's upset. "That would not be acceptable to me, especially having a student of that age in handcuffs ... We want to work with police as partners, but hopefully we don't have to go to that extent," Obeng said.
The district needs to keep working on "restorative justice" that treats students and parents with dignity, he said, and to minimize suspensions. In October, the district partnered with the Community Justice Center to develop a five-year discipline plan designed for students, which emphasizes reparations over punishment.
Foote credited a summer program at BHS, which offers catch-up academics, paid maintenance work and conversation with trained adults, with turning her son's school life around.
The district has also taken other steps, including updating the high school handbook to clarify rules. Suspensions are on the school board's agenda, too. Members have been studying monthly reports of disciplinary actions for several years.
Obeng conceded that the district can do more to reduce suspensions. "We know that we want to keep students in our schools," Obeng said. "The more instructional time, the more they are going to achieve."