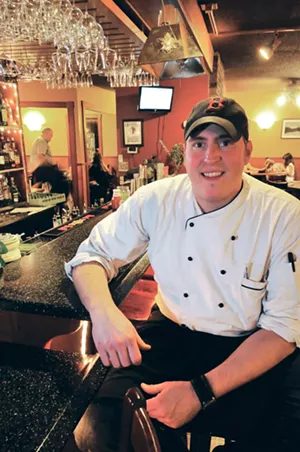 Jeb Wallace-Brodeur
Timbuktu's
Timbuktu, a city in the West African country of Mali, is renowned for its remoteness. In fact, it's an important stop on two major trade routes and boasts one of the world's first universities.
None of which has anything to do with Timbuktu's in Lyndonville, a bar and grill that doesn't have a lick of African influence. According to a note on the menu, owner Matt Barrett's grandfather used to threaten him thus: "If you don't straighten up, I'm gonna kick your butt from here to Timbuktu!"
Owning a bustling restaurant — which seats families in the dining room and a louder crowd at the sizable bar — should be good enough to appease Gramps.
The ambiance is a little bit rock and roll. On the menu, which comes folded and at first glance resembles a treasure map, many items are named for songs, including the ironic "Free Bird" chicken entrée and the "Come Sail Away" fish 'n' chips.
Jeb Wallace-Brodeur
Timbuktu's
Barrett's reasonably priced fare is a mix of European-influenced dishes — such as angel-hair pasta in a buttery white-wine sauce and a risotto of the day — and good old American nosh: Think buffalo wings, chips and salsa, and "Wicked Clam Chowda."
There are some surprising touches, too. A scallop dish called "Sitting on the Dock of the Bay" is flavored with fig jam and preserved lemon, and the accompanying mashed potatoes — or French fries — are laced with truffle oil. Then there's the ahi-tuna appetizer with a pungent wasabi-avocado sauce and pickled ginger.
Timbuktu's may not offer up couscous with goat. But in a town renowned for an old-fashioned diner and a Bag Balm ointment factory, a restaurant that serves raw tuna and flavors its fries with fungus is pretty darn exotic.