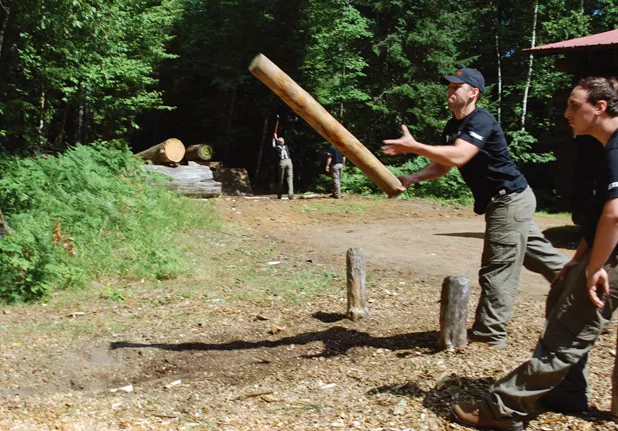 Brett McLeod hefts a 5-pound axe over his shoulder and then launches into motion — the picture of speed, accuracy and power as he attacks a 3-foot log braced vertically in front of him. Wood chips splinter off as he lands powerful, precise blows in the trunk. And just like that, in a matter of seconds, the top half of the timber soars free from the stand.
McLeod makes it look almost effortless. He has a habit of doing that, but his students — acolytes in the timber sports McLeod so deftly executes — know better by now. They've flocked to the Adirondack Woodsmen's School at Paul Smith's College, which McLeod directs, from as far as Florida to learn the ancient art of the lumberjack.
The summer program, made up of three intensive weeklong courses, is forestry boot camp meets spring training: Over the course of their time at Paul Smith's, in Brighton, N.Y., the fledgling woodsmen will study everything from chain-saw safety to Adirondack logging history. They'll build a dugout canoe and learn to throw an axe. Students who stay on for each progressively more difficult session will advance to springboard chopping, chain-saw carving and hunter safety.
If felling a tree by hand seems quaint in the age of chain saws and skidders, think again: Sponsored timber-sports competitions, broadcast on ESPN, have been gaining an increasingly devoted following. "The irony is that, if it weren't for a televised sport, these skills" — many centuries old — "would be lost," McLeod says.
But it's more than just the machismo of hefting an axe that's drawn these young men to Paul Smith's this summer. They long to work in the woods, to use their hands and, at some level, to reconnect to an older, simpler way of being in the wilderness.
For the moment, though, the students are more focused on the "standing block chop," the exercise McLeod has just demonstrated. It mimics the way 19th-century lumberjacks felled trees with long, heavy axes. Competitors race to chop through a vertical pole that's generally 12-to-14-inches wide — a feat achieved in just more than 12 seconds by the current professional world-record holder.
After the exercise, a few of the fledgling lumberjacks cart the decimated log off to the "bone shed" — a pile of scrap wood that will become firewood for the local community come winter. Then it's their turn.
"There's nothing easy about this," warns McLeod, as he hands the first student a dented, well-worn axe. Competition-grade axes can cost upward of $500, and the students haven't yet earned the right to wield such costly equipment. Instead, they strap into tin-man steel booties that cover their feet and shins, and then wield the practice axe awkwardly.
McLeod stands nearby, coaching the students into position and drilling them through each of the blows — many of which are ungainly at the onset. "This is as much mental as it is physical," says McLeod, who urges the students to slow down, focus on their form and land each axe blow as accurately as they can. The standing block chop is notoriously difficult, and only a few members of the Paul Smith's collegiate woodsman team will be coached to compete with this skill. Honing it will take hours of practice and many thousands of logs. The students are out of breath after heaving the axe again and again.
McLeod is blond and stocky, but he's the first to admit that he's no strongman. That isn't make or break in timber sports, as it turns out; McLeod has sometimes competed against guys "with arms the size of my waist" and won. It's proof that agility, speed and precision — and other skills that are as much mental as physical — go a long way in this field.
The uniform at the Woodsmen's School is brown Carhartts and steel-toed work boots, and everyone wears the same Paul Smith's-issued T-shirt emblazoned with twin axes and the name of the chain-saw manufacturer STIHL, which sponsors the summer program.
It's a STIHL chain saw that lanky Joe Orefice, a young assistant professor of forestry at Paul Smith's, wields this morning in the log-cabin headquarters of the college's forestry club. The room is ringed with trophies snagged by the school's collegiate woodsman team. Orefice stands in front of a massive stone fireplace, under a fleet of wooden canoes resting in the rafters, and rattles through some of the major safety considerations of wielding the chain saw. He clicks the chain brake on and off.
"It's not that hard to use, OK?" he tells the students, then admits that when he first started using a chain saw, he thought himself "a little too cool" to use the safety brake. Not anymore. The students are attentive and ask thoughtful questions about safety and the physics of the chain saw. Later, halfway across the logging yard from McLeod's station, these students rev up their STIHLs and get to work under Orefice's watchful eye.
The forestry cabin is home to the Woodsmen's School this month and to the Paul Smith's woodsman team during the academic year. "It's super-competitive here," says McLeod, who competed on the team when he was a student. "It's what hockey is to Cornell or football is to Nebraska." He went pro after graduating, but returned to Paul Smith's to coach the budding lumberjacks.
As many as 100 students might turn out in the fall for the team — that's 10 percent of the student body at the isolated Adirondack campus. Forty will make the cut for the 65-year-old team, which competes in collegiate timber sports with schools throughout the northeastern U.S. and eastern Canada. Paul Smith's consistently ranks in the top three in its division, jockeying for the No. 1 spot against two other lumberjack powerhouses: the State University of New York College of Environmental Science and Forestry and Finger Lakes Community College.
McLeod points out that most American students don't have early exposure to timber sports in the way they might to, say, playing in a baseball league. "The Australians and New Zealanders grow up doing this," says McLeod, who found himself facing these seasoned competitors during his own turn on the pro league. McLeod didn't try his hand at the sport until he was a freshman in college — and that's the case for almost all of the Paul Smith's team.
Practically speaking, then, the summer Woodsmen's School is more than just fun and games: It's a summer training camp, and many participants hope this exposure to the sport will give them an axe up during tryouts for the collegiate team in the fall. Though this week only men have enrolled, the program — like Paul Smith's collegiate team — is coed.
Most of the students — 13 of the 16 attending the Woodsmen's School during our visit — are incoming freshmen at Paul Smith's. But a few odd men out landed at the school purely for fun. One is an Army Airborne Ranger who is spending his week of summer vacation chopping wood and tossing pulp. Another is Brian Katz, 28, a high school biology teacher from central New Jersey who came north to Paul Smith's specifically to learn pole climbing — in which a lumberjack in spiked boots and a harness shimmies as quickly as possible to the top of a 40-foot pole. Katz saw the event at a county fair in New Jersey, caught the bug and began calling lumberjacks all over the country to find someone who could teach him the sport. That was easier said than done.
Finally he found Paul Smith's. "There's really no other place in the country where you can just go and do it," Katz says.
Katz is antsy to try his hand again at the pole climb, which students attempted on their first day of classes — but there are other events to sample in the meantime. One is the axe throw, which students practice by hurling a sharpened axe overhand at a spray-painted bull's eye.
Nearby, at the pulp toss, another group of men practices hurling logs down a 20-foot lane. It's a little like bocce — if, instead of a handheld ball, the sport required tossing 4-foot lengths of pulpwood. In this team sport, competitors throw four pieces of pulpwood back and forth between two sets of parallel stakes on either end of the lane. The goal is to land a timber between two stakes at the opposite end of the court; logs that land short, or skid beyond the target, don't count. Each accurately placed timber earns the team a point, and teams race to rack up 48 qualifying shots by chucking the timbers back and forth.
Amazingly, they seem to be having fun: Team members cheer one another on with words of encouragement (if a log falls short) or celebration (after a clean shot). As if the game weren't tiring enough, the men penalize themselves with 10 push-ups for every log that doesn't earn a point. Between the log hurling and grunting and incessant push-ups, it's quite possibly the most testosterone-fueled exercise this reporter has ever witnessed.
But the young men are positively jubilant about the undertaking. Just two days into their weeklong course, they're already joking and cajoling one another. A solid half of the men have shaved their hair into Mohawks as a group bonding experience.
"Doing stuff like this will keep you young," one jokes.
"Or kill you," chimes in McLeod.
Most of the lumberjacks-in-training are young — 18 or 19 years old. But, in an age of hand-wringing about kids who prefer video games to the great outdoors, there's no bemoaning the state of the current generation at the Woodsmen's School.
"It's a testament that even in the age of being plugged in, there's a value to unplugging," McLeod says. When students do reach for their digital devices, it's to take a photo or film a classmate attempting the pulp toss — or, as 26-year-old Mike Sheehan does, to fire up a YouTube video of McLeod blazing through a lightning-quick run at the standing block chop. Then Sheehan shoves his cellphone back in his pocket and picks up his axe; there's work to be done.