Courtesy Of Daria Bishop
Tim Kavanagh and Candy Weston
In January 2017, Tim Kavanagh readied himself for what he believed would be his final radiation therapy. Since being diagnosed in May 2016 with Stage II rectal cancer during a routine colonoscopy, Kavanagh had already undergone 29 radiation treatments, as well as chemotherapy and surgery to remove tumors. During his radiation procedures, he could wear nothing more than socks and a hospital gown open in the back.
Before entering the treatment room, Kavanagh handed his girlfriend, Candy Weston, a Sharpie and asked her to write a message to the hospital staff. Once inside, Kavanagh lay down on the table and lifted his gown, whereupon the entire room erupted in laughter. Scrawled in big, black letters across his buttocks were the words "Thank you!"
"All dignity gets checked at the door when you have something like cancer," Kavanagh explained. "When I can make someone laugh, I feel like I've done my job."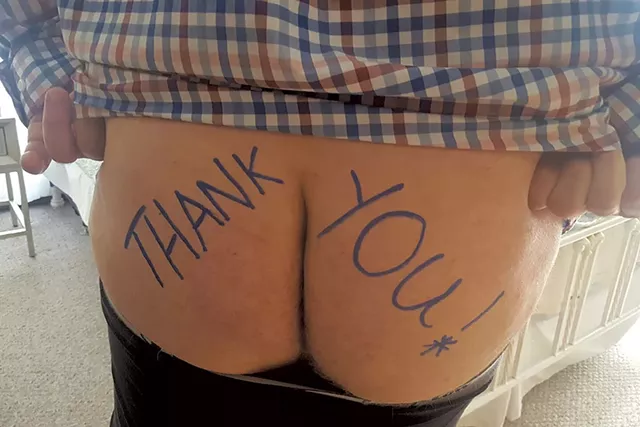 Courtesy Of Candy Weston
Tim Kavanagh
There are clichés aplenty to describe Weston and Kavanagh's approach to cancer: how true love can overcome any obstacle, how they don't sweat the small stuff anymore, how laughter is the best medicine. But this South Burlington couple maintains a healthy sense of humor not only to help each other through difficult times but also to help others like them who have little else to smile about.
In the midst of his cancer treatments, and with Weston's help, Kavanagh launched a one-man standup act titled "The Shit Show: How one man flushed cancer while life was circling the drain." Loaded with what Kavanagh calls "self-defecating" humor about living with cancer, the 90-minute performance has raised thousands of dollars for local cancer charities, and its humor has helped other cancer patients, their families and caregivers cope with the pain, suffering and indignities the disease brings.
Weston and Kavanagh sat down recently for an interview in their home. Weston, an interior designer, oversaw the renovation of their large ranch over the last two years. The trouble-plagued project, which coincided with Kavanagh's cancer treatments, was just one of several the couple undertook during what was a chaotic and stressful time.
Another such "project" snuggled between them on the couch during the interview: Adora is an affectionate and goofy white terrier mutt that they rescued in Costa Rica in June 2017 when it was a puppy. When not chortling over the pup's antics, the couple excels at finding reasons to laugh. Alternate names they considered for "The Shit Show" included "Potty Talk with Tim," "Journey to the Center of My Colon" and "Colon Cancer: Up Yours!"
"We've always been laughing, even through cancer," Weston said.
"Even more so through cancer," Kavanagh emphasized. "You find the moments and the avenues to create that humor, because you don't want to let that fear drive you. And a lot of times, it does. The devil certainly sits in my head a lot, and I'm constantly at battle with it."
Kavanagh was cracking people up long before it became therapy for him. The 52-year-old Newport native owns SAMSON Productions, a Burlington-based entertainment company that produces variety shows, comedy improv murder mysteries, and television, film and stage productions. Vermonters may remember Kavanagh from the television program he hosted, "Late Night Saturday," which aired for three seasons on WCAX in the late 2000s.
And fans of "The Simpsons" may recognize Kavanagh for writing, directing and starring in the short video that won Springfield, Vt., first place in Twentieth Century Fox's The Simpsons Movie Hometown Movie Challenge in 2007. The video, which starred Kavanagh as Homer Simpson, convinced "Simpsons" fans to select the southern Vermont town as the official Springfield for the movie's world premiere. Even before cancer, the star was going bald.
Weston, 47, seems the perfect complement to Kavanagh. Smart, sassy and quick-witted, she smiles easily and knows how to keep Kavanagh grounded, even when bad news threatens to send him into a downward spiral. It's easy to assume they've been a couple for decades, but Weston started dating Kavanagh just 15 months before his cancer diagnosis. As she put it, "We'd just gotten past the clean-up-the-toothpaste-in-the-sink phase."
Weston and Kavanagh began recounting how they met by pointing to two walkie-talkies that sit on their mantle, one labeled "Candy Cane" and the other "Baldy Locks."
It was 2010, just prior to the taping of Kavanagh's TV show. Weston was working in the front of the house taking tickets while Kavanagh was busy backstage. Somebody handed them each a walkie-talkie and told Weston to call Kavanagh, whom she'd never met, if she needed anything.
As the audience grew impatient for the show to start, Weston asked them if they wanted to hear from Kavanagh himself. When they shouted, "Yes!" she called him on the radio using an impromptu name: "Baldy Locks, I've got a code red in the front."
Kavanagh responded, "That's a big 10-4, Candy Cane."
Weston recalled being unimpressed with Kavanagh's moniker for her. She remembered thinking, A professional comedian, and Candy Cane is the best he can do?
Still, the two became fast friends. Kavanagh later stole the walkie-talkies, labeled them and gave them to Weston as a Valentine's Day present.
For years the two remained just friends, as Kavanagh was still married at the time. (Weston has been divorced since 2006.) In 2012, Weston tried to get on an HGTV show that wanted to feature a single mother who'd started a home-based business related to her passion for houses. As the application process unfolded, Weston recalled, it became so technical that she nearly gave up.
"When they started asking me for video, I was like, OK, I'm out," she remembered thinking.
Courtesy Of Candy Weston
Tim Kavanagh
But after mentioning the show to Kavanagh, he leapt at the opportunity to help and pulled together a production team to work on her video. On the day it was due, he texted Weston to make sure she'd submitted it. She hadn't.
That day, Weston was in the midst of a severe allergic reaction, her face and eyes so swollen that she couldn't see. Rather than let Weston miss her deadline, Kavanagh contacted the HGTV production company and got her an extension. Weston was floored by his efforts.
"It was a real testament to how much he really cared," she said. "This is what Tim does, which is why I love him to pieces. He's always lifting someone else up, helping them have their own success and accomplishments."
Weston never got on that show, but the couple officially began dating in February 2015. Fifteen months later, cancer upended their world. Despite the newness of their romantic relationship, Weston stepped naturally into the role of caregiver.
"So many people said to me, 'But you're not married!'" she recalled. "To me, there never was a question of whether I'd stay together with Tim through cancer."
Weston had learned from her parents, the hard way, about the dynamics of patient-caregiver relationships. She'd grown up in poverty in Starksboro, where her father was left disabled by a work-related accident. Weston's mother became his full-time caregiver. In their home, humor was never a relief valve.
"Actually, we weren't allowed to laugh in my house," she recalled. Instead, the default emotions were anger and resentment.
"I'm sure my mom felt held back [by his injury]," Weston added. "She never talked about it, but she sacrificed every bit of herself. And then she passed away." When Weston left home, she said, she vowed never again to live life without laughter.
The cancer notwithstanding, Weston said that Kavanagh has never failed her in that regard. If given a choice, he wouldn't have chosen colorectal cancer, he said. Still, for a comedy writer, the affliction offers Kavanagh a bottomless well of material.
Consider the promotional poster photo for "The Shit Show," which features Kavanagh seated on a toilet. Friends often assume it was staged, but one side effect of rectal cancer is having to relieve himself frequently, Kavanagh explained. Often, he'll try to leave the house only to run back inside.
One day, after Weston had waited a very long time for Kavanagh to return from the bathroom, she ducked inside to check on him and spotted him on the john wearing sunglasses, a Whiskey Business T-shirt and funny socks. Instantly recognizing its comedic value, Weston snapped the photo.
"I felt like I was going to be the poster child for Depends [adult diapers] for the rest of my life," he joked.
"The Shit Show" premiered at the Stoweflake Mountain Resort & Spa in May 2018 at the Stowe Weekend of Hope, an event for cancer patients, survivors and their families and caregivers. Kavanagh has since performed at various venues in the region, including for 800 people at a national cancer conference. No matter where he performs, he donates a portion of the show's proceeds to a local cancer nonprofit.
In March 2017, Weston organized a party and cancer fundraiser she dubbed "Kicking Cancer's Ass" to celebrate Kavanagh's clean bill of health. Party games included a variation on pin the tail on the donkey, only the "tail" was a cowboy boot and the "donkey" was Kavanagh's behind.
Alas, their celebration was premature. In August 2018, Kavanagh learned that his cancer had returned, this time in his lymph nodes and incision scar. He began more rounds of chemo, then radiation, at Memorial Sloan Kettering Cancer Center in New York City in December. The couple was there just last week for scans to learn whether the cancer had progressed.
In an email, Weston reported that the four-hour wait for Kavanagh's results were "grueling." They killed time by playing repeated games of charades, tic-tac-toe and rock-paper-scissors. When that got old, Weston played love songs on her cellphone and the couple danced — Kavanagh in his hospital gown.
When the doctor finally returned, Weston reported, the news was all good: Kavanagh's lymph nodes were no longer showing cancer. But he'll still need surgery in March to have them removed and will need a colostomy bag for the rest of his life.
"But if it gives me my life," he said, "then it's a small price to pay."
"We put our personal touch on [cancer treatment], trying to find joy," Weston added. "Even if we really have to stretch, [we ask], 'How can we make this better?'"
To wit: When Kavanagh finished his most recent round of radiation, on December 31, he asked Weston to wish the medical staff at Sloan Kettering a happy New Year.
It's not hard to guess how they delivered the message.
Correction, February 7, 2019: An earlier headline for this story misspelled Tim Kavanagh's last name.