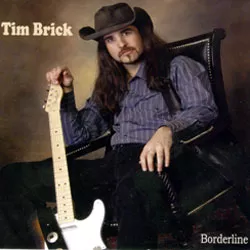 (Self-released, CD)
At first glance, Tim Brick seems to be a man out of time. Beneath a black Stetson hat, he sports a long, equally pitch-colored mane and a fearsome, if immaculate, goatee. His look is both countrypolitan gentleman and roadhouse roughneck, as though he might bust your head open with a whiskey bottle, but then pick you up off the floor and buy you a drink. Men like Tim Brick are a dying breed; a throwback to a simpler, brutish yet strangely elegant time.
It is fitting that the central Vermont-based songwriter's debut, Borderline, presents a similarly curious dichotomy. On the surface, Brick's tunes portray a burly rocker. But beneath that churlish exterior lies the sentimental heart of a country crooner.
Brick is a veteran local performer, having lent his considerable guitar chops to numerous area rock bands over the years. Striking out on his own as a tunesmith and bandleader, he makes frequent concessions to his past, most often in the form of sturdy rock riffs and searing guitar solos. But as Waylon Jennings might note, Brick is just a good ol' boy. And it is in his countrified moments that he hits his stride.
The album gets off to a suspect start with "Goodtime Friends." The song boasts all the necessary accoutrements of a twangy barroom scorcher. But, as is the case in moments throughout the disc, Brick's wordplay is awkward to the point of distraction — an issue that his frequent liberties with pitch certainly don't help. Here he sings, "The people I trust in my life, I count on one hand / But when I go out and raise some hell, Lord, that list tends to expand."
"Too Many Times" is a highlight. It's the sort of raise-your-glass sing-along perfect for late nights in a backwater honky-tonk.
"Broken Wings" is solid as Brick plays the role of trail-weary sage, singing, "Lately I've been feelin' like the road beneath them wheels, run down and worn out beyond my years."
"Crazy Women" proves a cheeky number as Brick offers one-liners such as this boozy chestnut, "Crazy women are easy to get. But they're damn sure hard to get rid of." Sure, it's a sentiment tailor-made for a beer coozie. But under the right circumstances — like, a bar — it's a fun little tune.
And that's not a bad summation of Borderline in general. Brooding, meditative types won't find much to latch onto here. But barstool philosophers will undoubtedly toast to Tim Brick's straightforward, twang-laden rock.
Brick appears with his band, the Gypsy Highway, this Friday, August 14, at Shenanigans in White River Junction.