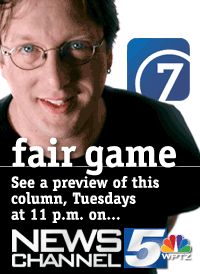 If you like to visit Vermont's Northeast Kingdom for its unspoiled natural beauty, better get up there quick. By next summer, 21 460-foot wind turbines will likely be visible along more than three miles of ridgeline in Lowell as part of Green Mountain Power's Kingdom Community Wind.
If built, KWC will join the 16 turbines being raised this year on a nearby ridgeline in Sheffield by First Wind.
The year after, another two dozen could be raised. Connecticut's BNE Energy plans to erect roughly 18 turbines on the ridgeline that extends from Green Mountain Power's Lowell wind farm south to Eden. Further north, a hillside farm in Derby Line is the site of a two-turbine project.
Vermont's environmental organizations aren't saying much about these alternative-energy efforts. They seem to be sending a message that the greater good outweighs any and all potential environmental impacts derived from exploding ridgelines and building roads in some of the most sensitive mountain regions in the state.
I mean, really, what could go wrong?
GMP reported last week that some of its contractors cut down trees they weren't supposed to, and one of the landowners who is providing conservation easements for the project went ahead and "improved" an existing logging road on his property. He also filled in a beaver pond.
Whoops!
No word yet from the Agency of Natural Resources on whether GMP or the landowner will face penalties for the screwups. ANR is still assessing the damage.
Don't hold your breath.
In early February, the agency cut a deal with GMP to allow the Lowell project to go forward, despite concerns about bear habitat and the development's impact on high-elevation waterways and wetlands, among other issues.
Previously, ANR scientists had said there was no way to offset the ill effects of the wind project.
The turnaround came after a heavy lobbying effort by GMP and pressure from Gov. Peter Shumlin — a longtime supporter of putting wind power on Vermont's ridgelines.
It was pure coincidence, of course, that GMP's CEO Mary Powell chaired Shumlin's inaugural ball committee — raising $190,000 from Vermont's political and corporate elite — just a month prior to ANR's decision. GMP gave $5000 for Shumlin's party, while the Burlington law firm that represents GMP in regulatory proceedings — Sheehey Furlong & Behm — donated $2500.
Coincidence that two of GMP's board members, Liz Bankowski and Kathy Hoyt, served on Shumlin's transition team, and former GMP executive Steve Terry helped write Shumlin's telecommunications plan for the state. Terry has been a key behind-the-scenes broker of GMP's wind-power projects in Vermont, including Lowell's Kingdom Community Wind.
Coincidence that Robert Dostis, a GMP director of external affairs and community relations, took part in an energy policy focus group earlier this year assembled by Department of Public Service Commissioner Elizabeth Miller. The group included James Moore, the clean-energy advocate for Vermont Public Interest Research Group, a major advocate for wind development in Vermont.
Miller's department represents ratepayers in all cases before the Vermont Public Service Board and offered no objection to Kingdom County Wind.
Another coincidence: Miller's husband is a managing partner at Sheehey Furlong & Behm. Eric Miller doesn't handle any GMP cases, Commissioner Miller told "Fair Game," so she doesn't anticipate having to recuse herself from any of the power company's cases before the PSB. Miller's former law-firm partner — James Spink — now works with her husband.
Don't you just love how cozy a small state can be?
Of course, when Gov. Jim Douglas was running the show, his relationships with Entergy and Omya raised eyebrows among the state's environmentalists. Omya officials regularly donated to Douglas' campaigns, and, in return, the governor's regulators overlooked concerns that the company was polluting groundwater. Ditto Entergy. When Entergy began leaking tritium in 2010, Douglas called for a "time out" in lieu of regulatory action.
To date, Vermont's largest environmental groups — VPIRG, Vermont Natural Resources Council and the Conservation Law Foundation — have been either silent or supportive of GMP's wind project. One exception: Last week VNRC filed comments critical of draft water-quality permits being issued by ANR, claiming they provide less protection than agreements at comparable high-elevation ski-area developments at Stratton and Stowe.
Only two, smaller environmental groups are flat-out opposing Vermont's soon-to-be wind farms: Energize Vermont and Vermonters for a Clean Environment.
"There is a gold-rush mentality," said Luke Snelling of Energize Vermont. "We're looking at these proceedings before the PSB and ANR as acceptance processes and not regulatory processes. The regulators are helping to get it done — rather than to get it right."
GMP spokeswoman Dorothy Schnure counters that GMP mitigation efforts represent "an example of how these projects should be done." She says GMP needs to break ground on Kingdom Community Wind by August 1. The turbines must be up and running by the end of 2012 in order to qualify for $40 million in federal tax credits.
Is ANR fast-tracking the project for GMP? ANR Secretary Deb Markowitz rejects the charge. While Gov. Shumlin sees it as a priority, she says she has her own priorities.
"When the governor says he's supportive, it tells me, as we're deciding what gets to the top of the pile, that this is a priority," said Markowitz. "Good customer service is also a priority — if they have an external deadline and we just try to meet that deadline, it doesn't mean we shirk responsibility and cut corners."
ANR's "customer service" approach to GMP's project irks VCE's Annette Smith. "They bend over backward to meet GMP's timeline and then try to tell us that there are no politics involved. Who are they kidding?"
Steve Wright was Vermont's fish and wildlife commissioner under Gov. Madeleine Kunin and later worked at the National Wildlife Federation. Wright, who lives in neighboring Craftsbury, is a vocal Lowell wind-farm opponent.
"The governor is free to make deals," said Wright. "But his appointees also have an oath to protect the natural resources of the state and represent the citizens of the state."
Wright said Vermont is destroying tens of thousands of years of geological history to make room for one short-term power project that will last, at best, 40 years.
Where are the environmental groups, Wright asks. "Why aren't they acting with outrage that these mountains are being blasted away into rubble?"
It All Adds Up
The University of Vermont is going to pay a hefty price for president Dan Fogel's early resignation.
Just hours after he tendered his resignation — a year earlier than anticipated — trustees approved a revised severance package that gives Fogel 17 months of paid leave, from August 1, 2011, until December 31, 2012.
That means he'll soak up another $600,000 in salary and benefits before all is said and done — and without having to actually, you know, work. His benefits include an $1800-a-month housing allowance, a car allowance and an on-campus office. Fogel will also receive a "wellness fund" of up to $20,000 to spend before the end of 2012.
Meanwhile, UVM is budgeting roughly $320,000 to find Fogel's permanent replacement and will have to pay his temporary replacement, too. On Monday, UVM named former provost John Bramley as the interim president. Fogel's last day will be July 31. Bramley starts August 1.
Bramley's salary of $320,500 comes with but one perk: a car allowance. He won't receive any deferred compensation or a housing allowance to commute from his home in Colchester. As an emeritus professor, Bramley already receives retiree health benefits from UVM.
In all, Fogel's departure will cost UVM a cool $1.26 million, or the equivalent of 55 in-state students, or 30 out-of-state students, paying full tuition, room and board.
No wonder the university has to raise the price of college.
He's Not Dead Yet
City councilors who fêted outgoing chief administrative officer Jonathan Leopold with flowers and a standing ovation at his last council meeting should have waited a bit longer to kiss the disgraced CAO goodbye.
Leopold will continue to consult for the city through at least the end of August.
Mayor Bob Kiss made Leopold his right-hand man when he was first elected in 2006. The CAO gets credit for keeping the city on solid fiscal footing. He's also the architect of Burlington Telecom's $16.9 million "loan" from Burlington taxpayers.
"The plan is for Jonathan to continue to do work for the city on a temporary basis for the purpose of a smooth transition in the clerk-treasurer's office," said Joe Reinert, assistant to Mayor Kiss.
Details of the arrangement should be finalized by week's end.
The Gov's Guzzlers
Enviros may be reserving judgment on the development of Vermont's ridgelines, but they're expressive about Gov. Peter Shumlin's decision to lease two Ford Expedition EXP Limited Extended 4x4s. Since cars account for 40 percent of Vermont's greenhouse gas emissions, "Fair Game" figured the state's "green police" would object to Shumlin's choice of wheels.
"Unless the governor has decided to hold cabinet meetings in his vehicle, the Expedition is overkill. It's the kind of gas-guzzling behemoth that contributes mightily to our nation's addiction to oil and is a climate catastrophe," said Paul Burns, VPIRG's executive director. "There are far better vehicle choices out there for a leader who is otherwise such a champion of clean energy and climate solutions."
Jake Brown, spokesman for VNRC, added, "The choice of energy-inefficient SUVs like Ford Expeditions for what appears to be routine transportation is, at least at first blush, disappointing."
Maybe the gov should consider an SUV hybrid.