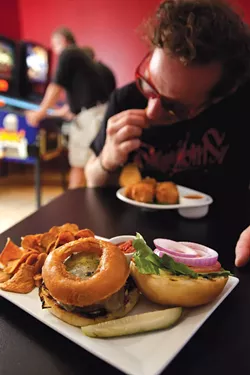 Matthew Thorsen
Tilt Classic Arcade and Ale House
In South Burlington, Tilt Classic Arcade and Ale House will celebrate its first birthday on Wednesday, July 1. On that same night, the popular farm-to-table bar and arcade will embark on its transformation from a private company to a employee- and member-owned cooperative.
According to Tilt operating partner Thom Dodge (who helped open the Hinesburgh Public House on a community-supported model), Tilt co-owner Joshua Nickerson is ready to leave the business. "Josh was prepared for the fiscal responsibility of owning a restaurant," Dodge says, "but he wasn't ready for the emotional attachment. This is as much his baby as it is mine, and we're passionate, crazy people." A busy neuroradiologist by day, Nickerson will phase out his involvement gradually so Tilt can build its new structure without crashing.
Lacking funds to take over Nickerson's portion of the business, Dodge plans to launch an 8-Bit Club. Members purchase shares of the company in exchange for gift cards with a 10 percent return ($110 in gift cards for a $100 pledge) and other perks, such as members-only dinners and events.
In contrast to Vermont's other community-supported restaurants, Dodge would like Tilt to be completely community- and employee- owned. "This is foreign territory," he says, "so I'm putting it together understanding that it'll evolve and grow. As the community changes, so will Tilt."
Dodge says he plans to partner with local nonprofits to host charity events, such as feeding hungry families during monthly second Sundays suppers with the Vermont Foodbank, and he hasn't ruled out turning Tilt into a 501(c)(3) nonprofit.
He hopes that opening the business to the community will allow it to continue serving that community in the best way possible.
"This place is about challenging yourselves to think differently," Dodge says. "That's what 'tilting' is. Sometimes it means shaking up the machine — or turning it off, but we're not going to turn it off. So we're going to shake things up."