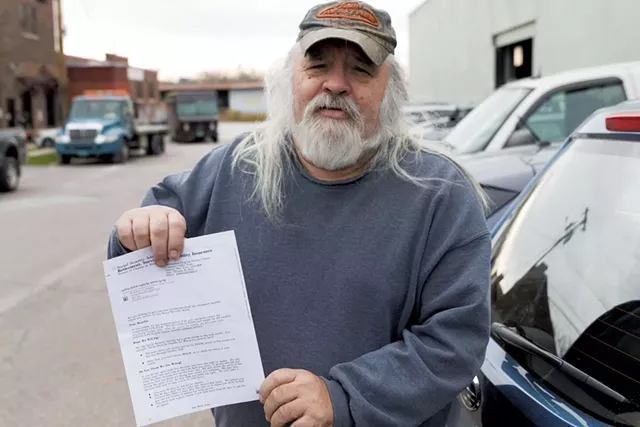 Colin Flanders
Ed Latimer
Little can get in the way of the federal government and money it's owed.
Just ask Ed Latimer, a 67-year-old Burlington man who recently learned the Social Security Administration had overpaid him $6,974 over the last decade and planned to get its cash back by deducting $10 from his check — for each of the next 697 months.
Latimer can expect the bleeding to stop when he reaches the ripe old age of 125.
"I ain't going to be around, I don't think," he said with a laugh.
According to Latimer, the government says he and wife never disclosed the full extent of their 40-year relationship when she applied for Supplemental Security Income five years ago. Since he was already receiving the benefit, the couple began receiving more money categorized as single people than they would have as a couple, which the government discovered during a review of their benefits last year.
That's nonsense to Latimer, who said he helped his wife apply for the benefits at the Social Security office in Burlington in 2013. "If I wasn't married to my wife, why would I have been in the Social Security office with her?" he asked.
A Social Security Administration spokesperson did not return a request for comment.
The agency initially intended to take $58 a month, Latimer said, more than 10 percent of his $540 monthly benefit. When he argued that it was too much, the government dropped the deduction to $10, the lowest amount it allows for repayments.
Latimer plans to appeal, and he hopes the government will waive the repayment.
While the snail's pace of the debt-reduction plan makes it easier for Latimer to get by each month, the meager dollar amount also salts the wound.
"If the government needs $10 this bad ... something's wrong," Latimer said.