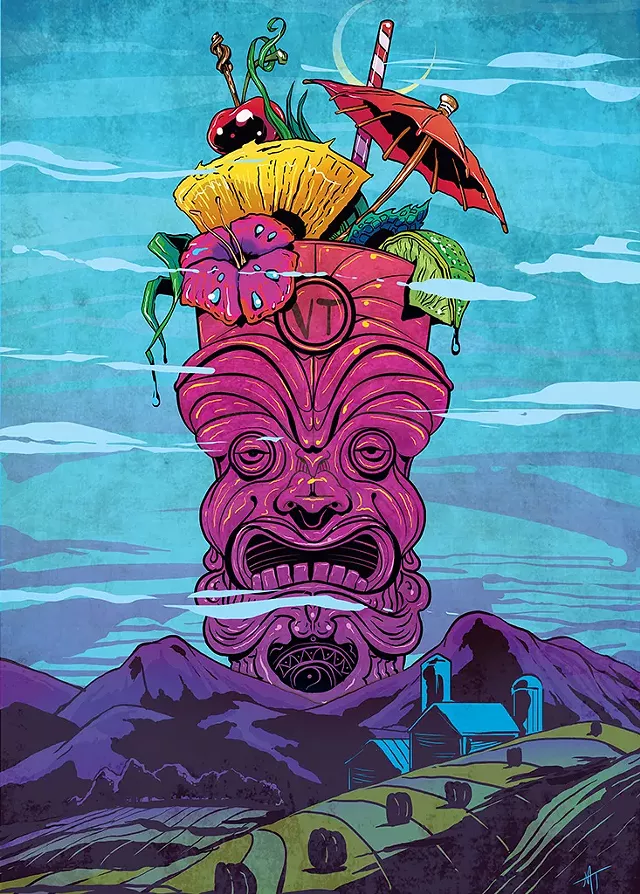 Everybody's getting lei'ed at the back door of Juniper at Hotel Vermont. It's Tiki Tuesday, a new collaboration of Stonecutter Spirits and the Burlington hotel, and an employee named Carly Freeman is handing out ersatz Hawaiian leis to the slow stream of guests finding their way to the outdoor patio.
"People are a little hesitant at first," says Carly. "And then they get outside and see the view of the water and feel the sunshine; the whole spirit of what we were looking for comes together."
A tiki bar? In Vermont? Absolutely, as in the Absolut vanilla vodka that goes into the dreamsicle at Captain Tom's Tiki Bar off Burlington's Church Street. The trend is as clear as the Curaçao poured behind the bar at North Hero Marina's Tiki Bar & Grill, and as enticing as the palm trees swaying on a beaded curtain at Mike's Tiki Bar in East Burke. Amid the maple trees of the Green Mountains stand thatched-roof joints serving Trader Vic's-style drinks with names like wicked creature, Hawaiian martini, zombie, and the KK. They're capitalizing on New Englanders' yearning for, yes, Captain Morgan rum, and spicing up summer's al fresco imbibing with plenty of kitsch.
Perhaps there's also a twisted connection to President Donald Trump — or rather, to the desire to thwart all things Trump. The mogul-turned-president plays a small but key role in a 2011 history of the tiki trend in the Atlantic, which places the heyday of the craze for anything Polynesian in the 1950s and '60s. In ensuing decades, tiki lost its "highbrow" status and fizzled out, writes reporter Wayne Curtis. "One can even pinpoint the precise nadir: In 1989, Donald Trump closed the Trader Vic's at his Plaza Hotel in New York, declaring that it had 'gotten tacky.'"
But what Trump disdained as passé, hipsters were game to reclaim. In the 1990s, Curtis writes, the tiki trend was resuscitated "with a healthy dose of irony," coinciding with the rise of craft cocktail culture (both offer bartenders the challenge of combining a slew of ingredients). Now, in Vermont, the two trends may well dovetail with an innate need for something tacky in a state that faces pressure to be perpetually postcard-pretty for tourists.
It's five o'clock somewhere — 5:55 a.m., to be precise, at a South Burlington gym — when I see the first evidence of the local tiki renaissance. A fellow BodyPumper adds extra weight to his barbell because he's going to be treating himself to a tropical cocktail at Captain Tom's that night.
My own odyssey begins at Hotel Vermont's Tiki Tuesday, a tradition that was born in late May after Stone-cutter Spirits' cofounder Sas Stewart brainstormed the best ways to showcase the hotel's back patio. "It's a hidden gem, a private oasis," says Stewart. "It's the perfect platform to do something fun and unexpected. On a hot day, you can't top holding a cold tiki mug and sipping out of a neon-pink straw — it's like drinking summer!"
Courtesy Of Hotel Vermont
Sitting in a lounge chair, 26-year-old Jeff Pak of St. Albans sips a goblin king — Stonecutter Single Barrel gin, fresh mint, pineapple, apricot liqueur and lime — to celebrate the end of the school year with some fellow teachers. "Tiki Tuesday?" he says. "I just thought it was goofy, retro, trying to be silly but also authentic."
Martha Mack, Stonecutter's brand ambassador, stands behind a wooden cart, squeezing fruit for the concoctions, arranging skull-shaped mugs and looking hopefully at the sky. "So far we've had 90 degrees, and then rain; I can't wait to see what happens next!" she says of the weather, which has not always cooperated with the aim of taking tiki outside. Still, Mack says, about 30 people show up weekly to try the scorpion bowl, which serves three to four and costs $36 (all other Stonecutter tiki drinks are $12).
Tiki Tuesday happens to coincide with fried-chicken night at Juniper. The combination of a plate of crispy poultry with a 12-mile limit — Heritage Cask whiskey, white rum, cognac, lemon juice and grenadine — is surprisingly appealing against a soundscape of Howard Jones mingled with new indie music.
I head home to rest up before my excursion to the North Hero Marina, home of the Tiki Bar & Grill, the only true waterfront tiki bar in the state.
There, alas, on a sleepy Wednesday afternoon heavy with humidity, there are precisely no patrons. No matter. As Prince's "Raspberry Beret" plays, bar and grill manager Steve Schaefer is happy to show off the carved, wooden, dreadlocked-pirate statue; the tiki head stuffed with paper-wrapped straws; and the plastic flip-flops that hang above signs straight out of Key West, Fla. "If I'm not here, I'm at the beach," one proclaims. Another sign asks, "Why not try one of our leaping tiki cocktail specials?" Nonetheless, Schaefer insists, at the bar and grill "the focus is on food."
So coconut shrimp and Hurricane Katrina BLTs get more play than coconut drinks or hurricane glasses. But there's still an impressive array of boozy choices — including the yummy rummy, made with three types of rum — swirling in a frozen-drink maker beside the premixed margaritas. Just below the bar, a pool looks out on sailboats bobbing in the marina; erase the distant, hazy mountains and, sure, this could be Margaritaville.
Jimmy Buffett waits until Friday to rear his head, however, when I hit happy hour at Captain Tom's Tiki Bar in Burlington. The seasonal joint, opened in 2012 by the owners of Ken's Pizza and Pub, has transformed the alley behind the pizzeria into a Polynesian paradise, complete with a pineapple-shaped fan, papier-mâché fish and paintings of bright-red macaws.
When I arrive, a group of three guys is sipping Coronas; they explain sheepishly that they came only to knock off work early. A pair of women arrive with shopping bags and order a couple of island breezes — Cruzan light rum, pineapple juice and cranberry juice. Buffett's "Come Monday" plays, and the women swirl their straws through the drinks, whose sides sweat from the heat.
"I've hit a lot of Margaritavilles!" one says, refusing to divulge any more.
I'm curious about her secret partying past, but more curious about yet another semi-secret spot mentioned by a former coworker — Mike's Tiki Bar, in the mountain-biking mecca of East Burke.
So, come Monday, I arrive in the Northeast Kingdom town at 3 p.m. and find the open-air bar with a thatched roof and tropical-colored lanterns not only open but buzzing with activity. A husband and wife from Bethel, Maine, have finished riding the adjacent Kingdom Trails and are trying Collective Arts Brewing's State of Mind session IPA before heading home. Behind a beaded curtain, a staff member chops vegetables for the next-door taco truck, and nearly every seat at the bar is occupied by jersey-clad folks peering at iPhones and trail maps.
Flipping over the drink menu, I discover a surprise: an absence of anything made with Myers, Bacardi or Malibu rums. "Beer and cider only," says the bartender, who captures the spirit anyway with such beer cocktails as the KK, a mix of Switchback's ale and porter. Not quite the same cachet as a mai tai.
The weeklong tour winds up at Stowe's Sunset Grille & Tap Room, which, I've been told, has a tiki bar out back. Nancy Monaco-Haab, who owns the Sunset with her husband, Rich, informs me via email that the seasonal bar dates back two decades. Originally inspired by a pick-up volleyball league that played in the restaurant's sand pit, it's become a popular private-party venue.
Sad to say, on a Tuesday evening, the bar is closed, but patrons have brought their Heady Toppers and Bud Lights outside to enjoy the ambiance. A LandShark Lager surfboard (a staple of nearly every tiki space, I've learned) hangs above a single tiki head, and tables topped by red Budweiser umbrellas offer views of the sand volleyball court.
Toddlers are running around. Nobody's getting lei'ed. But here, as in the other four tiki bars I've experienced, it's easy to see how something a little tacky, a little tropical and a lot about just gathering outdoors has caught on in the Green Mountain State.